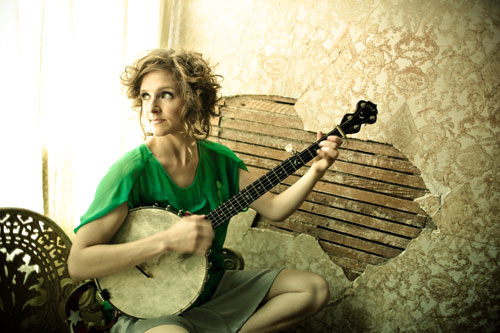 Abigail Washburn's soulful singing was one of the signature sounds of Uncle Earl since she joined in May 2003. Signed to Nettwerk Records as a solo recording artist, her album Song of the Traveling Daughter was released in August, 2005. The album features original songs in English and Mandarin Chinese, which she speaks. Actually, Abby was headed down a career path in Sino-American relations when she heard an LP of Doc Watson and decided to take up old-time banjo.
She met KC Groves at the International Bluegrass Music Association (IBMA) in Louisville, Kentucky and joined the band that summer. Combining her love of traditional American music, Chinese language and classical Chinese poetry, she began writing songs, some of which happen to be in Chinese. Her writing earned her a second place award in the Chris Austin Songwriting Contest at MerleFest in 2004.
In 2012, after attending Doc Watson's funeral, Abigail began performing "And Am I Born to Die," a sacred harp piece recorded by Watson. "Doc is one of the main reasons I play the banjo and sing American old-time music," says Washburn.
Along with 24 innovative and creative thinkers from across the world, Abigail Washburn was named a TED Fellow and presented at the 2012 Ted Convention about building United States-China relations through music. Her efforts to share American music in China, and Chinese music in the Unied States exist within a hope that cultural understanding and the communal experience of music will lead the way to a richer existence.
In 2014, Béla Fleck and Abigail Washburn released their eponymous debut album October 7th on Rounder Records. Béla Fleck & Abigail Washburn is a front porch banjo and vocal album of new music, Appalachian murder ballads, gospel, chamber and blues; the culmination of a yearlong tour as a duo in 2013, following the birth of their son, Juno.
Discography:
She Waits for Night, with Uncle Earl (Rounder Records, 2005)
Song of the Traveling Daughter (Nettwerk Records, 2005)
The Sparrow Quartet EP (Nettwerk Records, 2006)
Waterloo, Tennessee, with Uncle Earl (Rounder Records, 2007)
Abigail Washburn & The Sparrow Quartet (Nettwerk Records, 2008)
Afterquake, with Shanghai Restoration Project (Afterquake Music, 2009)
City of Refuge (Rounder Records, 2011)
Béla Fleck & Abigail Washburn (Rounder Records, 2014)
Banjo Banjo EP, with Béla Fleck (Rounder Records, 2015)