Bela Fleck is often considered the leading banjo player in the world. He was born on July 10, 1958, and raised in New York City. Named after composer Bela Bartok, Bela picked up the banjo at age 15 after being fascinated by the bluegrass playing of Flatt & Scruggs. He began experimenting with playing bebop on the banjo in high school.
In 1982, he joined the progressive bluegrass band New Grass Revival, where he made a name for himself in the country-bluegrass world. At the same time he was releasing a series of solo albums for Rounder Records.
He collaborated with Sam Bush, Jerry Douglas, Edgar Meyer and Mark O'Connor in an acoustic super-group called Strength in Numbers. The group released an iconic album titled The Telluride Session (MCA) in 1989.
In 1989 Bela formed the Flecktones. The group made its self-titled debut recording in 1990 by playing a "blu-bop" mix of jazz and bluegrass and soon became a commercially successful, critically-acclaimed and award-winning band. Fleck, the only musician to be nominated for Grammys in jazz, bluegrass, pop, country, spoken word, Christian, composition and world music categories, also recorded solo releases.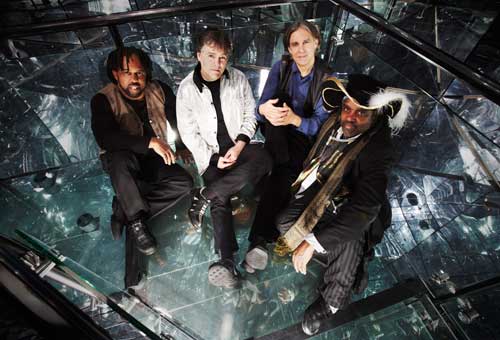 Bela Fleck began the decade of 2000 by signing a deal with Sony Music. The first release was Outbound, that featured the band performing with an all-star group of guest artists including vocalists Shawn Colvin and Jon Anderson (of the group Yes), guitarist Adrian Belew, oboe player Paul McCandless, and keyboardist John Medeski (of the jazz jam-band Medeski, Martin & Wood). Like previous Flecktones albums, the music on Outbound is a mix of styles-from bluegrass to jazz to world music-that is often built around Fleck's concept of "the banjo being weird."
In 2003, Bela Fleck & The Flecktones released Little Worlds, the first new studio album from the group since 2000's Grammy-winning Outbound. Produced by Bela Fleck, the new album is a monumental work on 3 CDs and includes many special guests, including Sam Bush, The Chieftains, Jerry Douglas, Branford Marsalis, Bobby McFerrin, Nickel Creek, Derek Trucks, and Bernie Williams. The album is a collaborative effort showcasing the ever-evolving group dynamics of the band.
The ambitious Little Worlds is an eclectic, yet cohesive, collection of 27 musical pieces. The limited-edition 3 disc set includes liner notes by Bela Fleck and a 24 page booklet filled with photos taken by the Flecktones and their crew. The group began work on the album in October 2001, with the original intention of creating a "lean and mean" "no rules" record with just the four band members: Bela Fleck (banjo), Victor Wooten (bass), Future Man (synth-axe drumitar), and Jeff Coffin (tenor and alto sax). As the recording process progressed, it became apparent that these were no ordinary sessions and the floodgates of musical inspiration and diversity had opened. Ranging from jazz to Gaelic airs and bluegrass to classical and world music Little Worlds is the band's most adventurous album.
Throw Down Your Heart, Tales from the Acoustic Planet, Vol. 3: Africa Sessions (2009) chronicles Fleck's musical journey to Africa to explore the little known African roots of the banjo. Bela's boundary-breaking musical adventure took him to Uganda, Tanzania, The Gambia, and Mali, and provided a glimpse of the beauty and complexity of African music.
In 2006, jazz keyboardist Chick Corea and Béla Fleck joined together to explore the interactions between the piano and banjo. Corea was an admirer of Fleck's bluegrass-meets-jazz band the Flecktones and Fleck had been inspired by Corea's pioneering jazz-rock fusion band, Return to Forever. The two musicians recorded The Enchantment, released in 2007. This collaboration also led to multiyear international live tours.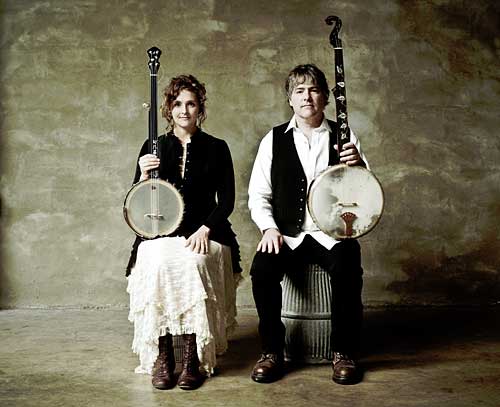 Béla Fleck and his wife (also an acclaimed banjo player) Abigail Washburn released Béla Fleck & Abigail Washburn (Rounder Records) in 2014. The recording featured new music, Appalachian murder ballads, gospel, chamber pieces and blues. Both musicians are generally credited for revitalizing and revolutionizing the banjo and decided it was time to collaborate. "We didn't want any other instruments on there, because we're into this idea that we're banjo players, and that should be enough," said Béla. "Sometimes when you add other instruments, you take away from the ability of the banjo to show all its colors, which are actually quite beautiful."
Béla Fleck and Chick Corea followed up in 2015 with a recording titled Two (Concord Jazz), a live double album with material from The Enchantment, along with Corea and Fleck classic pieces and a few additional new compositions.
Discography:
Solo albums
Crossing the Tracks (Rounder Records, 1979)
Natural Bridge (Rounder Records, 1982)
Deviation (Rounder Records, 1984)
Double Time (Rounder Records, 1984)
Inroads (Rounder Records, 1986)
Daybreak, compilation (Rounder Records, 1987)
Places, compilation (Rounder Records, 1988)
Drive (Rounder Records, 1988; SACD reissue: Mobile Fidelity, 2004)
Tales From The Acoustic Planet (Warner Brothers, 1995)
The Bluegrass Sessions: Tales from the Acoustic Planet, Vol. 2 (Warner Brothers, 1999)
Perpetual Motion (Sony Classical, 2001)
Music For Two (Sony Classical, 2004)
Tales From The Acoustic Planet, Vol. 3: Africa Sessions (Rounder Records, 2009)
Throw Down Your Heart – Africa Sessions Part 2 (2010)
The Impostor (Mercury Records, 2013)
Béla Fleck & Abigail Washburn (Rounder Records, 2014)
Banjo Banjo, with Abigail Washburn (Rounder Records, 2015)
With the Flecktones:
Béla Fleck and the Flecktones (Warner Bros. Records, 1990)
Flight of the Cosmic Hippo (Warner Bros. Records, 1991)
UFO Tofu (Warner Bros. Records, 1992)
Three Flew Over the Cuckoo's Nest (Warner Bros. Records, 1993)
Live Art (Warner Bros. Records, 1996)
Left of Cool (Warner Bros. Records, 1998)
Greatest Hits of the 20th Century (Warner Bros. Records, 1999)
Outbound (Columbia, 2000)
Live at the Quick (Columbia, 2002)
Little Worlds (Columbia, 2003)
Ten From Little Worlds (Columbia, 2003)
The Hidden Land (Sony, 2006)
Jingle All the Way (Rounder, 2008)
Rocket Science (eOne, 2011)