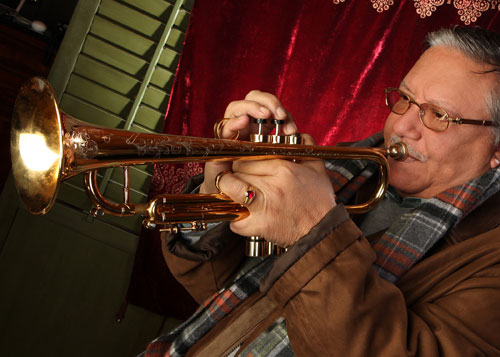 Arturo Sandoval was born in Artemisa, a small village in the province of Havana, Cuba on November 6, 1949. Arturo started playing music at age 13 in the village band, where he learned the basics of music theory and percussion. After playing many instruments, he finally settled on the trumpet.
As a child, Sandoval had little exposure to Jazz. In a 1993 interview with Down Beat he commented, "The only thing I used to hear was traditional Cuban music, what we call "son", which was played by a septet with a trumpet and bongos." But one fateful day, a fellow trumpeter played him a record by Dizzy Gillespie and Charlie Parker that turned his life around. It was love at first listen!
In 1964, he began three years of serious classical trumpet studies at the Cuban National School of Arts and by the age of 16, he earned a place in the country's all-star national band. By this time, he was totally immersed in Jazz with Dizzy Gillespie his idol. Drafted into the military in 1971, Sandoval was able to play with the Orquesta Cubana de Musica Moderna and continued his daily practice regimen, an absolute must for trumpeters.
After his discharge, he co-founded Irakere, which became Cuba's most important Jazz ensemble, with saxophonist Paquito D'Rivera and pianist Chucho Valdés. They quickly became a worldwide sensation, and their appearance at the 1978 Newport Jazz Festival in New York introduced them to American audiences, and resulted in a recording contract with Columbia Records. But Arturo was in search of new musical possibilities and he left the group in 1981 to form his own band.
He continued to tour worldwide with his group, playing a unique blend of Latin music and Jazz, and also as a classical trumpeter, performing with the BBC Symphony in London and the Leningrad Symphony in the former Soviet Union.
Sandoval's talent has led him to associations with many great musicians, but perhaps the most important was with Dizzy Gillespie, a longtime proponent of Afro-Cuban music, whom Sandoval calls his spiritual father. The two musicians met in Cuba in 1977 when Gillespie was playing impromptu gigs throughout the Caribbean with saxophonist Stan Getz: "I went to the boat to find him. I've never had a complex about meeting famous people. If I respect somebody, I go there and try to meet them." Because of the political situation in Cuba, the country was isolated from American musicians for nearly twenty years and during this first trip back,
Dizzy wanted to visit the black neighborhoods where musicians play guaguanco and rumba in the street. Sandoval offered to take Gillespie around in his car, and only later that night when he took the stage with Gillespie did Sandoval reveal himself as a musician. Their friendship remained strong until Dizzy's passing in 1992. Both men continued to play and record together regularly. It was while touring with Gillespie's Grammy Award-winning United Nation Orchestra in Rome in 1990 that Sandoval requested political asylum.
Thanks to the efforts of Dizzy and then Vice-President Dan Quayle, Sandoval was able to resettle in Miami. He became a full professor at Florida International University and soon recorded his American debut Flight To Freedom on GRP. Arturo was featured on Dizzy's Grammy winning Live At Festival Hall recording with the United Nation Orchestra in 1992 and later that year, he did his second GRP album, I Remember Clifford, his tribute to trumpet legend Clifford Brown.
His other GRP recordings include: Dream Come True, a collaboration with Michel Legrand, the Grammy winning Danzón, Arturo Sandoval and The Latin Train, and his most recent, Swingin'. Like Wynton Marsalis, Arturo has a parallel career as a classical performer. His recording, The Classical Album, features trumpet concertos by Hummel and Mozart as well as his own Concerto For Trumpet and Orchestra. He continues to perform with symphonic orchestras worldwide as well as conduct clinics for eager students.
Arturo has lectured at the Conservatoire de Paris, the Tchaikovsky Conservatory in the Soviet Union, the University of California Santa Barbara, the University of Miami, the University of Wisconsin, Purdue University, and at many other institutions all over the planet.
Currently, he holds a full professorship at Florida International University in Miami, where he resides with his wife and son. Arturo has also written and performed on several film soundtracks including "The Perez Family", "The Mambo Kings", and "Havana". Like all musicians, Arturo Sandoval spends most of his time on the road. When asked about having such a rich life in music, he reports that "I'm blessed. Can [you] imagine making your living doing what you love? I came from a very poor family from the middle of nowhere and could never imagine I would be able to do the things I have done. God has been good to me."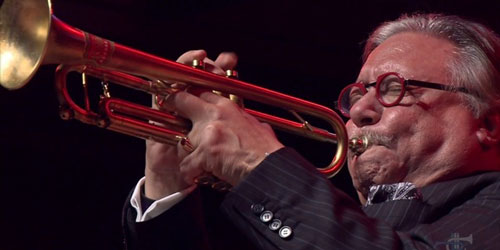 In 2013, Sandoval received the 2013 Presidential Medal of Freedom. Then, in 2015, he was given the Hispanic Heritage Award.
Arturo Sandoval's Ultimate Duets, released in 2018, included collaborations with legends and new generation voices from the worlds of pop, soul, jazz, classical, and Latin music including: Stevie Wonder, Pharrell Williams & Ariana Grande, Plácido Domingo, Celia Cruz, Josh Groban, Juan Luis Guerra, Al Jarreau, Alejandro, Prince Royce, and David Bisbal.
Discography:
To a Finland Station with Dizzy Gillespie (Pablo, 1982)
Breaking the Sound Barrier, 1983)
No Problem (Jazz House, 1986)
Tumbaito (Messidor, 1986)
Straight Ahead (Jazz House, 1988)
Flight to Freedom (GRP, 1991)
I Remember Clifford (GRP, 1992)
Dream Come True with Michel Legrand (GRP, 1993)
Danzón (GRP, 1993)
Cubano 1994)
The Classical Album (RCA, 1994)
Swing Love (Babacan, 1995)
Concerto (Babacan, 1995)
Arturo Sandoval & the Latin Train (GRP, 1995)
Swingin' (GRP, 1996)
Hot House (N-Coded, 1998)
Americana (N-Coded, 1999)
Ronnie Scott's Jazz House (DCC, 2000)
For Love or Country, The Arturo Sandoval Story (Jellybean, 2001)
L. A. Meetings (Cubop, 2001)
My Passion for the Piano (Columbia, 2001)
From Havana With Love 2003)
Trumpet Evolution (Westwind, 2003)
Live at the Blue Note (Half Note, 2005)
Rumba Palace (Telarc, 2007)
A Time for Love (Concord Jazz, 2010)
Dear Diz – Every Day I Think of You (Concord Jazz, 2012)
At Middleton film score (Perseverance, 2014)
Eternamente Manzanero with Jorge Calandrelli (Perseverance, 2014)
Ultimate Duets (Universal Music Latino, 2018)
Christmas at Notre Dame (Universal Music Latino, 2018)