The end of winter in Krakow coincides with the beginning of the annual celebration of jazz music. Since 1996, Piwnica pod Baranami (Cellar under the Rams) has hosted the Summer Jazz Festival.
For twenty years, Summer Jazz Festival has hosted outstanding stars of popular music in Krakow: Chick Corea, Herbie Hancock, Bobby McFerrin, Jean-Luc Ponty, Lenny White, Lee Konitz, Stanley Clarke, Branford Marsalis, Joe Lovano, Richard Bona, Eddie Henderson, Nigel Kennedy, Larry Coryell, the Rosenberg Trio, and many other outstanding artists.
From year to year the Festival has expanded its program, presenting, along with daily concerts at Piwnica pod Baranami, concerts at Filharmonia, Opera Krakowska, Radio Kraków, and all of Krakow's jazz clubs. Today, the Festival is Poland's biggest jazz festival, and one of the biggest in Europe. Over the past fourteen years all of the elite performers of Polish jazz have appeared many times.
This year the Krakow stage will be graced by the Arturo Sandoval Sextet, Chick Corea Trio, and Ivo Pogorelić.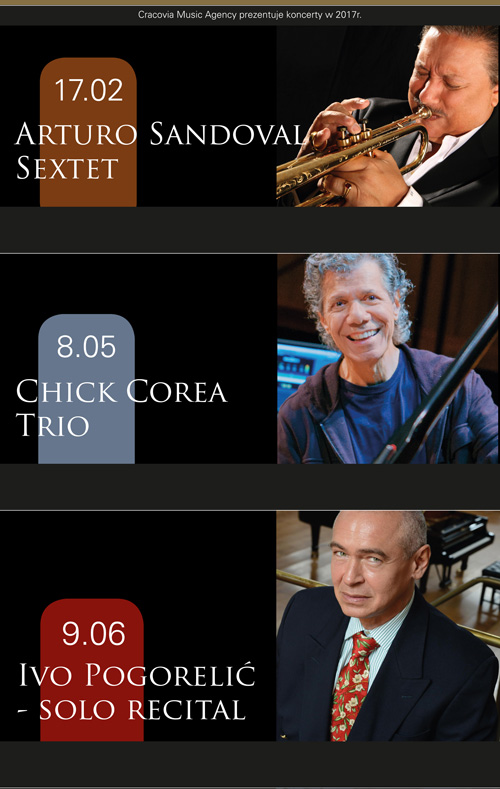 Arturo Sandoval will be performing in Krakow on February 17. This world-renowned trumpeter and jazz pianist of Cuban origin has won 10 Grammy Awards and is a six-time Billboard Music Award winner; he has also been awarded the Medal of Freedom for his artistic achievements. A student and friend of Dizzy Gillespie, in his youth he was a drummer, later a master of jazz trumpet and flugelhorn, pianist, and composer. Through his Cuban roots and inspirations, Sandoval has ventured into the field of World Music through his work with the group Irakere.
Ivo Pogorelić will be appearing in Krakow on June 9. A native of Belgrade, the artist received his musical education at Moscow Central Music School and the Moscow Conservatory. He is the winner of many prestigious awards, including the Casagrande Competition (Terni, Italy 1978) and the Montreal International Music Competition (1980). He performs with symphony orchestras around the world, including those of Berlin, Vienna, Chicago, Philadelphia, Boston, Los Angeles, New York … His extensive discography includes baroque, classical, romantic, and contemporary works.
Performing on May 8 is world-renowned jazz pianist and composer Chick Corea. For lovers of jazz-inspired fusion, jazz-rock, or bebop, this concert needs no advertising. The work of Chick Corea is known to everyone. His visit to Poland is not only an artistic event but also a media happening.