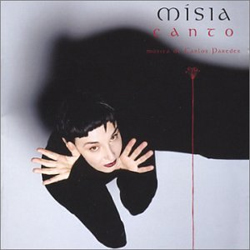 Germany – Fado singer Mísia has recorded a new album titled Canto. The album will be in stores  October 10th.
To promote the album, Mísia will present her new repertoire October 4th, at the "Lettre Ulysses Award for the Art of Reportage" in Berlin. The award was created by the cultural journal "Lettre International" together with the Goethe Institut Inter Nationes and the Aventis Foundation. The ceremony will take place at the "Tipi" in Berlin. The ceremony will be broadcast in part on "Arte".
Mísia will also be in Germany on tour in January 2004:
20.01. Berlin, Philharmonie
22.01. Karlsruhe, Konzethaus
23.01. Freiburg, Herz Jesu Kirche
27.01. Düsseldorf, Tonhalle
28.01. Bonn,, Brückenforum
30.01. Darmstadt, Centralstation
31.01. Hamburg, Musikhalle
05.02. München, Herkulessaal
Mísia talks about the new recording: "A work based on the music of Carlos Paredes has always been part of my gallery of the impossible. That's where I store records born out of the pictures of Marc Rothkos, records that are accomplices of Louise Bourgeois' sculptural crimes, records that have fled out of Francesca Woodman's photographs or were strangled because of Peter Handke.  And let's not forget Arsenii Tarkovskii and other unsingable writers – or are they? … "Shouldn't a needle, aerial and alive, guide me through the world like a thread".
It seemed a lot more reasonable to continue to nourish my wonderful and neurotic relationship with Fado.
Beyond all reason and possessed by fury and tenderness, I finally recorded this album in seven months.
On one side stood the brilliancy of the work of Paredes, on the other the resistance of and the responsibility for the material.
It was important to listen carefully to the "opinions" the record offered. To choose the repertoire by following a song line that only I could hear instinctively within myself. To find someone gifted with the necessary sensibility and skill to fit verses of unforeseeable metric into that music. To look for an arranger and musical producer who would understand the popular and docile character, the Portuguese side and the universal dimension of this work without hurting its relevance or its authenticity.  To challenge my Fado guitarists from Lisbon to use a different musical language from their own. To
sing without converting the pieces into caricatures of a "forced Fado" or neglecting the "soul of Fado" that is forever embodied in my voice.
If Fado is "a way of feeling", a "state of mind", then this, without the shadow of a doubt, is a Fado record, even if the music contained in it is not Fado.
I always knew that a new "corpus" would emerge out of the encounter of all these creative particularities. I never wanted to approach an insipid copy of an aesthetic that belongs to Paredes and only to Paredes, an aesthetic that only he and nobody else can master, that will forever be his secret.
"Canto" is a gift ….
Only now, after twenty five years of traveling and living on and off stages I am ready to give in peace, without fear.
I want to thank everyone who has helped my to do this record. I am particularly obliged to Vasco Graça Moura, author of most of the lyrics. I thank him for writing for a particular voice for the first time, for giving his poetic wisdom and his talent, for his extraordinary comprehension of metric necessities that are implied in such a work. For being elegantly true to Paredes' intentions,
respecting the history of a piece of music here (António Marinheiro – Presságio de Alfama), integrating references to a title into his poems there (Cançao para Titi – Tia minha gentil). And finally I thank him for having written with such awe inspiring beauty that I felt I was growing while singing his words, growing out of a depth inside me whose existence I ignored.
I thank Sérgio Godinho (author of my first original Fado written thirteen years ago) for the matchless quality of his text for "Raiz" and for the friendship that motivated him to write it. Thank you, Sérgio!
To be able to sing such a classic piece as "Verdes Anos" in itself is reason enough to thank its author, Pedro Tamen.
Many thanks also to Henri Agnel, an artist specialized in Arabic and Renaissance music, who has accompanied Paredes on his French tours and who has been familiar with his work for more than thirty years now, for the richness and emotionality of his arrangements.
In "Cançao para Titi" we hear the rhythm of the oriental dance "baladi" from southern Egypt (Nubia); at the beginning of "raiz" we hear the Persian rhythm "from the mother" or "of the heart beat" and later, the rhythm of a dance from the renaissance.
The cistre, a kind of lute used at the Elizabethan court (and, according to some, the ancestor of the Portuguese guitar) creates a medieval pitch in the improvisation in "Ah Nao II". And we hear the sophisticated sounds of the string quintet of the Camerata de la Bourgogne in perfect harmony with our Portuguese guitar and the Fado guitar from Lisbon.
This song (canto) of mine is for Carlos Paredes, and in are the best things I could find to give him.
I will never know if "the musician" would have liked this record, but I want to believe that his generous heart will one day sense the love and veneration with which this work was devised, felt and done."
Mísia