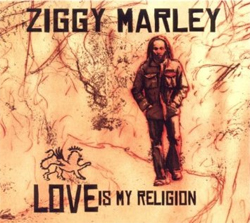 Kingston, Jamaica – Ziggy Marley announced the re-release of his Grammy-winning album Love Is My Religion, including three bonus tracks as well as an independent distribution deal. In a bold move, Marley is eschewing the traditional record industry formula and big name labels, instead penning a distribution deal between Tuff Gong Worldwide and Ryko Distribution.
Love Is My Religion was originally released in the US exclusively at Target Stores and is now scheduled for wide distribution on December 4, 2007, with additional material including live recordings of Jammin, Dragonfly, and Look Who's Dancin'. These live tracks, plus the highly-anticipated live DVD (scheduled for early 2008 release), were recorded at Los Angeles' Avalon during the 2006 Love Is My Religion world tour.Pushing the envelope is an inborn trait for Ziggy Marley. He comes by it honestly. He has remained true to the independent nature instilled in him by his legendary father, establishing himself in recent years as a solo artist and producing his first independently-released projects on the Tuff Gong Worldwide label. Firmly instituted as a solo artist, he has now set his sights on yet another quest.
Tuff Gong was first founded in 1965 by Bob Marley, with the vision of producing, distributing, and promoting his music free from the constraints of corporate label politics. In a time decades before artist-owned record labels were commonplace, Marley's vision was characteristically well ahead of its time. Now, nearly half a century later, his dream is being realized.
Ziggy released his first solo effort, Dragonfly, in 2003. The album included guest artists from the Red Hot Chili Peppers and Incubus. His second solo album, Love Is My Religion, was released in July of 2006 and garnered Marley his first solo Grammy Award for Best Reggae Album, giving him a total of four Grammys. Love soared to #6 on the Billboard Reggae charts.
Love showcases Ziggy's keenly honed talents as a composer, producer, and musician, with all tracks written and produced by Ziggy, and shared production on three tracks with Grammy-winning producer Ross Hogarth. Marley also played a majority of the instruments on the album.
About Ziggy Marley
Born in Trench Town, Jamaica, Ziggy Marley was surrounded by the sights and sounds of the Jamaican recording industry. First accompanying his father in the studio at a tender age, he soon joined with his siblings to form The Melody Makers. The act enjoyed two decades of successful touring and recording, netting three Grammy Awards and worldwide notoriety.
Ziggy has contributed to a variety of soundtracks including 50 First Dates, Dora the Explorer, the PBS children's show Arthur, and Shark's Tale, in which he delved into acting for the first time, playing the character of Bernie, the Jamaican jellyfish.
In addition to his skills as a singer, songwriter and producer, Ziggy founded U.R.G.E. (Unlimited Resources Giving Enlightenment), a non-profit organization that benefits a wide range of charitable children's causes in Jamaica, Ethiopia and other developing nations. More recently he has lent his support to the Youth AIDS campaign.
Author:
World Music Central News Department
World music news from the editors at World Music Central