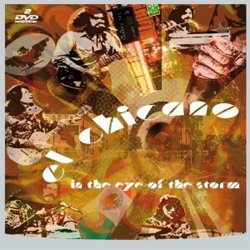 El Chicano was formed in Los Angeles in 1970 and was characterized by its long jams, full of fiery guitar work, spectacular electric organ improvisations and percussion solos. "In the Eye of the Storm" is a two DVD documentary directed by David E. Meza that follows the evolution of El Chicano. The second DVD presents the latest version of the band with a May 2008 performance at The Avalon club in Santa Clara.
The documentary combines interviews with the musicians with footage from the era about the reaction of mainstream America to the rising militancy and importance of the Chicano movement. The band in 2008 included several founding members. Line-up in 2008: Mickey Lespron on guitar, Bobby Espinosa on organ and piano, Fred Sanchez on bass, John de Luna on drums, Rudy Regalado on timbales, Jerry Salas on vocals and guitar, and Marcos Reyes on congas.
Azteca's La Piedra del Sol showcases another Latin rock legend. While El Chicano featured primarily Mexican-American musicians from southern California, Azteca was a short-lived multiracial supergroup from northern California led by Coke and Pete Escovedo, who came from the Santana group. The large band (up to 25 musicians on stage) was based in the San Francisco Bay Area and combined rock, jazz, soul and Latin musicians.
The Azteca documentary includes interviews as well as a reunion concert at the Key Club in Hollywood in 2007. The artists featured in the reunion concert include original members Pete Escovedo, vocalists Wendy Haas and Errol Knowles, bassist Paul Jackson, guitarist Bill Courtial, percussionist Victor Pantoja, trombonist Jules Rowell and former Miles Davis and Chick Corea drummer Lenny White.
In the Eye of the Storm and La Piedra del Sol are two extraordinary DVD releases that document the wide-ranging creativity of the Latin rock movement of the 1970s.
Buy the DVDs:
Recordings by 1970s Latin rock bands:
Recordings by current artists who follow the path of the 1970s pioneers