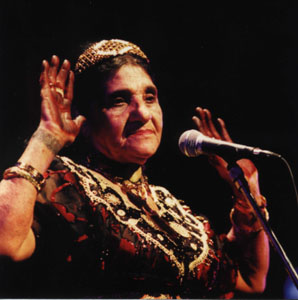 Cheikha Rimitti was one of the most influential singers in the development of the popular Algerian music style known as Rai.
She was born in 1923 near Sidi Bel-Abbas, in French-controlled Algeria. She became an orphan at a young age and had a hard and dissolute life.
When she was twenty years old, she became close to a troop of musicians, the Hamdachis, with whom she shared a troubadour's life, singing in many cabarets and often dancing until her feet could not bear her anymore. In those times, dreadful epidemics spread through the country and put the emphasis on the daily sordid difficulties.
Rimitti drew her inspiration from those desolation scenes and improvised her first verses: her repertoire is mainly based on that which has been lived. "It's misfortune that has educated me, words sing silent in my head until I sing them loud, no need to take neither a pencil nor a notebook."
From those days, she preferred to keep memories of celebrations: "I celebrated the Saints in Relizane, Oran and Algiers? Celebrations longed a week and people came from all over the country. We invited the greatest singers, like Umm Kulthum and Cheikha Fadela The Great Not only was I singing, but I also was riding horses during the fantasia, with a rifle in each hand, and I was shooting to the sky. Soldiers clapped their hands and the prefect himself congratulated me a few times?"
Her first recording was made in 1952, when Pathe Marconi released a single including the famous "Er-Ra? Er-Ra?", but it was in 1954 that Rimitti became an absolute reference with her song "Charrak Gatt?": her contemporaries heard in this song an attack against the taboo of virginity ("he crushes, whips and beats me. I say that I'm going away but I still spend the night / pitiful me, I've taken bad habits?").
Rimitti was ahead of her times, singing in the 1940's about how hard it was to be a woman and introducing the notion of a sexual pleasure. But her themes went far beyond that: she explored all forms of love, celebrated friendship, tried to explain what it was to become an alcoholic, regretted the obligation to migrate and scolded the moralists. She, who dared singing an ode to the Emir Abdelkader in the Jewish coffee shops, in the middle of the Liberation War, was going to suffer from great accusations, flying from the censors of the National Liberation Front.
Her poetry forced her out of the country in the 1960's. Since those times, she has written more than 200 songs, constituting a real "sing tank" for her successors, including Cheb Khaled whom has covered "The Camel", for instance.
She was revered by most Rai musicians. Rachid Taha dedicated her a song, "Rimitti". Re-discovered a few years ago by the new generation, Rimitti's songs connected to the reality of 1990's bloody Algeria, the decade of all dangers (especially for women).
She was awarded the Great Prize of Disc of the Charles Cros Academy, in 2000. But she claimed no title but the one of "Cheikha" (the Senior).
She collaborated with Robert Fripp and Flea from the Red Hot Chili Peppers in the Sidi Mansour album in 1994, and that inaugurated a new electric form of Rai.
In 2000 she released Nouar. Her most recent recording was N'Ta Goudami (Because Music, 2006).
She died May 15th of 2006 in Paris of a heart attack. She was 83.
Selected Discography:
Ghir al Baroud (1996)
Sidi Mansour (1994)
Cheika (1996)
Trab Music (2000)
Nouar (2000)
L'etoile du Rai (2001)
Live European Tour 2000 (2001)
Salam Maghreb (2001)
N'Ta Goudami (Because Music, 2006)