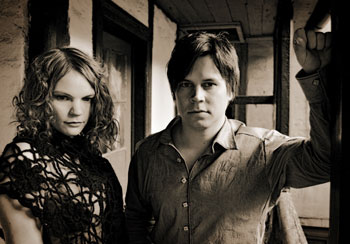 Norwegian act Adjagas is a yoik group formed in 2004 by Sara Marielle Gaup and Lawra Somby, both from a long line of Sami ancestry. A yoiker is a singer or a chanter with a Sami origin, and it represents a very historically important part of the musical history of Northern Europe.
Sara Marielle Gaup, born in 1984, is from Guovdageaidnu/Kautokeino, whose musical heritage was passed down to her from her parents and generations before that. She began singing at a very early age, and it was through continued musical education at SMG she developed her unique sense of performance and perfected her singing voice.
Lawra Somby, born in 1981, was taught the great gift of yoiking from his father, Ande Somby. Lawra started performing on a variety of stages in 1997, and he has performed his music both solo as well as with his father Ande, making him a an experienced singer with a strong stage presence.
Yoik is not about making stories about people, animals, situations or landscapes. Yoik is the young woman, the eagle, the grass field by the river they are recreations of a moment, a sense, a memory how the wings of a bird slowly touches your chin, the smell of a fireplace and and how it evokes memories. The yoik is about bringing memories into the light of day, making them available and inviting new people into this special world
Samiland, also known as Lapland, is the territory at the very northernmost parts of Norway, Sweden and Finland, spreading into Russia.
Discography
Adjágas (2005)
Mánu Rávdnji (2009)
Nordic Woman (2012)