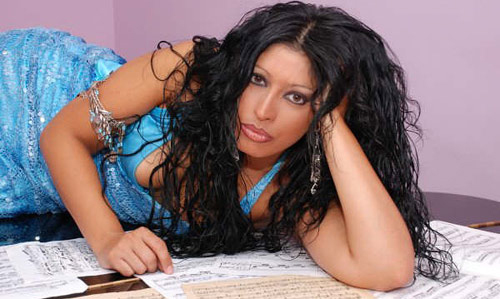 Flamenco pianist Rosario Lazo Montoya "Reina Gitana" was born in Jerez de la Frontera on April 29, 1974.
The Reina Gitana (Gypsy Queen) grew up in a gypsy family full of artists. Her father is Antonio "El Pescaero", owner of a flamenco fan club in Jerez that bears his name. Her maternal grandfather was a great guitarist and so is her uncle. Her aunt Rosario Montoya was a singer that toured the world with her own company. Her grandmother Pilar Montoya was also a great dancer.
Rosario studied at the Royal Conservatory Manuel de Falla in Cádiz, where she obtained the first prize for composition.
She is the first gypsy woman in Spain that received a degree as piano teacher and instrumentalist.
She has performed at major venues throughout Spain and also appeared on various TV and radio networks, such as Televisión Española, Canal Sur, Canal 2 Andalucía and Onda Jerez.
Rosario is passionate about pure, traditional flamenco.
Discography:
Muchelumbre ‎(Satélite K, 2017)