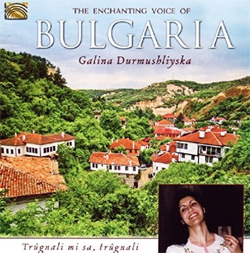 Galina Durmushliyska
The Enchanting Voice of Bulgaria (ARC Music EUCD 2514)
Beside this critic's workstation is a reproduction of an icon from the walls of a 12th Century Bulgarian church. When the Ottomans conquered the country two centuries later, they converted the church into a mosque where, following the Mohammedan prohibition of graven images, they painted over the walls and all the Christian art thereon. When the Turks retreated, several centuries later, the building was re-consecrated Bulgarian Orthodox and every effort was made to restore its ancient artifacts. That is why this critic is now glancing at a medieval depiction of St. George slaying the dragon from the back of a blue horse; blue paint can be removed or recovered from every overlaid original paint color but white. One learns from this new release that Bulgaria's music, like its other arts, still has a touch of the Turk, an Eastern meter and frequent brief walk-on appearances of twanging harmonic minor accents. It spices the album's ambiance interestingly, keeping it exquisitely balanced on a tightrope between folk and exotic music.
The liner notes are extensive and mandatory, as the release is foreign enough to Western ears to require a good guide. The songs center around perceptions one would associate with a Balkan peasant stereotype, simple, even constricted in world view, but always passionate and deep. The music is formally orchestrated and lush, but strongly folk-based; imagine a Bulgarian Bruckner. These factors being examined and passing examination with flying colors, we can move on to the artist, herself, Galina Durmushliyska.
I cannot improve on the summary of her abilities one can find in the album's liner notes and her press materials, "Galina Durmushliyska is arguably the finest exponent of Bulgarian traditional songs, with an exceptionally warm and lyrical voice."
Eighteen captivating songs.
Buy The Enchanting Voice of Bulgaria in North America
Buy The Enchanting Voice of Bulgaria in Europe