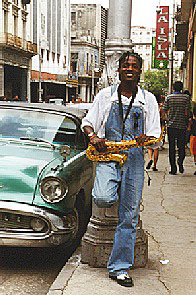 Tony Martínez is a virtuoso multi-instrumentalist, vocalist, composer and arranger with an intimate knowledge of even the most obscure Afro-Cuban rhythmic traditions.
The broad view of Martínez' s musical vision and his uncanny ability to tap the perfect Cuban rhythmic spirit to complement his adventurous arrangements and soloing may be the result of his early exposure to his country's folkloric traditions and the focus of his music education. Born and raised in the provincial Cuban city of Camagüey, far removed from the grandeur of Havana, Martínez began his formal study of classical music at the age of nine at a Camagüey conservatory, emphasizing saxophone, piano and voice.
Throughout his student years, the young musician participated in several local professional groups, specializing in traditional Cuban folk music. After receiving his music teacher's diploma in 1987, he taught at the conservatory level and directed three ensembles that combined music and dance and concentrated on such time honored styles as rumba and son. Being thoroughly grounded in such elemental Cuban styles insured that when Martínez moved to Havana in 1990 to explore more contemporary styles, the soul of his ancestors' music would remain central to his maturing personal style.
In Havana, he quickly made his presence felt, joining the progressive, jazz-influenced group Mezcla. His time in the Cuban capital was shortduring three tours with Mezcla to Europe for festival performances in Austria, Germany, Denmark and Holland, he became attracted to the continent's cultural scene and recognized the presence of professional opportunities that would allow his artistic development to continue unrestricted.
Settling in Bern, Switzerland in 1993, Martínez quickly established himself as one of Europe's most resourceful resident masters of Cuban music idioms, while his extraordinary talents as a saxophonist, flutist, keyboardist and band leader have attracted the attention of both jazz and Latin music lovers.
Discography:
La Habana Vive (Blue Jackel, 1998)
Maferefun (Blue Jackel, 1999)