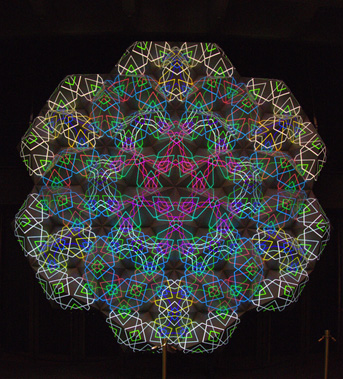 We live in confounding and perplexing times.  A relatively peaceful international order this past year has suddenly become upended by at least two recent political developments: the U.K.'s Brexit and the results of the presidential elections here in the U.S.  In both instances negative views concerning globalization and immigration threaten preservation and celebration of humanity's rich cultural heritage and diversities.
Regressive electoral rhetoric here in the U.S. flaunted and promoted xenophobic intolerance, religious bigotry, racial hatreds, and misogyny.  Right-wing supremacist views loom on the horizon as the new normal.  In such a dangerously noxious atmosphere affecting the international, it's critical to continue to explore and discover what's noteworthy among the myriad global artistic, poetic and musical, expressions.  They form the world's magnificent cultural ecosystem.  The proliferation and accessibility of world music recordings and concerts today in Europe and America, compared to, say, their "newness" 30 or 40 years ago, underscore much-needed cultural resistance against the political rants about metaphoric and physical borders and walls.
London Worldview
Across the pond, London is one of the most ethnically diverse cities in the world.  About a  third of Londoners are foreign-born where over 200 languages are spoken along with English, the official language.  This is the cultural "fabric" of the U.K.'s largest city that Simon Broughton, editor in chief of Songlines Magazine, mentioned during a visit this past fall preceding the U.S. elections, as I attended a couple of excellent Barbican Centre world music events.
Among the international stalwarts advocating world music, Songlines Magazine, launched in 1999, is one of the few remaining major print and digital music publications. Still not widely circulated in the U.S. though available on the net, the magazine covers global music, traditional and contemporary, popular and fusion, with impressive style and content. (The print edition with its handsome glossy lay-out is well-worth the subscription.)
In Simon's view: "Rather than just being a music magazine, I have always seen Songlines as a way at looking at the world through its music. And music is a way of exposing people to other cultures in a pleasant, accessible and enlightening way. Once you've experienced another people's music and culture, you understand them more and fear them less."
Songlines, among other world music publications and sites, stands to gain a greater profile as a worldview counter-force, given emerging discriminatory, isolationist ideologies. This occurred to me as I followed Simon Broughton around London for a few days preceding the roiled U.S. presidential elections. Even the concept of Brexit seemed remote during two great concert events at the Barbican.
Transcender Sufi Night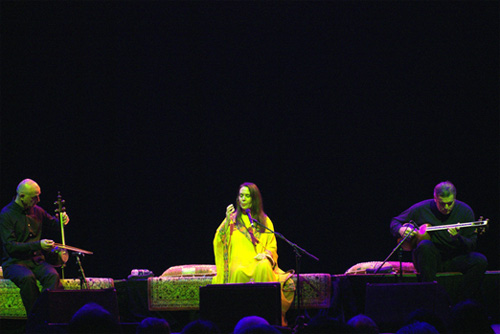 Originally conceived as  "Ramadan Nights" in 2004, meant to explore the wealth of Muslim music traditions found throughout Islam's historical geographies, the Transcender Festival evolved to include spiritual, devotional and trance-ritual sounds from all over the world.  This year there were two Sufi-related festival concert nights, programmed by Simon B.  I happily caught one.  Persia's iconic Parissa co-billed with Turkey's Meshk Ensemble.  It was a night reaching moments of incantatory rapture.
Parissa had not performed in London for 12 years.  The Barbican main hall was filled with Persian media and legions of fans who cherish her.  She has not been allowed, as a woman, to perform publicly in her country, due to political repression enforced since 1979.  Yet for over 40 years, she commands reverence and adulation whenever her rare appearances outside of Iran.  At home in Tehran, she manages to carry on her tradition through teaching the fine art of Persian song to young women.
Accompanied by an ensemble of musicians on tar, kamancheh, and tombak and daf percussion, her repertoire was dedicated to the great 13th century Sufi mystic poet, Mevlana Jelaluddin Rumi.   Her vocal expressive progression during the concert seemed like an epiphanic ascension towards divine mystical love over earthly pain and despair.
The SOAS American scholar of Persian music, Jane Lewisohn, who has followed her since the Shiraz-Persepolis Festival of Arts in the 70s, exclaimed following her performance, "Parissa always chooses the best poetry by Rumi." Lacking regrettably were program notes with translations of the poems. However, I drew pleasure just from the sheer beauty of Parissa's nuanced delivery of Rumi's poems with instrumental interludes. Hers were elegant delectations, restrained, lit with spiritual passion.
Meshk Ensemble Video Clip by Evangeline Kim:
The real surprise of the Sufi-themed evening was the stunning opening concert by the Turkish Meshk Ensemble.  There are currently all sorts of Turkish whirling dervish groups in Turkey ranging from the new age to the nonsensical.  Most all authenticity in Turkish Sufi devotional music was lost in 1925 when Sufism was banned as "backward" in the country for various reasons.  The original 1001 days of dervish training in the Mevlevi lodge tradition were abandoned.  The rigorous training of dervishes in Sufism's philosophy and thought, its ethical code of conduct (adab), and the related arts,  – particularly musical knowledge of the highly complex technicalities in the Turkish makam system seemed all but foregone according to the Meshk Ensemble's spokesman and musician, Feridun Gündeş.  A deeply embedded cultural tradition of higher knowledge dissipated into forms of nostalgia and touristic exoticism.
Simon further notes, "It's the state-supported Konya Sufi Music Ensemble that usually tours with 'whirling dervish' performances and performs regularly in Konya where Rumi was buried in 1273. But their performances seem routine and overblown. They have around 25 musicians and singers and it's clear that the Mevlevi lodges employed much smaller groups of musicians. So Meshk's style is much more authentic and more interesting as they are continually investigating new repertoire and not rotating the most common ayin pieces. You could compare Cevikoglu with artists like Roger Norrington or John Eliot Gardiner who transformed the approach to Beethoven and Bach 25 years ago."
"Meshk' in Turkish signifies the earlier pre-1925 Sufi musical educational training process from dervish master to student, the chain of transmission.  This tradition has been revived and is being upheld by the Meshk Ensemble's leader, Dr. Timuçin Çevikoğlu, Mevlana scholar with the Ministry of Culture, and who also happens to be the director of the famed Konya Mystic Music Festival.
According to Feridun Gündeş, "He ​works​ diligently like a musical archeologist determined to ​discover​ ​how​ the great composers of the past ​intended​​​ their Ayin compositions to ​be performed​​.  His understanding is probably the closest we can get to the original works of the past. ​ ​Meshk Ensemble is the group he founded and created in order to give life to this critical restoration work through performance and recording activities."
And so it was at the Barbican, we were transported to mystical Sufi realms by a brilliant, London-debut Meshk performance with players of ney, tanbur, bendir, kudum and beautiful vocals by Dr. Timuçin and Suleyman Ozen.  The first part featured "Ilahis" or devotional  hymns, sung and played during Sufi "dhikr" gatherings (remembrance of God).  The lyrics were poems written by some of Turkey's great poets, including Yunus Emre and Pir Sultan Abdal.
The second part enacted the famed sema ritual ceremony with 5 dervishes whirling in a blur of billowing white robes across the stage to a rare ayin (music performed during sema), discovered a few years ago in official archives by Dr. Timuçin.  It's known as the 'Hicazkar' makam – one of utter poise, serenity, and peace – composed by Mustafa Câzim el-Mevlevî in the late 19th century.  The lyrics were drawn from Rumi's masterpiece, the Mathnavi, verses 292-320.
Transcender Art
On the upper level foyer at the Barbican, as accompaniment to Transcender, the visual artist Zarah Hussain's light installation "Numina" drew mesmerized crowds.  Combining designs found in Islamic art and architecture with digital technique, Hussain's basic hexagonal grid shifted with infinite geometric variations of dazzling color and light.  Psychedelic visual riffs leading to contemplative wonder.
Songlines Music Awards 2016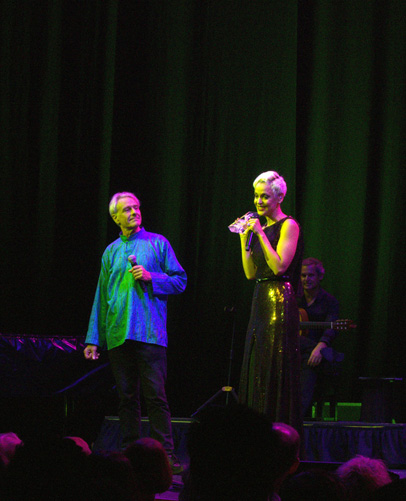 Launched in 2009, the Songlines annual awards has become a delightful concert event in recognition of outstanding talent on the world music scene..  A couple of nights later following Transcender, I took in another sold-out evening at the Barbican's main hall, showcasing 4 winning acts based on current recording releases, voted in by Songlines' contributors, its readership, and the general public: Mariza's "Mundo", Sam Lee's "The Fade in Time", Songhoy Blues' "Music in Exile", and Debashish Bhattacharya's "Slide Guitar Ragas from Dusk Till Dawn".
Simon B, as emcee, remarked, "For me this music is interesting because it brings us together.  The world is actually quite a small place with millions of diverse traditions.  Songlines is about making those better known."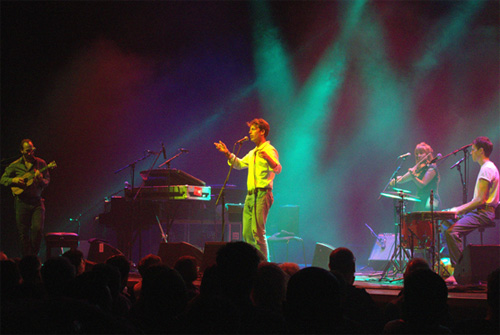 Contrasts in styles were in sharp relief.  Sam Lee opened the night with heart-tugging renditions of some the U.K.'s splendid folk traditions.  American record producer, Joe Boyd, in presenting Sam's award stated: "The genius of Sam and his group has been to find a way to surround that music, those ballads, with really adventurous and interesting instrumentation that takes the rhythmic cue from the song rather than trying to impose something on it."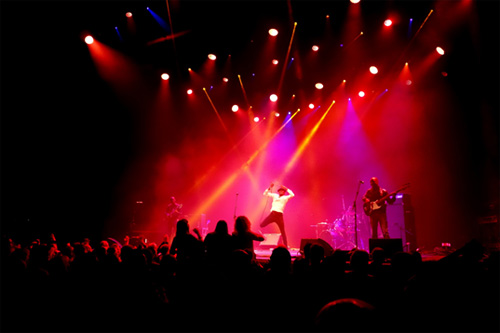 Mali's Songhoy Blues is tremendous in live performance and had the audience jumping and dancing  with its searing, rocking rhythms.  They excelled especially with the catchy "takamba" beat.  India's Debashish Bhattacharya to me sounds better on the album compared to his performance that night.  He is not a strong, convincing vocalist, but surprisingly, sang one song.  His edgy twang on the slide guitar was remarkable technically, but the shimmering delicate power of sitar tonalities was the quality I missed.
Mariza, the Portuguese fado star, is forever glamorous and beguiling.  I hadn't seen her live in several years, but her confidence and charm topped off the evening with immense celebratory joy.  The Songlines Awards concert is a fun-filled and exciting world music happening, not to be missed if you happen to be in London.  Every world music artist might aspire to be a winning Songlines act, appearing at the Barbican.
Malick Sidibe Solo Exhibition, Somerset House
Before I left London, Simon clued me in on the superb exhibition of works by the late Malian photographer, Malick Sidibe.  Ensconced within the larger Contemporary African Art Fair that ran for a few days in October at the Somerset House, the solo photography show is still up until January 15th.
While Mali's roster of stars from the 60s to the present began to hit the world music markets – such as Ali Farka Toure, Boubacar Traore, Salif Keita, Toumani Diabate, Oumou Sangare, and Rokia Traore – in Mali's capital, Bamako, Malick Sidibe was quietly documenting Mali's popular life and people.  To view this exhibition is an astounding view into the lives of ordinary folk who became immortal stars reflected through the lens of this photographer.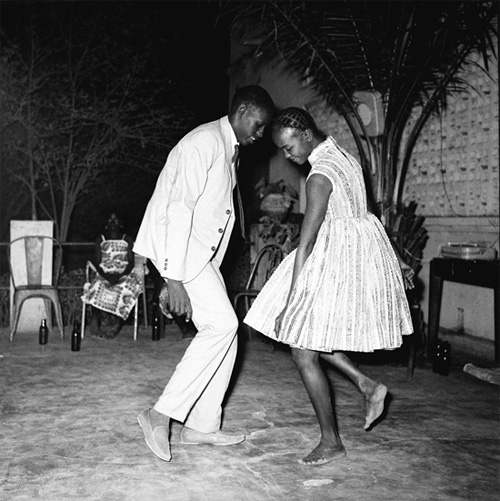 Nuit de Noël (Happy Club), 1963 (c) Malick Sidibé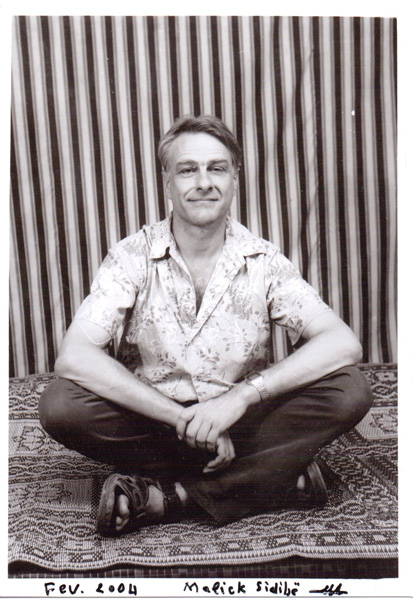 His major work began at the moment of Independence and post-colonial exuberance in the country and throughout Africa, the 60s. Over the years, until Sidibe's passing this past April, visiting world music fans, record producers, and journalists had their photos taken in Malick Sidibe's studio.
In Simon's experience, "It was the thing to do, to have your photograph taken by Sidibe. When I was in Bamako in 2004 a friend of mine took me to Malick's studio. He was a man of few words and was fast and practical in taking my portrait. He asked me how I wanted to pose and not having a moped to straddle – although I'm sure he could have provided one – I just decided to sit crossed legged. He took a few pictures, but he chose the one that was kept. I went back a day or two later to collect the print. Nick Gold, of World Circuit Records, was also a fan of Malick's work and took Oumou Sangare, amongst others, to have her photo taken there."
The exhibit holds 3 themes: Nightlife in Bamako, Beachgoers by the River Niger, and Studio Portraits.  Wafting through the exhibition rooms is a fantastic soundscape of African music from the 60s and 70s by DJ Rita Ray.  The exhibition catalogue is a keepsake.
Despite the sad turn of political events in Mali since 2012, the photographs are a testament to the vibrant, resilient, and creative spirit of Mali's people. The art of living lives on through Malick Sidibe's eyes.  And Songlines will continue to add value to Mali's and the world's musical legacies.  There is hope for better days to come.
Headline photo: Meshk Ensemble – Photo by Evangeline Kim