With Observations by Catalina Maria Johnson, Neva Wartell, Brice Rosenbloom
In these convulsive times, we affirm that the performing arts are a force, and that as a field, we can and will navigate and drive change together. – Mario Garcia Durham, APAP President & CEO
Despite the current, troubled, and uncertain times in the United States, the Association of Performing Arts Professionals (APAP) served to rally and infuse thousands of its members and attendees with measures of inspiring and positive energies during its 62nd annual conference at the Hilton in New York City (January 4-8).
The world music and jazz conferences and showcase offerings in particular continue to be bellwethers of change and developing trends for all the performing arts in the country. Their combined focus was social justice.
Part I: Observations, Reflections
Wavelengths Preconference
Almost 20 years ago, when I first started to attend APAP's world music themed preconferences just before September 11th, 2001, the gathering or room of attendees held little racial or ethnic diversity. Slowly but surely this has changed and continues to change. Increasing numbers of "people of color" and from various ethnic origins, notably from younger generations – including agents, presenters, producers, artists, and newer world music industry thinkers and leaders – are starting to populate the by now branded Wavelengths preconference as participants or audience members.
Here's a one-stop newsletter about Wavelengths that summarizes the whole event, including links to all the panel discussions. "What Happens at Wavelengths: Takeaways from 2019's World Music Pre-Conference".
In keeping with this year's Wavelengths theme, "Acknowledgement of Land", the Canadian-based First Nation Anishinaabe singer and activist, ShoShona Kish delivered a compelling keynote address about the Indigenous peoples of North America. The impact of her talk resonated throughout all the APAP showcase events I attended. Her words underscored more than the torturous, disenfranchised past and present of the Indigenous peoples of North America. They also held hope and beauty through her call for global social activism in the coming years for future generations. Listen to her speech here, starting at 18 minutes into the video recording.
Going Deeper…
The most challenging and painful issues of Indigenous peoples have recently dominated the media due to a horrible incident of incendiary racial confrontations in America. Anti-immigration rhetoric is getting louder. At the same time, the first Latin American Indigenous actress has been nominated for this year's best actress Oscar in Hollywood. This is the UN International Year of Indigenous Languages. The United States has just left UNESCO, the world's great and indispensable organization, promoting peace and hope through culture. What could all this mean? Leadership in the arts is key.
Two media colleagues offer their interrelated thoughts:
Catalina Maria Johnson: Land Acknowledgement
In this century, as we gather in countries such as Canada, New Zealand, Australia, and the U.S. it is becoming more customary to open events and gatherings by acknowledging the traditional inhabitants of the land.
It is the impact of this small verbal gesture that we discussed as part of our Wavelengths "Impact and Integrity" panel, which was focused on developing best practices for our world music community. On the one hand, to say a few words that over time can become stale and perfunctory may be perceived as an insignificant effort in the light of the enormous harm done to traditional societies across hundreds of years of colonial/settler imperialism; we barely understand the depth of those wounds and are very far from comprehending what needs to be done to heal them and move forward appropriately.
Yet, to come together as communities to create and experience art is one way in which we celebrate and share our common values. In the current political climate, words of hate have vomited forth in public gatherings, rallying and emboldening dark forces. As the philosopher/linguist Wittgenstein said, "The limits of my language, are the limits of my world." Today, more than ever, words matter. We can wield words as instruments capable of creating and shaping different ways of moving through our lives; we can advocate traditions that honor truth.
Additionally, as we reflected upon in our panel, a simple land acknowledgement is a seed of possibilities that can blossom into concrete actions. The words can serve to raise our awareness of a respectful relationship to the land, honor those that came before us, and become a an organic part of fostering a vision of protecting the earth that ties into concrete actions that can be undertaken as a world music community—-such as efforts like the Earth Muse Collective to eliminate single-use plastic water bottles at our concerts and festivals.
Yet, let us not be fooled into thinking that the acknowledgment in and of itself will be enough and lead us to reconciliation and some kind of utopia. It is important to understand the long-standing history that has brought each of us to reside on the land, and to understand what our role is within that history. Land acknowledgment should be approached as one way to consider our own place in the story of colonization and of undoing its legacy—-because as has been pointed out, there is no point in repeating words to atone for a crime that we are still committing.
And so, let me conclude by acknowledging that I live on the ancestral lands of the Peoria, Potawatomi and the Miami. And you? Take a moment to research and acknowledge the original peoples of your place of residence, then make a commitment to act and honor the vision those words represent.
Catalina Maria Johnson is a tropical being living in Polar-Vortex-loving Chicago who stays warm by listening to hot, hot music and sharing these grooves through her radio show and podcast, Beat Latino, as well as writing for NPR Music, Billboard, Downbeat and others.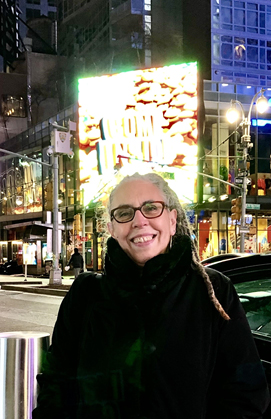 Neva E. Wartell: Whose World Is It, Anyway?
An ethnomusicologist and cultural activist since the 1970s, by now I'm a senior member of the global music community that gathers every January at the Wavelengths: APAP World Music Pre-Conference in NYC. The two days of panels, workshops and presentations never fail to provide inspiration and food for thought, along with the opportunity to reunite with colleagues, and to encounter new musical discoveries. Having attended every year since the first, some dozen years ago, I found the 2019 edition to be the most engaging and thought-provoking yet. I also found myself infused with a powerful sense of optimism for the future of the world.
Why? Because clearly the world is in new hands.
For me, one of this year's most important markers was the generational shift in attendance and participation – and even more significantly, what such a shift represents: a changing social landscape, which by its nature creates a changing consciousness, which in turn demands…change.
This shift was reflected in both the topics of discussion at Wavelengths and the artists chosen to perform at globalFEST 2019. It's no surprise that conversations and performances shared themes such as respect for the land, acknowledgment of cultural roots, assertion of identities, and demand for respect as human beings on this shared and suffering planet. Addressing these subjects is necessary and overdue – a very positive indication that a new generation is preparing to take the lead.
What kind of world have we left for them? The generation before mine created a music industry built on assumptions of white supremacy and male privilege. My generation took those power dynamics to the next level, inventing genres and marketing strategies, exploitative practices, and an insider/outsider mentality that gave birth to an amorphous, culturally myopic category called "Other", which became the convenient home of "World Music".
The new generation stepping forward represents all things labeled "Other" – the lovechild of "World Music" mated with "No Known Genre" equals every genre in the musical universe – both the cause and the effect of our changing social landscape.
They have every right, and so many reasons, to reject our constructs. Young musicians I meet these days are urgently aware of climate issues, economic issues, race, ethnicity, gender and other identity issues. They know the power of music as a vehicle for achieving social justice. And growing up in a digital environment and an increasingly do-it-yourself music industry, more and more artists are adept at handling their own business.
Many are from families who migrated from elsewhere, wanting only to assimilate into the dominant culture. But this generation is utilizing the dominant culture to express their "otherness" – celebrating the same cultural roots their parents left behind while making it relevant to their own context, creating a whole new cultural reality in their own image.
As award-winning musician and composer Rhiannon Giddens said in a recent interview with The Root: "I'm not interested in trying to do a hip-hop track to try to 'reach across the aisle.' I'm like, 'This is our aisle.'"
The next generation is here, and they are unapologetically reclaiming the world. 'Nuff' respect.
"DJ Neva" E. Wartell is an ethnomusicologist, producer and cultural activist. Formerly with WBAI-FM and Radio Soleil in NYC, she currently works for WGXC community radio in NY's Hudson Valley region, where she lives with two cats, a dog, a turtle, the turtle's pet fish, and Pepe the Pig. She was the DJ for the very first globalFEST afterparty.
Globalfest 2019 Awards
This was the second year Globalfest presented awards "that celebrate those that excel in the small but crucial global music field in the USA, too often with little recognition…. The annual awards will be presented to artists and members of the field who have been instrumental in making significant, longstanding contributions to the performing arts landscape in the USA through risk taking, addressing cultural diversity and diplomacy, cultural activism, helping to keep, transmit, and extend the world's ancient traditions, commitment to working with local communities and making a difference to the greater American performing arts landscape as well as other areas."
A note about the honoree Leigh Ann Hahn, programming director of Grand Performances in Los Angeles. Marco Werman, host and producer with PRI's The World, presented her with the Impact Award. She used her moment in the spotlight during the awards ceremony to draw attention to the ongoing, terrible genocide of the Uighurs in China. She urged activism on their behalf. The entire situation concerning the Uighurs is an unfolding tragic story.
The New York Times recently reported, "According to the United States State Department, between 800,000 and two million people, or up to 15 percent of Xinjiang's Muslim population, have been incarcerated in a growing network of more than 1,000 concentration camps."
There has been systematic targeting over the past few years by the Chinese government to detain influential Uighur musicians, writers and critics, and cultural activists in those concentration camps. One of the greatest Uighur artists, Sanubar Tursun, Leigh Ann presented at Grand Performances in 2016, has been detained. It will take massive efforts by governments, human rights organizations, and all interested in the world's Indigenous populations to mount campaigns to oppose and counter this genocide.
GF Impact Award Honoree: Leigh Ann Hahn
Leigh Ann Hahn, who started at Grand Performances in 1992, is an endlessly creative and innovative programmer. She is a leading figure in the world music performing arts field who has done a remarkable job producing free programs that pay homage to her beloved LA and its diverse communities with global breadth, depth and power. Her programs are uniquely multidisciplinary and frequently shine a musical light on significant historical, political and social events.
GF Trouble Worldwide Award Honoree: Matthew Covey and Tamizdat
Tamizdat, founded in 1998 by Matthew Covey and a group of musicians, has become a critical organization in the performing arts and cultural exchange fields. Tamizdat's work facilitates cultural exchange by easing the burden of the visa process for artists entering the U.S through their programs: legal visa assistance, outreach, the Artist Mobility Forum, The White Paper Project and other activities. Their mission is motivated by the conviction that the international mobility of culture is fundamental to a healthy and progressive global civil society and their work has enabled thousands of artists to perform on stages across the country.
GF Pioneer Award Honoree: Lee Williams
Lee Williams has worked professionally as a venue booking agent, promoter, and non-profit arts leader since 1982, playing a defining role not only in the music culture and community identity of Bloomington, Indiana, but also as a champion of world music in North America. A co-founder of the Lotus World Music & Arts Festival and founder of the non-profit Lotus Education and Arts Foundation, Lee served as Director of Lotus from 1995 to 2013 and as Artistic Director from 2014 through his retirement in 2017. He also co-led the creation of the Midwest Consortium, a professional block-booking network for world-music presenters that now includes peers from across the US and Canada.
GF Artist Award Honoree: Mighty Sparrow/Slinger Francisco
83 year-old Slinger Francisco, better known as Mighty Sparrow and affectionately dubbed The Birdie, is the unrivaled Calypso King of the World. With a career that spans over 60 years and counting The Sparrow is one of the most important living exponents of one of Caribbean music's most important traditions, known for a combination of politics, daily life, humor, innuendo and dance music. Sparrow continues to translate his witty island authenticity to the world, in a one-man demonstration ot the role that culture plays in uniting humankind.
Part II: APAP World Showcase Notes
APAP's conference is the best occasion of the year to sample favorites of promoters and agents from all over North America and beyond. There are so many superb acts going on simultaneously, you literally need to be in several packed venues at once on any given night. These were some of my favorites.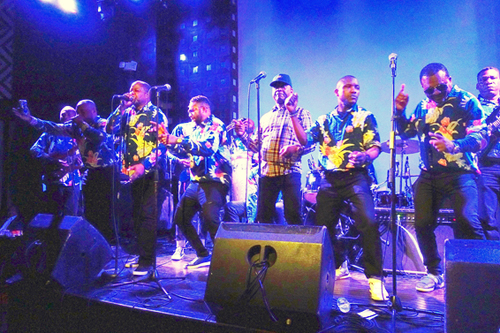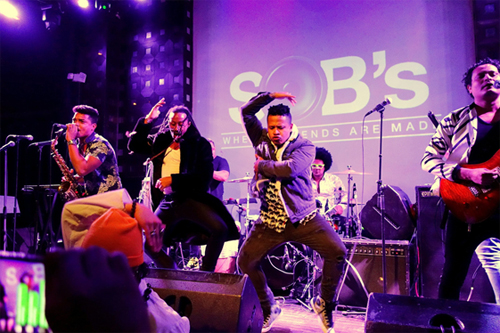 Africa Yetu & Mateo Productions presented one of the best programming feats in this new year known as "The Soukous/Champeta Project" at S.O.B.'s nightclub. They co-billed the classic soukous group, Zaiko Langa Langa from the Democratic Republic of Congo, and one of the most popular champeta groups, the Bazurto All Stars from Colombia. Musical cousins, Zaiko Langa Langa celebrates its 50th anniversary while the Bazurto All Stars was formed just 10 years ago. Their generational and historically related genre contrasts – reaching as far back as the early 70s – were revelatory. The dance energies were contagious and at maximum levels of audience enjoyment. However, the club's poor sound engineering marred the overall quality of their performances.
Mundial Montréal, North America's World Music Summit, held their annual 7th edition "Mundial On the Road" APAP showcase in partnership with the DROM nightclub. Theirs is one of the most popular and "thoughtfully curated" showcase evenings during the conference. And always cram-packed. Drawing from Canada's vast cultural diversities including their Indigenous First Nations, and stand out international artists, Mundial Montreal's annual 9th edition summit will take place in Montreal, November 19-22, this year.
This year the Mundial + DROM roster featured 5 Canadian groups with Afro-Cuban, Colombian, Mexican, and Balkan roots. Two others were from southern Italy and Haiti/New York. I caught the last two acts: Lemon Bucket Orkestra from Canada and Malou Beauvoir from New York.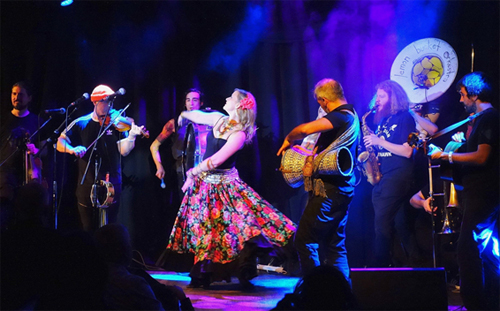 Lemon Bucket Orkestra is a Balkan brass band uniting Ukrainian, Russian, Macedonian, Serbian, Romanian, and English languages in performance. Their songs covered many subjects with thrilling, high-energy paced rhythms with deep folk soul. A walk down a village street arm in arm with a girlfriend; wishing the audience a good night; sibling rivalry; love and loss.
The stunning musical moment was Marichka Marczyk's solo "Zajdy, Zajdy" – "My heart stopped as in a dream". She sang with such sorrowful passion, the club room seemed to fall into a swoon of silence. A well-known Macedonian song beloved all over the Balkans, a woman sings at twilight to a tree: "Let's cry together, you for your falling leaves and me for my lost years. Your leaves will grow back, but my years will never return…" In their triumphant, rousing finale, the band trooped off the stage into the audience playing their strings, brass, and thumping percussion in gleeful unison.
The Haitian-American singer Malou Beauvoir known for her international jazz career, surprised with entirely new music from her recent album "Spiritwalker" – where she explores her Haitian roots. Her buoyant performance celebrated and conjured the healing Vaudou spirits of her heritage. She professed her faith in their power to awaken and bless humanity. To protect us. To guide us all to peace and harmony. Paul Beaubrun from Boukman Eksperyans lineage and her partner in the recording, appeared with her superb band from Haiti, New York, Japan, and Cuba. The whole night reached an ecstatic musical moment when Paul and Malou sang their pop hit version of one of Haiti's deep Vaudou songs by Toto Bissainthe, "Rasanblemen", or the "rassemblement" of spirits – to honor and comfort victims of oppression and slavery. It was also a prayer and plea for world unity.
Winter Jazzfest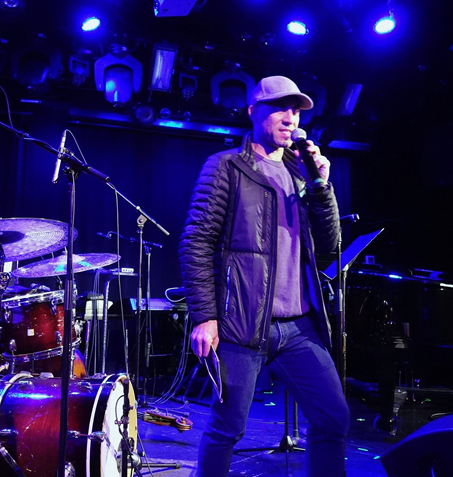 All in all, Winter Jazzfest continues to grow and expand phenomenally. This year, its 15th anniversary, the festival extended well beyond APAP's official dates over 9 days. Within the thematic framework of social justice, the focus was gender equity with over 140 groups, 12 venues, and close to 750 participating musicians. (Disclosure: Much as I intended to see many more showcases following APAP, I was hit by the flu.)
I look forward to Winter Jazzfest each year for many reasons, especially the international-related performances. Despite the feat of producing multiple differing jazz genre showcases all over lower Manhattan venues, the sound engineering is almost always perfect, as you sprint from stage to stage. I'm not forced to pull out earplugs to deaden overly aggressive or amateurish engineering. I find it impossible to review good shows when the sound levels are deafening or imbalanced. (Lighting is another issue…) Brice Rosenbloom, the founder-producer, and his team deserve highest kudos for the foremost crucial aspect of live music: excellent sound quality.
There's always a well-organized and invaluable program booklet that gives you all the basic festival information with venue maps, artist personnel and instrumentation, and good thematic introductory notes: In his tough-minded essay-manifesto,"Why Have We Been So Ass Backwards?", Brice reflects upon last year's Winter Jazzfest conversation at The New School on Martin Luther King Jr. Day. "Jazz and Gender: Challenging Inequality and Forging a New Legacy". Here are some excerpts:
Terri Lyne Carrington moderated the panel featuring activist and professor Angela Davis, bassist Esperanza Spalding, journalist Lara Pellegrinelli, trumpet player Arnetta Johnson, and pianist Vijay Iyer.
Terri Lyne Carrington started by asking the panel, "Considering the role jazz and jazz musicians have played in social justice movements why have we been so ass backward in this one with regards to women?
Angela Davis reminded the 600-person audience that we are witnessing the beginning of the era of women; "There was the amazing women's march, millions of women all over the world rose up against the Trump administration and the message was when women rise up, the whole world rises up with us." Davis then reiterated Carrington's quandary, "It's kind of bizarre that in the jazz community that has been so responsible over the decades for major contributions to social justice for doing civil rights work before the civil rights movement was born; it's kind of amazing that the jazz community isn't leading the rest of us with respect to issues of patriarchy."
Journalist Lara Pellegrinelli echoed these concerns when witnessing the #metoo and #timesup movements: "I was watching this movement gain momentum, women in the media, and women in Hollywood, and all these women in other spheres of labor stepping forward and outing their oppressors. And I was watching and asking myself when it it going to happen [in jazz]?"….
Today, with individual actions and music as the spark, it still takes the whole community – including men – to bring about change. Vijay Iyer challenged that "men can have feminist thoughts but what are they doing about it?" Carrington shared a quote from Jack DeJohnette: "Artistry is artistry no matter what the gender is. It's time for women to take their rightful place as equals in our predominantly patriarchal society. Now more than ever is a time for my gender to stop being part of the problem and embrace being part of the solution."
As many musicians echo strong messages in their music and offer a soundtrack to the movement, we have seen real ripples of change over the past year towards progress in the jazz community. This progress is absolutely vital to countering the bitter reality of blatant sexism pervading the jazz community (and overarching music industry)….
Winter Jazzfest is proudly among the first wave of adoptees of We Have Voice; and their Code of Conduct was distributed to all 140+ performing groups and to all participating venues to be posted in artist dressing rooms. Winter Jazzfest is also a proud member of Keychange. Last year Vanessa Reed proposed that we become of the first U.S. based festivals to sign the Keychange pledge of gender balance in programming by 2022. We are proud to have achieved that mark with both our 2018 and 2019 festival lineups.
There is still much more we can do and intend to do moving forward. While we reached Keychange's gender representation goal, we are far from being fully gender balanced. With nearly 750 musicians performing at this year's Winter Jazzfest, 129 are women. While we have taken steps towards gender equality in programming the next step is for bandleaders to also commit to more gender inclusivity in their groups.
In solidarity, we are committed to supporting progress and we hope to further inspire our colleagues, audiences, and artists to feel these ripples of change and to take the individual action necessary to forge a true movement of inclusivity in our jazz community. – Brice Rosenbloom
I am delighted that the Era of Women is happening. I believe Brice's gender equity activism is one of the most notable and influential developments in the entertainment industry. Mainstream media is beginning to reflect this. Women journalists and radio hosts have cause to rejoice.
Meshell Ndegeocello, this year's Winter Jazzfest's artist-in-residence, with her ensemble, delivered a fire and brimstone version of her tribute to James Baldwin, entitled "No More Water, The Fire Next Time, Auditory Portion". The set began with a live recording of James Baldwin's talk, "The Artist's Struggle for Integrity", given in 1963 at New York City's Community Church.
It seems to me that the artist's struggle for his integrity must be considered as a kind of metaphor for the struggle, which is universal and daily, of all human beings on the face of this globe to get to become human beings. It is not your fault, it is not my fault, that I write. And I never would come before you in the position of a complainant for doing something that I must do… The poets (by which I mean all artists) are finally the only people who know the truth about us. Soldiers don't. Statesmen don't. Priests don't. Union leaders don't. Only poets…. (partial quote).
Meshell hovered at Le Poisson Rouge's rear stage supplying a fierce bass undertow to the band's smooth R&B jazz grooves and choir-like gospel harmonies. Her ensemble unleashed a celebratory testimonial to civil rights' call to action and consciousness-raising for all the marginalized in song and spoken word. Staceyann Chin, the performance poet, condemned white supremacy's exploitation and hatred of black people. Her righteous fervor intensified as she voiced the pain and anger of the black woman's centuries-long bondage and victimization. Redemption lay in her cathartic fury.
The proclamation, "No More Water, The Fire Next Time!" Baldwin's rallying cry against injustice, carries even more power today after 56 years – through Meshell Ndegeocello's extraordinary summoning of his spirit.
Inspired by Paco de Lucia, Richard Bona, Cameroonian bass player and singer, has been performing his newer flamenco project "Bona De La Frontera" in Europe over the past few years. Le Poisson Rouge was a Winter Jazzfest American debut. Leaving aside his past Afro-Cuban explorations, he has plunged into flamenco's passion. Judging from the wild elation of the crowds, a recording seems imminent. In unison with Antonio Rey on flamenco guitar, Mara Rey cantaora, Paco Vega on percussions, Richard Bona's rippling bass lines were a love serenade to southern Spain's deep soul tradition.
Flamenco's laments and sorrows progressed in heart-skipping, clapped and tapped rhythms by the musicians as Bona called out the untitled songs, "Rumba Uno", Rumba Dos"… The dramatic tension built slowly and erupted in finale when the "bailaora de flamenco" Pedro Cordoba took center stage during the last two songs. Showmanship was at a zenith, as Cordoba whirled and stomped at dizzying pace. The whistling, cheering crowds were enthralled. No one wanted to leave.
The memorable highpoint of all the APAP showcases I attended was Winter Jazzfest's "Duologue" concert – title of the current Quincy Jones produced release– by Cuban jazz stars, pianist Alfredo Rodriguez and percussionist Pedrito Martinez. Their live performance together at SubCulture surpassed their recording in improvisational brilliance. Most of the evening's repertoire, drawn from the album, was a thrilling opportunity to experience superlative musicianship.
Rodriguez's head constantly bobbed in counterpoint as his fingers sped over the piano keys, skimming spidery delicate passages or pouncing with muscular syncopation. His ability to produce liquescent, bell-like tonalities, complex trilling ostinatos involving arpeggio-like chromatic scales, and flourished phrasings was sheer listening pleasure.
Pedrito Martinez was the perfect balance in their conversation, a unified rhythmic totality, as he switched between Cuban percussion and his drum set with precision and elan – spelling out the project's Cuban Santeria spiritual foundations. Rodriguez in spontaneous surprise, invited the flamenco star Antonio Lizana onstage. Lizana's vocals wailed and implored for a few moments, recalling Spain with nostalgia. The duologue ending riffed on a timba rhythm with echoes of an Andalusian melody. Still can't get over that showcase, it was so good.
Globalfest
Globalfest promotes outstanding examples of the world's cultural diversities. 2019 was its 16th edition. We don't have a bona fide world music festival in New York City like Chicago's city-wide World Music Festival, for example – although there are several excellent world music promoters here. Globalfest's attraction lies not only in its international scope, but its consistent levels of quality. (Although there seemed to be a few new-venue sound issues this year.)
It's a tough job for the producers to represent and showcase "the world" so successfully each year in a compressed format – 11 or 12 acts over 5 hours. Increasingly difficult visa challenges included. The producers are mission-driven. Shanta Thake, one of the co-producers, also served this year as an APAP Conference Co-Chair. During the APAP opening plenary introductions she paraphrased Martin Luther King Jr.: "We are bending the arc of history for justice." That could just as well be the motto of Globalfest.
This year's showcase of 11 acts was a glorious mix of rhythms and melodies from India, Palestine, South Africa, Mozambique-Ghana-Senegal, Ukraine, Canada's First Nation Tobique, Mexico, Cuba, Colombia, Tennessee and New Orleans. It took place at the Copacabana nightclub over 3 floors.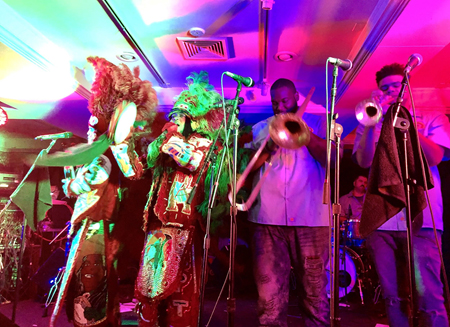 There were several examples of today's "freedom voices". Cha Wa from New Orleans started off the evening with a rousing blast of 2nd line brass-driven Mardi-Gras parade music, a few of its band members dressed in Native American feather headdress regalia. With their strutting, funk rhythms, they celebrate and honor the early Native Americans who took in and protected captive Africans during the days of slavery. South African B.C.U.C. (Bantu Continua Uhuru Consciousness) seems almost beguilingly cool and hip in their recordings, drawing on South Africa's danceable ethnic rhythms. But their performance was an explosion of righteous protest and fierce resistance. The room was boiling with their forceful lyrics and pounding beats.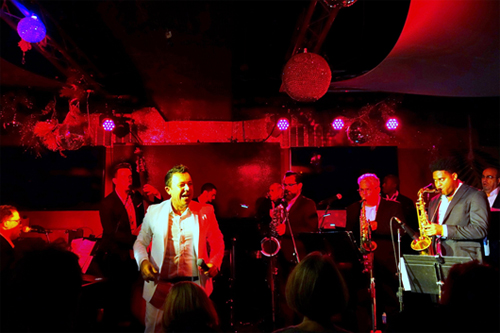 Palestine's 47 Soul played one of the most popular dance grooves over the evening. The group's Arabic techno-dabke with its syncopated, sinuous step-dance rhythms electrified the jumping crowds. Their lyrics called for unity, equality, freedom. By contrast, in classic Latin dance mode, Cuban Orquesta Akokan held sway with signature Afro-Caribbean mambos and son cubanos harking back to the 40s and 50s and salsa dura from the 70s – while thoroughly captivating in their contemporary big band brightness. Theirs holds a vast history of cultural pride, triumph over social struggles, and the sacred rhythms of Santeria.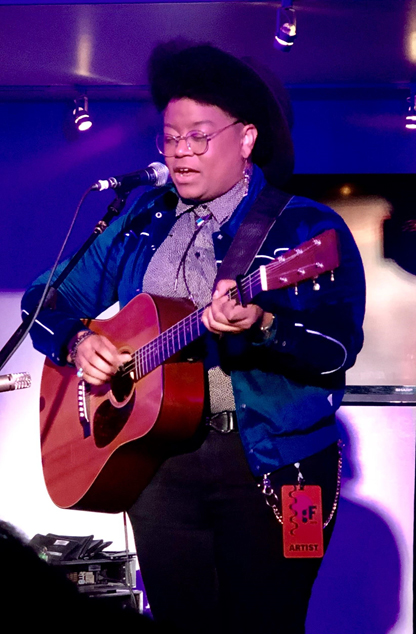 Hailing from Johnson City, Tennessee, and steeped in the great traditions of African American spirituals and blues, Amythyst Kiah's deep, tempered vocals with her melismatic wails cast a neo-folk spell among all present. When she switched from her guitar to her banjo, she noted that the instrument has its roots in West Africa's fretless ngoni lute. A rising star, she preserves memories of the long, musical journeys from Africa to Appalachian traditions by African Americans with effortless style, grace, and conviction not heard in a long time.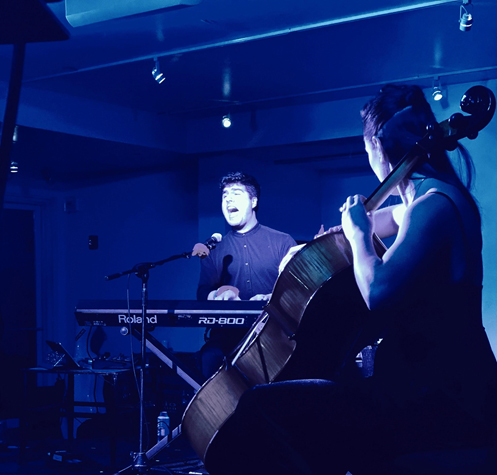 Tobique First Nation's Jeremy Dutcher's recent album "Wolastoqiyik Lintuwakonawa" won Canada's 2018 Polaris Music Prize. A classically-trained tenor, composer, and musicologist, his determination to help preserve, dignify, and honor his rapidly disappearing Indigenous Wolastoq language is a worthy cause. There are fewer than 100 speakers of the language today. His set, sung in Wolastoq, was moving, emotional, solemn, as his operatic vocals dramatized his long research into the traditional music. He celebrated his culture with songs about honor, a chief's installation, a wedding dance, canoeing, and water spirits. Bravo to Globalfest for its activism in being part of what may become an Indigenous linguistic and cultural renaissance in North America.
Finis
We are passing through a dark period.
The precise role of the artist… is to illuminate that darkness, blaze roads through that vast forest, so that we will not, in all our doing, lose sight of its purpose, which is, after all, to make the world a more human dwelling place. – From James Baldwin's 1962 essay, "The Creative Process"