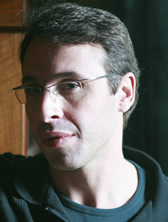 Siamak Jahangiry was born in 1971 in chaloos, in northern Iran. He started playing the ney at the age of 12. Jahangiry studied with Abdolnaghi Afsharnia before going on to study with Iran's leading ney players, mostly with Mohammad Ali Kiani Nejad.
He received his degree in music from Tehran University of the Arts and has written a book on the ney, its playing techniques in the 20th century, and its masters.
Jahangiry is a member of the Abd-al-kadir Ensemble, a group dedicated to the compositions of Abd-al-kadir Maraghi—one of the most important Iranian music theorists and composers of the 14th century.
Siamak Jahangiry is also a member of Yo-Yo Ma's Silk Road Ensemble and appears on the ensemble's albums Silk Road Journeys: When Strangers Meet and New Impossibilities, as well as recordings with his own ensemble. "//When you travel and play for people outside your country, they usually want to learn more about your culture and where you come from//," says Jahangiry. "//This is an important aspect of what we do with this project. We gain knowledge about each other and share knowledge about ourselves//."
He is currently a professor of music in the Fine Arts school of Tehran University.
Discography
* Silk Road Journeys: When Strangers Meet
* New Impossibilities
* Misty Solitude (2007)
* Tanha (Alone)
* Taranomi Baraye Sobh (2014)