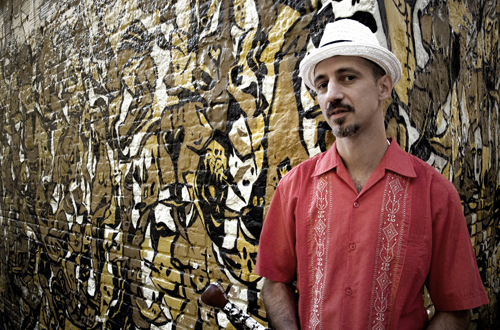 Bruno García (a.k.a. Sergent García or Sargento García) was born in 1964 in France. He got started in 1997, by pure coincidence, on the eighth anniversary of the radio show "Salsamania." Its director was asking listeners (and Bruno was one of the faithful), to join the party with letters, postcards, and messages in any format. García couldn't think of any better homage other than recording the "Salsamama" tune. It is an explosive mix of Cuban rhythms, salsa and reggae. The response on the radio was such that it led its creator to compose another fifteen tunes. These were soon recorded at home, without a band and produced an exciting debut album titled, ¡Que viva el sargento! on the indie label Crash. Bruno, a true one-man band, promoted his own album by handing out flyers at concerts. While doing this, he bumped into the promoter of a Cuban festival that would take place in August of that year. "Isaac Delgado wants you to play with him," he said. "But I don't have a band!" was the musician's reply. "Well then make one!," said the promoter. So Bruno got a dozen musician friends together, prepared a half hour show, was a Hit, started playing non-stop, signed with Virgin, and recorded a new album.
Sergent García has a powerful mixture in his ancestry: French mother, African cousins (Algerian), and particularly Hispanic roots. His grandfather was from Granada (Spain), and his father from Bilbao (Spain). It turns out that out of TV watching habits and the cruelty of fellow children, he was nicknamed after the bad guy in "Zorro." After overcoming this annoyance (since the Zorro García was fat, evil and not very smart), the artist became Sergeant García and came out a winner.
When asked about the title of the album "Un poquito quema'o" ("A Little Burnt" in Spanish) he responds: "We're all crazy here. That's how things are," regarding his band, which is made up of another ten musicians. He is the vocalist and plays guitar, along with two on percussion, three on brass, one on trap drums, one piano, a bass, a flute and another Cuban singer. "I also refer to how we see the world, its condition. Our lyrics are about jokes, love, party and also politics. We are a people with very open eyes."
Sergent cites numerous musical influences, especially three different genres (Rap, Reggae and Cuban Son and Timba). the list includes Busta Rhymes, KRS One, Mexakinds, Bob Marley, Anthony B, S-izzia, Gladiators, Irakere, NG La Banda, Charanga Habanera, Paul-i-to FG and Rubén Blades as his main sources of inspiration. The Sergeant said: "Mixing is the largest part of my music. I like to break barriers, mix influences, mix cultures and also cultures from other countries."
Bruno, who once lived in Barcelona, lives in one of Paris' marginal neighborhoods, where citizens of all races take refuge and one that is the center, of the Afro-Arab diaspora that took place in the 80s. "In my neighborhood, in Belleville, many people mix, refugees or flashy people, who drag along music and mix with French culture."
The Sergent's influence is divided among three French groups with similar influences. First it was Ludwig Von 88, a group that served as a beacon in the explosion of alternative rock during the 80s. They started out in 1988, when the alternative rock band La Mano Negra were only beginners. They played very basic punk, produced independently and with lots of humor. Bruno García cites Spanish bands Siniestro Total and La Polla Records as references. The band was independent to the core, and ended up recording eleven albums before their breakup in 1998.
Though still distant from the Latin rhythms that characterize the Sergent's sound, they went through the reggae path. Taking this into consideration, it seems logical that Bruno, who already had the "Sergent" title in mind, would be one of the first ragamuffins in Spain in the midst of DJs' dub circles.
He did it with Bawawa Son Sound System. The pause in Ludwig's history served to introduce Cuban as opposed to traditional rap sounds (Bruno had just finished producing the rap group Timide Sans Complex). France had not yet succumbed to the charms of Afro-Cubanism. It was the mid 90s and the Sergent's third French influence, Bawawa Son Sound System's parties had the Latin fever that now drives his fans crazy.
Sergent Garcia's first three albums Viva El Sargento (1997), Un Poquito Quema'o (1999,), and Sin Fronteras (2001) were conceived in Paris, using exotic ingredients as inspiration.
Sergent Garcia's U.S. debut, Poquito Quema'o, launched a new music style coined "salsamuffin": spontaneously melding the common roots of Jamaican, Cuban, and African music into salsified hip-hop. The album La Semilla Escondida goes back to the origins of this exhilarating musical style. "When I first started the new album, my goal was to combine the two sounds I love most: Jamaican and Cuban music. This blend of cultures contains all that I seek and uphold." La Semilla Escondida (Shakti Records, March 9, 2004) refers to a 'hidden seed or bean' as the cover visually displays in a Juan Valdez coffee fashion.
The album was recorded in Jamaica and Cuba. The first phase took place in Kingston, Jamaica, in April of 2003. Tyrone Downie, Bob Marley's former keyboard player who has worked with such artists as Jimmy Cliff, Steel Pulse, Khaled, Tonton David, and Stomy Bugsy was in charge of all the reggae, ska, and ragga-inspired pieces. Seven other Jamaican artists joined in and lay the foundations of the beats, heavy bass, and reggae guitar riffs.
The second phase led Sergent Garcia to Flores, Santiago de Cuba, in May of 2003: The home of Ivan Montoya, a tireless percussionist and the album's co-producer, was the scene of the band's rehearsals in Cuba. At the end of the day, when the heat faded away and the inhabitants of this working-class neighborhood returned home, curious faces crowded around the windows of the dining room which became the practice area.
Ivan, who comes from a long line of musicians (his father also plays tres on La Semilla Escondida), acted as conductor. In the backyard, shared with roosters and dogs, the brass section was going over Herencia Africana. "When I first started this project," Sergent Garcia reflects, "my goal was to combine the two sounds I love most: Jamaican and Cuban music. I am fighting for a world without borders, but with many more colors. Music can only be understood in terms of a blend. Everything that we listen to today is the result of a coming together of sounds." The final phase happened at the mythical walls of Egrem Siboney Studios, which have witnessed the presence of a pantheon of Cuban musical legends: Compay Segundo, Ibrahim Ferrer, Eliades Ochoa, and a dozen others. And this is where Sergent Garcia, backed by twenty musicians, put the final touches on La Semilla Escondida.
Discography:
Viva el Sargento (1997)
Un poquito quema'o (Higher Octave, 1999)
Sin Fronteras (2001)
La Semilla Escondida (2003)
Best Of (2004)
Máscaras (2006)
Cumbiamuffin, EP (2009)
Una y Otra Vez (Cumbancha, 2011)
Contre Vents Et Marées (Warner, 2015)