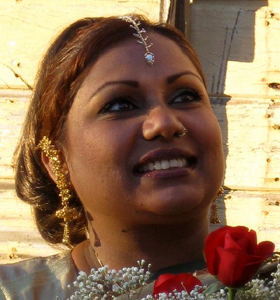 Riffat Sultana channels the musical wisdom of 500 years and eleven generations of master musicians in her family in India and Pakistan. But in all those years, she is the first woman to sing in public. For a Muslim woman in a very conservative country, such a career simply was not appropriate. Perhaps one reason her performances today have such overwhelming emotional power is that she sings for all the woman in her distinguished family who never had that chance before.
For Riffat, it took moving to the United States to free her musical soul. Now, her amazing voice is being heard around the world, including a featured spot in the 2004 We Are The Future concert, produced by Quincy Jones in Rome, Italy. Where doors were always closed to her, now they are opening everywhere, and Riffat has collaborated with singers and songwriters from all over the world. At last free to create and perform as she pleases.
Riffat's father, Ustad Salamat Ali Khan, was a musical icon, one of the most respected classical singers in India and Pakistan. In 1947, when Pakistan became a nation, he walked hundreds of miles from his Punjabi village, Sham Churasi, into Pakistan. At the time, Sham Churasi had no fame, but soon it would be widely known as the name of Ustad Salamat's school & of music, or garana. Riffat's mother Razia is also a gifted vocalist, from India, descended from a line of highly respected Shiite musicians. However, as with all other women in the family, she was never allowed to perform in public, only in Sufi ceremonies held in the family home. For Riffat, one of four sisters and four brothers, this prohibition became a torment. "Music is in my blood, my soul," she says. "I saw my father wake up early in the morning and practice, my brothers sitting next to him, and me standing outside the room, so interested. I didn't want to go to school; I didn't want to do anything. I just wanted to be like my brothers and learn music."
Denied the chance to study classical music, Riffat took to learning romantic ghazals and other traditional/ popular songs from relatives, tapes and the radio. Family friends recognized her unusual talent and remarkable ability to hear songs and sing them readily.
Some offered to teach her, but her father always refused. Riffat's troubles compounded when her engagement to a cousin, also skilled musician, was unexpectedly broken, leaving her heartbroken and desolate. Despite his insistence that women not sing, Riffat's father was a kind and loving man, and always a friend to her. It wounded him to see his daughter so unhappy, so he made the unusual move of offering to take her on tour with him in Europe and the United States in 1990-91. For a young woman who had not even seen much of Lahore, the city in which she lived, this was a remarkable opportunity. Riffat would still not be allowed to sing, and would have to work very hard to fulfill the domestic needs of her father and brothers during the tour, but she was allowed to play the tambura (a stringed, drone instrument) onstage, a great honor, and also an eye opener.
"I had never seen any of my father's shows in Pakistan," recalls Riffat. "The first show was in Holland, a big show in a beautiful church. I was so happy. I didn't care how much work they gave me. I just felt that I was sitting in heaven."
The family continued on to North America, where they were welcomed by adoring Pakistani communities. They performed in cities throughout the United States, basing themselves in among Pakistani friends and admirers in San Francisco when on the west coast, and Queens, New York, when on the east coast. Between performances, Khan Sahib and his sons took the opportunity to make collaborative recordings with several U.S. based artists. The group then returned to tour in India, but the next time they came to the United States, Riffat and her brother Sukhawat asked their father's permission to stay longer. Riffat still ached from lost love, and her brother convinced her father it would be helpful for her to stay for an extended time in the U.S.. The presence of significant Pakistani communities, including several master musicians, in Queens and in San Francisco, helped give Khan Sahib confidence that his daughter would be in good hands, and he consented.
Working within these American-Pakistan communities, Riffat began to make forays into the world of public performance as a singer. Pakistanis in the U.S. loved and encouraged her, and in time, Sukhawat became the first of her brothers to accept her as a fellow musician. For years, though, things were complicated. If word of one of her shows got back to the family in Pakistan, she had to lie and say there must have been some mistake. Once, when the family returned for an extended tour and remained longer than expected in San Francisco, Riffat had to send her brothers to perform a concert that had been advertised under her name. The local promoter was disappointed and angry, but under the circumstances, Riffat felt compelled to honor her family's traditions for women. With one foot in the restricted world of the past, and the other in a promising new realm of possibilities, Riffat's life proved awkward and challenging.
During this time, San Francisco-based guitarist Richard Michos, began spending time with the family, studying with Riffat's father and brothers when they stayed in town between concert tours. Richard was a UC San Diego graduate with a degree in composition. He was working as a session player and doing live shows, and his passion for South Asian music led him to the door of Ustad Salamat Ali Khan. Richard and Riffat found themselves spending a lot of time together, and in time, they fell in love. Ultimately, they would marry in 1996, and Richard would help give Riffat the clarity and confidence she needed to establish her own voice as a musician.
Riffat's musical career became an open secret, and finally, her father acknowledged the fact and gave her permission to sing, teaching her the classical forms of his unique style of music and vocalization. Filled with a new love and given lots of encouragement, Riffat immersed herself in her music training. In 1995, she joined Sukhawat and Richard to form the Ali Khan Band, an acoustic group of world musicians that performed a variety of traditional and popular music from India and Pakistan. The group started out working in the Bay Area. Then Michos introduced a prominent Algerian DJ, Cheb I Sabbah, to Riffat's father and brother. The meeting proved fateful when Sabbah persuaded Khan Sahib to let him record the family and mix the music for the dance floor. The 1996 release, Shri Durga, became one of the most successful DJ albums of the year, and introduced the music of the Ali Khan family to a whole new audience. Subsequently, the Ali Khan Band opened for Cheb I Sabbah at the Sound Factory in San Francisco, and word began to spread fast.
Soon After the group was asked to open for Ben Harper at the Fillmore, and then to record a single for compilation on the City of Tribes label, the buzz grew. Clearly, it was time to start doing some serious recording. Two Ali Khan Band albums for City of Tribes' Tawsir (1998) and Zindagi (2000) did well on CMJ, and with a growing youth audience paying attention, the inevitable happened: the group went electric. By now Richard had become Riffat's husband, and was developing an original approach to accompanying her Pakistani Sufi songs on guitar, as well as in producing the albums, and as he added electronics and other instruments, the soundscape continued to expand, allowing Riffat and Sukhawat to compete dramatically for the affection of audiences.
In 1999, the group came to the attention of entertainment manager and producer Dawn Elder, and then President of Mondo Melodia Records/Ark21. This label, owned by Miles Copeland, was receiving a lot of attention for its growing success in world music. Dawn signed the Ali Khan Band, but at this point, the name, so reminiscent of Nusrat Fateh Ali Khan, seemed unnecessarily confusing. The musicians wanted to establish a separate identity for their more electronic and Western fusion project. So, for their Mondo Melodia release, they became Shabaz, literally 'King Eagle,' but also a reference to the family's beloved Sufi saint, Lal Shabaz Qalander.
Riffat participated in an international songwriters' retreat that took place in the South of France in 2001. With such luminaries as Khaled, Hakim, Jeff Beck, and Simon Shaheen on hand, Riffat, working with Narada Walden, composed one of the most popular songs of the retreat, "Queenie's Jam," which became a track on the Shabaz album. Shabaz offered groove music with intensely exciting vocals from Riffat and Sukhawat. The album had the misfortune of being released in September, 2001, and did not get the attention it deserved. But many took notice, including Quincy Jones, who would later sign Riffat up for his mega-concert in Italy in the spring of 2004.
Riffat has grown to become a confident composer and performer. Along with Richard and her brother, she wrote more than half the material on Shabaz. But for the moment, she prefers to sing & compose acoustic renditions of beautiful compositions by her relatives in Pakistan. It is a way of honoring them, and showing the world more richly who she is. This return to her musical roots is the theme for her solo debut album, Sufi Folk & Love Songs.
Over the years, Riffat has performed Punjabi folk, devotional Sufi songs, classical music, as well as ghazal, geet, and electronic and acoustic fusion.
Discography
Tawsir (City of Tribes, 1998)
Sufi, Folk, and Love Songs (2005)
Zindagi (City of Tribes, 2000)
Shabaz (Ark 21, 2001)
Shabaz (2006)