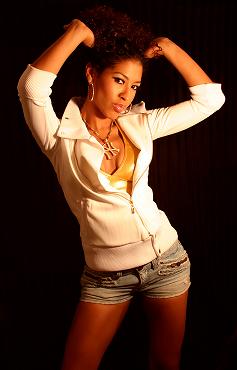 Singer-songwriter Adassa combines dancehall, reggaeton, and r&b, and hip hop captivating the public's ear with unabashed and up front lyrics as well as fiery club bangers.
Born in Miami, Florida, February 5th, she is daughter to Colombian parents. Raised in St. Croix, Virgin Islands, she represents the new multicultural generation dominating both the English and Spanish language.
As a child, her first taste of the stage was at the age of 4, when she sang with her mother in Church. " I remember begging my Mom to teach me the hymn, since I was to little to read, and give me a chance to go on stage with her. While on stage I knew at that moment, I wanted to be a singer." From that moment on she started experimenting with colorful vocal techniques and harmonies studying musical theory and opera, expanding her vocal range.
Propelled by her overwhelming passion for self-expression, from a very young age she received many awards not only as a singer, but as a writer as well. Many of her poems were published as early as the age of 10, moment in time in which she wrote a poem dedicated to Martin Luther King Jr. At 14, she published another titled "The Rose" and "Who am I". To this day Adassa continues writing poetry, although in anonymous fashion, solely for the need to be heard.
At the age of 15 was the first time she stepped into a recording studio alongside her mother, to record a Christian Album. Although, it wasn't until she was 17 that she got her big break and was able to prove what she was capable of. Her brother and musical promoter Chuly, invited her to form part of a group named Xtasy, opportunity which drove her to move to Houston, Texas. The immediate musical bond she made with heavy hitter Don Candiani, producer and songwriter for the group, was evident. It was at this precise moment in which she flourished as a songwriter and subsequently landed her first record deal alongside the group, with Caiman Records. "Even though I had already recorded a Christian album, it was with Xtasy that I had a chance to work with a notorious producer and write my own songs." she remembers.
Once the album was finished, she made the life changing decision to leave the group and take the long road to success as a solo artist. "I left the group before the album dropped. They removed my image, but kept my vocals on the production." She comments with no regret. Determined to quench her thirst for the stage and self-expression, she packed her bangs and moved to Monterrey, Mexico. This is where she learned the magic of being a true performer. "I had to memorize forty to fifty songs per week along with different choreographies and a live band. I learned that this career is not based on just being an artist, it's about entertaining the public." She toured through the borders of the U.S. and Mexico from Monterrey, Tampico, Saltillo, to Laredo, Reynosa and McAllen, Texas just to name a few cities. "It was here where I grew musically and as a performer." she comments.
With tenacity and developed musical talent, she decided to move back to the U.S. determined to establish herself as a solo artist. It is while living in McAllen, Texas that she became part of the underground Hip- Hop movement releasing her first album Down South, a backpack out-of-the trunk distributed album. With no limitations and all sincerity, Adassa let it all out in this album with sexy, aggressive rhymes and themes from happiness, deep emotion, to domestic violence and everything in between. "Down South was a real emotional album for me that?s why I can't leave it behind. It was the first time I expressed myself without holding back. I think it's important to show your colors, as dark or as bright as they may be. Music should be a form of release, a musical diary in which you can unleash yourself with no remorse."
She succeeded in creating a buzz, yet she hungered for more which lead her back to Houston, Texas, where she recorded her second underground self-titled album distributed through Hoodlum Records, an independent label. It showcased her aggressive, yet sexy and playful side and was well received in the clubs and even leaked into local radio stations. Riding on the growing buzz and underground success of these albums, she moved to Miami where she released On the Floor and gained national distribution.
With her musical career on the rise, Adassa had the opportunity to tour with artists such as Daddy Yankee, Lil' Flip, Pitbull, Ivy Queen, Don Omar, Lil' John, Vico C., Baby Rasta y Gringo, Sasha, Baby Bash and Juvenile among others. She also made high-profile cameo appearances with Ciara and Missy Elliott on "1,2 Step" Don Candiani Reggaeton Remix, with Pitbull on the title track record off of her album Kamasutra, and alongside Tego Calderon and Roselyn Sanchez to name a few.
Her hotly anticipated new CD Kamasutra, released through Universal Latino, is proof that perseverance and talent are rewarded. This opinionated, seductive, yet lyrically flirtatious album includes 15 completely bilingual sharp tracks produced by heavy hitter Don Candiani, in which Adassa proves her versatility not only lyrically, but vocally as well. Every song has its own identity from "Kamasutra" which is an Indian laced sensual Hip Hop track, to "Bang, Bang" a high voltage Reggaeton which has already become a record pool chart topper along with "De Tra" another high-energy cut.
This album is a reflection of the musical influences she had growing up. She was exposed to a musical array of artists from the Dance Hall and Reggaeton of Bennie Man, Patra, Shabba Ranks, Elephant Man, Lady Saw, Shaggy, El General and Vico C., to the Hip Hop and R&B from artists such as Missy Elliott, Bone Thugs n' Harmony, TuPac, Mary J. Blige, Mariah Carey and Boys 2 Men. "I think this album represents who I am – my passion, my sensuality, my maturity, my playfulness, and my sexual aggression. There are songs I feel more in English others in Spanish, there are even some cuts in Spanglish."
Discography
On the Floor (2004)
Kamasutra (2005)
Adassa (2007)