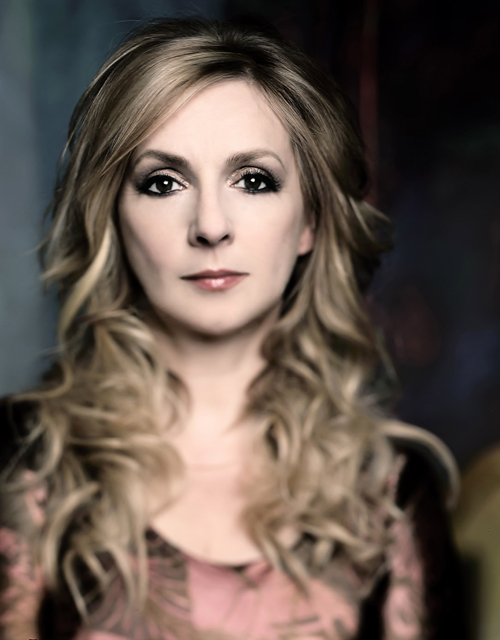 Máire Brennan, better known as Moya Brennan is best known as the lead singer of Clannad, a group largely made up of Brennan family members. Her haunting voice adds an ethereal quality to the unique sound that the band have developed over two decades, winning them many accolades and awards in the process.
Moya has been singing since she was a child in Donegal in northwest Ireland – an area renowned for its rich musical heritage. Her mother teaches music and her father, after years leading a show band, now performs nightly in the Brennan family pub.
Moya and two of her brothers, Pol and Ciaran played their first shows with uncles Noel and Padraig Duggan in the 1970s. All the band members spoke Gaelic as their first language, and their commercial chances seemed modest. However, they made a breakthrough record, Theme From Harry's Game in 1982, which reached number five in the UK charts, and appeared on the 'Patriot Games' soundtrack ten years later.
In 1986, the Clannad release, In A Lifetime, found Moya sharing vocals with Bono from U2. A compilation, Pastpresent, reached number five in the UK albums chart in 1989. The band won a Grammy Award (for 1997's Landmarks), and provided the theme music to Last Of The Mohicans and Robin Of Sherwood, while Moya also sang the theme to Circle Of Friends in 1995.
Moya has also collaborated with a host of well known musicians, including Paul Young, Bruce Hornsby, Joe Jackson, Robert Plant, Shane McGowan Paul Brady and Russell Watson. In 1999 she scored a worldwide hit with Chicane on 'Saltwater'.
Her autobiography, The Other Side of the Rainbow (2000), was a powerful and honest account of music, fame, misfortune, love and spirituality.
The Two Horizons project, released in 2004, produced 80 minutes of music that Moya and producer Ross Cullum were happy with. In the final stages, Chris Hughes came in to oversee the final editing of the record, lending fresh ears and experience to shaping the finished product.
'It was a monumental task bringing the album down to its final running time but we've encapsulated the essence of what we started with.' Moya said.
The same degree of synergy carried Two Horizons through photo sessions and designers. Artwork and costumes echo the Two Horizons theme and soulfulness of the music. Everyone seemed to appreciate and understand the project's broad picture, much to Moya's satisfaction.
'I think it's the best thing I've done,' she enthused. 'I'm loving it. I've never heard my voice sound the way it does now. The production is fantastic and the harp sounds amazing, which is very much a part of what the record is about.'
Moya used her new record to celebrate the Irish harp in her own personal scheme. Coming from Donegal, in the North West of Ireland she had learned to play the harp as a schoolgirl and it was the start of an enduring love. However, she was often reluctant to highlight her playing in public. She felt that the harp was over-exposed ? a national emblem, often degraded by the advertising trade. Even with Clannad, a group that has drawn from the deep wells of Irish tradition, there has been a rather coy attitude to the harp. Not so this time.
Moya started this project in the summer of 2001. From an early stage, she'd been convinced that this record should have some kind of a narrative. To this extent, she was encouraged by her new record company and particularly by Max Hole, a key figure at Universal International. Moya started working on storyboards, aiming to thread a series of songs around a defined theme.
She was thinking about Ireland's past, and her reading included the blind harpist, Turlough O' Carolan. She was also fascinated by the global use of harp music in many of the world's traditional cultures and possible Irish connections, for instance, the kora harp in West Africa. Meanwhile a close friend was researching the ancient site of Tara, where, according to legend, the High Kings of Ireland met in pursuit of reconciliation and sublime art.
The title Two Horizons was partly inspired by a visit to the site of Tara. She'd arrived just before dawn, and when she ascended the hill, the moon was on one horizon, and directly opposite, the sun was on the rise. Here it was, a perfect metaphor for the past and the future, a place where music, memories and myth could all take shape.
Moya split her recording sessions between her home studio near Dublin and that of her producer, Ross Cullum, in London. Ross had previously worked on records by Tori Amos, Tears For Fears, and even Moya's sister, Enya. They began writing together, and on the track 'Bright Star', Moya was so inspired that she produced the words and vocal lines in two hours. Also, Ross was finding new ways to frame Moya's voice. 'He was careful not to take my music out of its context,' she notes. 'But he also gave a modern, rhythmical aspect to it.'
The energy of the project kept bringing her back to the harp and so the instrument appeared on a series of tracks. It also became an important motif in the theme ? a quest through time and landscape to find the legendary harp that played at Tara. At a certain stage in recording the album Moya felt that the storyline had become too specific. She then decided to make things more open to interpretation. 'When people talk to me about what Clannad's music has done to them,' she explains, 'they say that they put the record on and they form their own pictures and feelings and emotions. So I wanted to leave a certain amount to the imagination.'
Guest musicians on the album included folk giant Martin Carthy, Robbie McIntosh (sometime Paul McCartney guitarist) and old friend Anto Drennan, now working with The Corrs. Moya's band also played live on some key sessions, while a wealth of traditional players included Maire Breatnach, Nigel Eaton and Troy Doneckley.
Moya has made great strides in her own career – in solo recordings, collaborations with other artists and as a producer. Her albums, Maire, Whisper to the Wild Water, Perfect Time, and Misty Eyed Adventures have been a major songwriting departure for Moya and have drawn on musical influences from around the world.
Discography:
Máire (RCA, 1992)
Misty Eyed Adventures (RCA, 1994)
Perfect Time (Universal, 1998)
Whisper To The Wild Water (Word Entertainment, 1999)
New Irish Hymns (Kingsway Music 2001)
Two Horizons (Universal, 2003)
An Irish Christmas (BEO Records, 2005)
Signature (BEO Records, 2006)
Heart Strings (BEO Records, 2008)
My Match Is A Makin', with Cormac de Barra (2010)
T with the Maggies Compass Records, 2010)
Voices & Harps, with Cormac de Barra (2011)
Affinity, with Cormac de Barra (2013)
Canvas ‎(BEO Records, 2017)
Live albums
2005 – Óró – A Live Session
2007 – Signature Special Tour Edition
2008 – Heart Strings