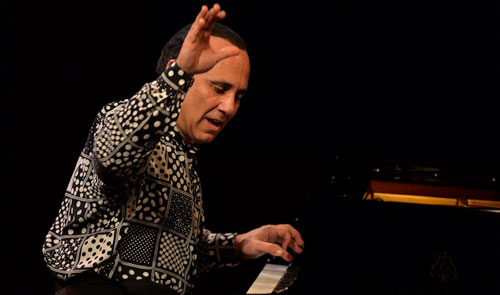 Michel Camilo was born into a musical family and played accordion before switching to piano at the age of nine. In 1979, he arrived to New York, where the self-taught student of American jazz, continued his studies and made his Carnegie Hall debut in 1985. After three years as a member of Paquito D'Rivera's band, in 1988, Camilo released his self-titled Epic debut. The album became an instant success and held the top jazz album spot for eight consecutive weeks. His next recording, On Fire, was voted one of the top three Jazz Albums of the Year by Billboard and 1990s On the Other Hand was a top-ten jazz album.
In 2000, Camilo's Verve release, Spain, with Spanish flamenco guitar maestro Tomatito, won Best Latin Jazz Album in the first-ever Latin Grammy Awards. Camilo also appeared on the soundtrack CD for the acclaimed Latin jazz film Calle 54, directed by the Oscar-winning Spaniard Fernando Trueba.
2002 marked a special year for the ever-versatile Camilo with the release of two albums, one classical and one Jazz. In February, Decca released his Concerto for Piano & Orchestra, Suite for Piano, Strings and Harp & Caribe, to celebrate his guest appearance with the NSO conducted by Leonard Slatkin at the Kennedy Center for the Performing Arts in Washington, D.C., and in March Telarc released Triangulo.
August 2003 marked the Telarc release of Live at the Blue Note, featuring Horacio "El Negro" Hernandez on drums and Charles Flores on acoustic bass. This two-CD set captures the quintessential Camilo "sound" live for the first time. Camilo called upon drummer Horacio 'El Negro' Hernandez to bring his rich Cuban roots and spirit, which he expresses unlike any other drummer. The 1997 Grammy Award winner performed and recorded with legends such as McCoy Tyner, Carlos Santana, and as a member of renowned Latin ensembles like Tito Puente's Tropi-Jazz All Stars, El Negro has earned a renowned reputation as one of the most powerful and versatile players in the current musical scene.
Bassist Charles Flores played and inspired the best, while continuing to challenge himself and his peers in new artistic directions. A graduate of Cuba's prestigious Escuela Nacional de Arte, Flores has performed and recorded with Juan Pablo Torres, Steve Turre, Jane Bunnett and the BBC Orchestra in London masters. While in Cuba, Charles was recruited by one of the most important figures in the history of Cuban jazz, pianist Emiliano Salvador. In addition, Flores was also the bassist for the groundbreaking Cuban fusion group AfroCuba and for Salsa sensation Isaac Delgado.
Discography:
French Toast (Electric Bird, 1984)
Why Not? (Electric Bird, 1985)
Suntan/In Trio (Electric Bird, 1986)
Michel Camilo (CBS Portrait, 1988)
On Fire (Portrait, 1989)
On the Other Hand (Epic, 1990)
Amo Tu Cama Rica (1991?)
Rendezvous (Columbia, 1993)
One More Once (Columbia, 1994)
Two Much (1996)
Thru My Eyes (Columbia, 1997)
Spain (Verve, 1999)
Piano Concerto, Suite & Caribe (Decca, 2001)
Triangulo (Telarc, 2002)
Live at the Blue Note (Telarc, 2003)
Solo (Telarc, 2004)
Rhapsody in Blue (Telarc, 2006)
Spain Again (Emarcy, 2006)
Spirit of the Moment (Telarc, 2006)
Mano a Mano (Emarcy, 2011)
What's Up? (Okeh, 2013)
Live in London (Redondo Music, 2015)
Spain Forever (Universal, 2016)