The Rainforest World Music Festival took place July 12-14, 2019 in Kuching, Malaysian Borneo. The location of the events was the familiar Sarawak Cultural Village in Kuching, the capital of Sarawak State.
The festival usually holds a tree-planting ceremony every year. In 2019 it was mangrove trees at Pantai Puteri, Santubong Village. This is a way to celebrate the spirit of the festival, which is held in Borneo, home to essential rainforests and diverse wildlife, including the orangutan, hornbill, proboscis monkeys, sun bears, gibbons and many other species.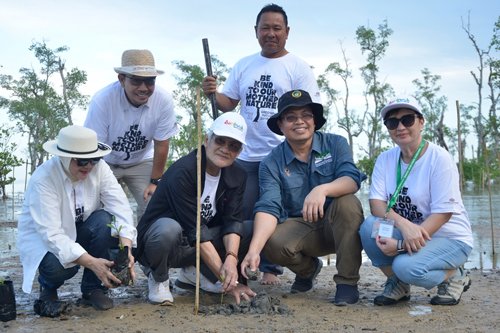 There are various elements that stand out and make this festival unique. First, many of the festivalgoers are young. There is a mix of locals, Malaysians from others states and foreign tourists. Vietnamese musician Ngo Hong Quang pointed out to me that, in comparison, when he performs in the United States, the world music concertgoers are older. This brings up the issue of music education beyond pop culture, affordability and access to American venues.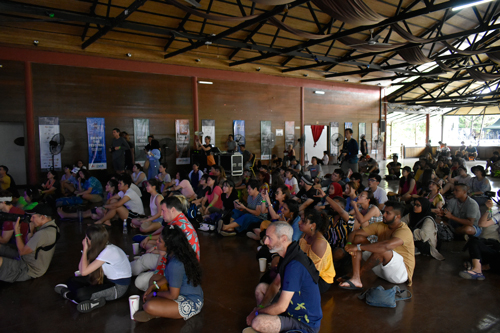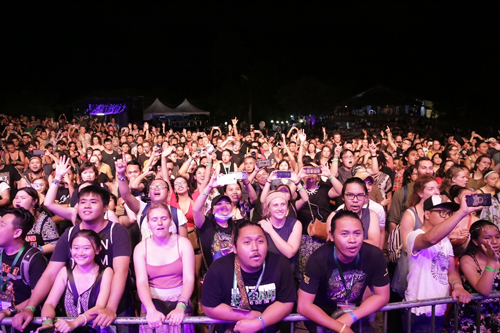 Another distinctive component of the festival that catches your attention is the inclusion of Asian acts. In European and North American festivals, there is an abundance of African and North America/Europe-based acts. Asian artists are rare except for Tuvan or Mongolian throat singers, Indian classical artists and Japanese taiko drumming groups. At the Rainforest World Music Festival, you can enjoy artists from all corners of Asia. This year the programming included musicians from Bhutan, Mongolia, Japan, Malaysia, Vietnam and Indonesia.
Perhaps one of the most important effects of the Rainforest World Music Festival is that it serves as a platform that nurtures local talent. Although the festival has been highlighting veteran and pioneering local Sarawakian acts from the various communities in the past years, we are starting to see the fruits of this labor. There are promising young groups like the increasingly popular At Adau that is rooted in tradition and modernity as well.
Regarding this performance at this year's Rainforest World Music Festival, At Adau's Meldrick Bob said: "We were truly honored to be part of Rainforest World Music Festival again for the third time and we did everything we could to deliver the best in our performance.
Every year, Rainforest World Music Festival consistently maintains its reputable standard of being one of the best world music festivals. For this year, there were more varieties in the festival programs which appealed to a wide range of age groups and interests. A highlight on the addition of the indigenous stage which showcased purely traditional music from different countries. Also, it's good to mention how Rainforest World Music Festival is going green by providing water refill stations to reduce the use of plastic water bottles. So kudos for that!"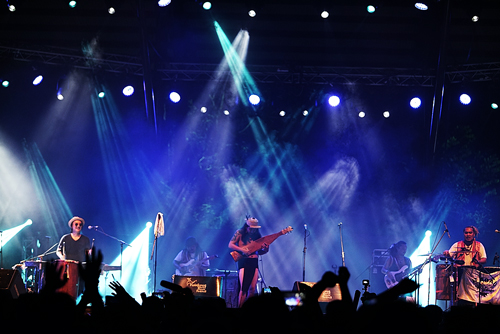 Indeed, the Rainforest World Music Festival implemented various greening initiatives, including the elimination of plastic water bottles and the installation of water stations to refill bottles.
Meldrick Bob shared At Adau's plans for the near future: "In the near future, we'll try to bring Borneo to the world by introducing our music on the European stage, hoping that the world will see Sarawak's beauty through our music. As much as we can, we are also selling our music to the festival directors, agents or any interested parties to be more familiar with At Adau and hopefully expand from there.
Our next plan is to bring back those old, or we can say nearly extinct, traditional instruments such as the nose flute and kedirek, and many more to our new songs and now slowly putting some new material for the next album. We really hope that the new generation will be influenced by playing those traditional instruments to continue the legacy of our ancestors."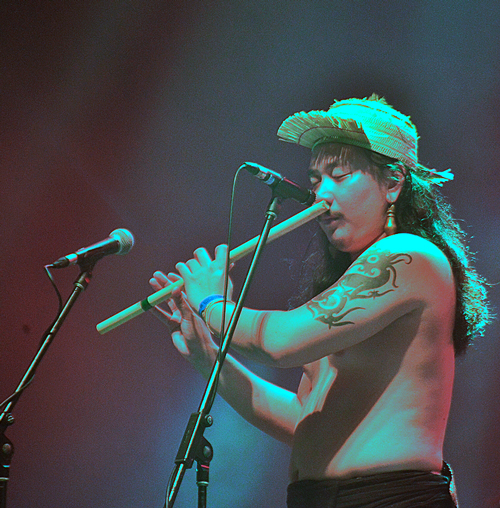 The Rainforest World Music Festival has spread its roots outside Sarawak Cultural Village with an Emerging Bands stage at the Kuching Waterfront and performances at Damai Central shopping center, which is right across from Sarawak Cultural village.
The current format of the The Rainforest World Music Festival includes afternoon mini sessions at Dewan Lagenda, Iban Longhouse and Bidayuh Terraces; small capacity afternoon concerts at the Theatre Stage, the Big Tent and the Indigenous Stage; and large dimension outdoor concerts in the evening at the two larger stages: Jungle and Tree.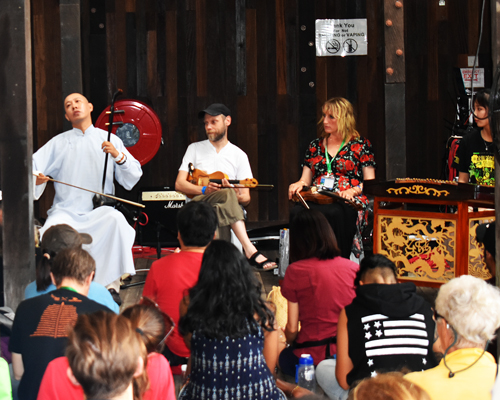 The thematic mini sessions bring together musicians who share a similar musical instrument or dance tradition. For example, wind instruments, dance workshops, plucked strings, percussion instruments, zithers, etc. During the mini sessions, the musicians demonstrate how to play their instruments and at the end, all the musicians join in to perform a jam session.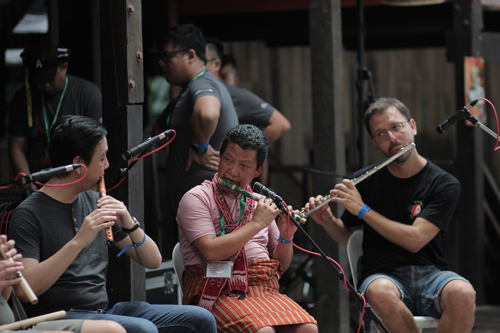 The Theatre Stage concerts allows the audience to enjoy artists in an intimate format. For details about this year's Theatre concerts, read the following reviews: The Remarkable Nyckelharpa of Toledo, The Captivating Sounds of Mauritius, Mongolian and Persian Hybridization at Rainforest World Music Festival 2019, The Rarely Heard Himalayan Folk Music of Bhutan, Wai Safeguards Maori traditions at Rainforest World Music Festival 2019, Fiddles of the World Come Together, and Cutting Edge Vietnamese Virtuosity and Fiery Gnawa Trance at Rainforest World Music Festival 2019.
The local and regional emerging bands that appeared at the Big Teng were: Alunan Keroncong (Sarawak), Sayu Ateng (Sarawak), Barrock Ethnicity Band (Sarawak), Pinanak Sentah (Sarawak), Sanggalang (Sarawak), Bamboo Woods (Sabah), The Oriental Traditional Orchestra Kuching (Sarawak), Warisan Sape (Sarawak) and Raban Kenyalang (Sarawak).
The artists that performed at the Jungle Stage / Tree Stage during the evening included:
Friday: Iban Miring Ceremony (Sarawak), Spirit of the Hornbill ((Kalimantan, Indonesian Borneo), Olga Cerpa y Mestisay (Canary Islands, Spain), Ballet Folclorico de Chile Bafochi (Rapa Nui-Easter Island/Chile), Rajery (Madagascar), Otava Yo (Russia), Suk Binie' (Sarawak), and Kila (Ireland).
Saturday: Kemada (Sarawak), San Salvador (France), Ballet Folclorico de Chile Bafochi (Rapa Nui / Chile), Darmas (Malaysia), Macka B (UK/Jamaica), Trad.Attack! (Estonia) and La Chiva Gantiva (Colombia).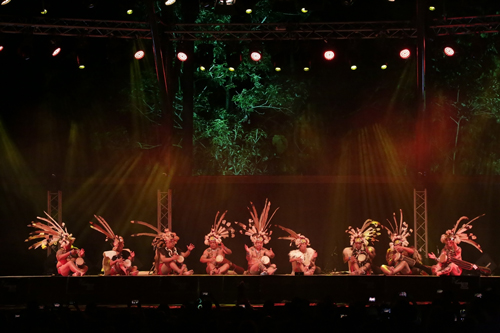 Sunday: Kila & OKI (Ireland/Japan), Duplessy & The Violins Of The World ft. Guo Gan (China, France, Mongolia, Sweden), At Adau (Sarawak), Mehdi Nassouli (Morocco) and Tabanka (Cape Verde).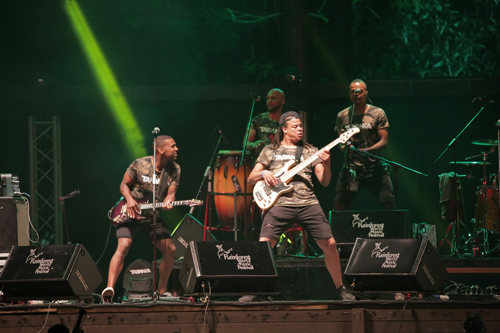 You need to plan your own festival experience because you won't be able to see all events. The overall highlights for me were the organic Celtic trance music of Irish band Kila, as Kila and also in a collaboration with Japanese artist Oki; the captivating Vietnamese fusion of Ha Noi Duo; Olga Cerpa y Mestisay, rooted in Canary Islands traditions with influences from Latin America and mainland Spain; the masterful Malagasy valiha of Rajery; the zany contemporary Russian folk of Otava Yo; and rising Sarawakian roots band At Adau.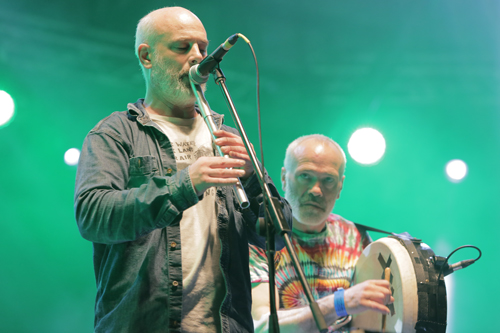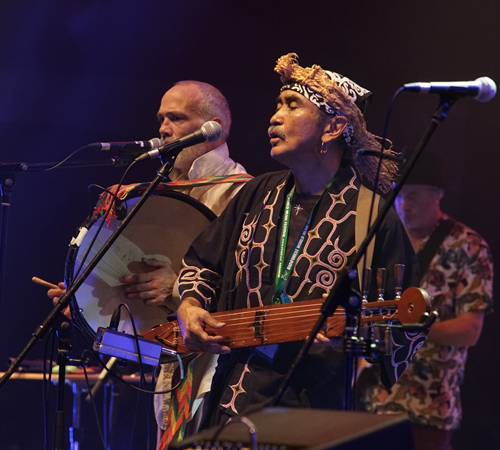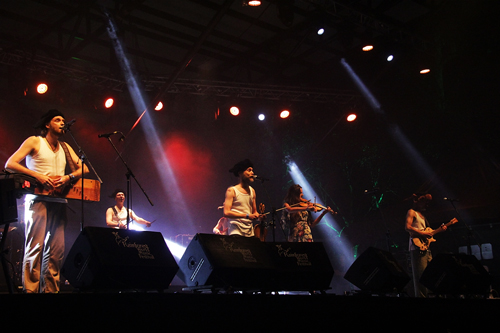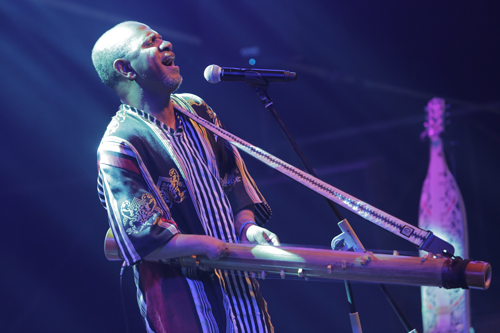 Other high points: the exquisite transglobal fiddles of Duplessy & The Violins Of The World; the spellbinding Gnawa music of Mehdi Nassouli; the delightful Spanish and Sephardic-rooted music of Ana Alcaide and her ensemble; the Mongolian-Iranian virtuosity and mesmerizing throat singing of Sedaa; and the charming sounds of Mauravann from Mauritius.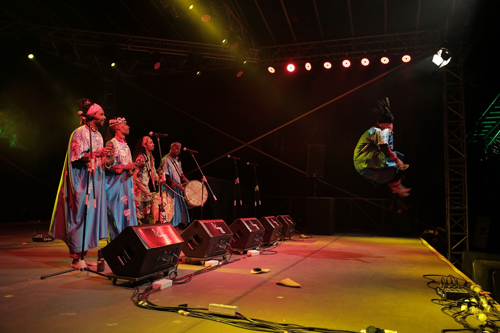 "Without a doubt, the Rainforest World Music Festival is one of the best festivals in which I have participated," said Ana Alcaide. "Its philosophy, organization, environment, makes artists enjoy our experience of sharing music and feel loved and valued. Coinciding with so many bands from around the planet makes this event unique, where exchange and learning naturally occur. The festival is a unique example of diversity and cultural tolerance, with an enormous amount of artistic and cultural proposals, all of them of the highest quality, and that encompass cultures from all over the world. Bravo for the Rainforest Music Festival!"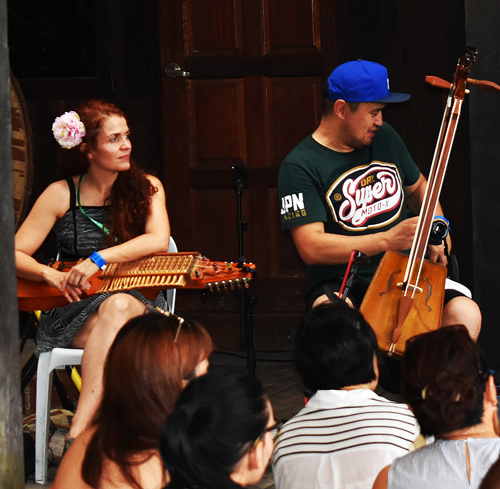 Netherlands-based Vietnamese musician Ngo Hong Quang of Ha Noi Duo also enjoyed the festival: "I have been chatting around to talk about this Festival with my friends in Holland and in Vietnam too. It was a very interesting, international, eco-friendly, high quality and crowded festival. These complements I like to send to Jun Lin and her staff. Actually I have never participated in any World Music Festival as big as this, wonderful vibes, great audiences, and very beautiful landscapes. Congratulations!"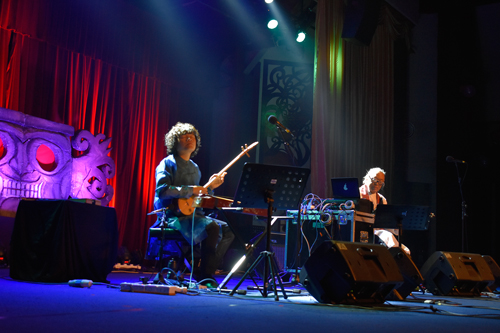 Ngo added "I think me and Nguyen Le we had so good time there and myself, I really enjoyed some of the shows and musicianship. I think not only the musicians created the success but also enthusiastic listeners who know how to appreciate the inter-cultural shows that made the festival more attractive and meaningful.
I met some of the Vietnamese audiences and they teared in front of me because of the music I played and the way I blended the traditional vibes with modern jazzy music. It was great experience for me.
If there are more chances, I would go back to perform the Vietnamese traditional music show again next year or the year after that. Would be interesting!"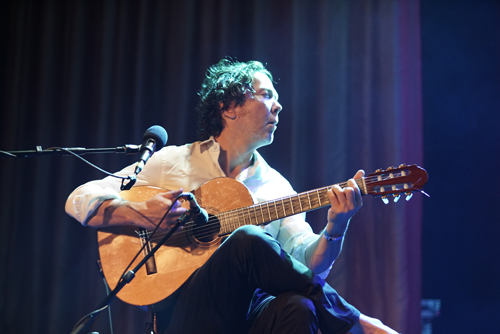 French guitarist Mathias Duplessy commented: "The festival was great for us, just missed a place where to jam and meet the others musicians at the hotel."
The Rainforest World Music Festival also includes a sizable World Crafts Bazaar with local and regional crafts made by artisans. You can find all kinds of really cool goodies, including many unique items. I stumbled upon one of the key musicians in Sarawakian traditional music, Matthew Ngau. He was demonstrating the traditional lute of Sarawak, the sape.
In terms of food, options have gotten even better. The Sarawak Asia Kitchen and local fingers offers Sarawakian regional options, Malaysian, Thai, Chinese, Indonesian, Vietnamese and Japanese delicacies. There's also Asian fusion options.
Sarawak Tourism Board (STB) strengthened its greening initiatives this year. The biggest effect among these initiatives was from discouraging the use of plastic bottled water. Approximately, 20,000 plastic bottles were saved. Festivalgoers brought their own empty bottles which they could fill from water dispensing stations supplied by Cuckoo.
If you are in the Sarawak area and want to experience other festivals, the Rainforest Fringe Festival is a prequel to the Rainforest World Music Festival and Borneo Jazz Festival, featuring music, art, crafts, film, photography, food, and the culture of Sarawak. The Borneo Jazz Festival takes place one week after the Rainforest World Music Festival in Miri, in northeastern Sarawak, near Brunei.
For non-music related activities while in Sarawak, visit the city of Kuching. Attractions include the Waterfront, the Main Bazaar, Chinatown, India Street, various temples, Fort Margherita, the old Court House, the Post Office and the Sarawak Museum.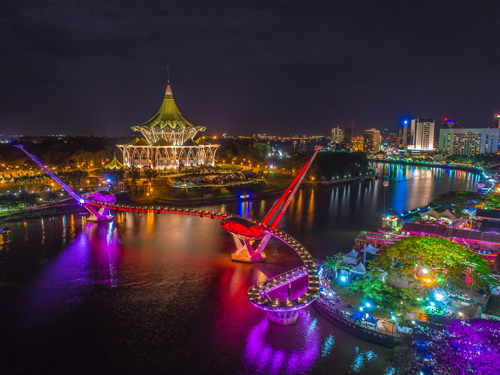 Daytrips include visits to Bako National Park and visiting the orangutans at Semenggoh Nature Reserve.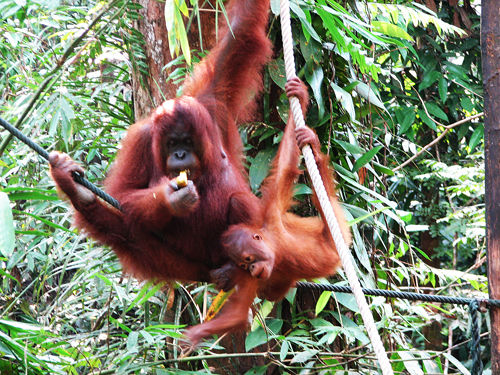 To get to Kuching you can fly direct from Singapore, Brunei, and some parts of Indonesia or connecting through Kuala Lumpur.
for a different perspective about the festival read Unique Global Gathering at Rainforest World Music Festival 2019 by our contributor Chris Lambie.
More information is available at the following websites and links:
Rainforest World Music Festival
Borneo Jazz Festival
Rainforest Fringe Festival
Sarawak Tourism
Interview with Sarawakian Band At Adau
Bako National Park
Semenggoh Nature Reserve
headline photo: At Adau