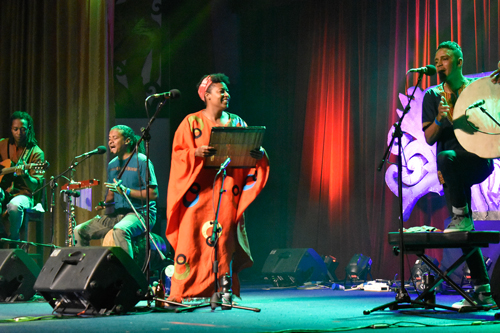 Mauravann, one of the finest roots music acts from Mauritius performed on July 14, 2019 at the Rainforest World Music Festival's Theatre Stage. Mauritius is a multiethnic island nation located in the southwest Indian Ocean. Musical and cultural influences come from East Africa, Madagascar, India and other nearby regions.
The ensemble features the charming Linzi Backbotte, who engaged with the audience and provided a historical overview of Mauritius (including the role of slavery), its music and musical instruments, such as the ravanne and the maravann (a box rattle also known as rainmaker, made of reeds bound together). The other members are Emmanuel 'Manu' Desroches on guitar and vocals; Kurwin Castel on ravanne (frame drum), percussion and sound effects; and Samuel Dubois on ravanne and percussion.
Mauravann's style is based on sega and its traditional instruments. Sega developed during the 17th century from the slaves captured from different parts of Africa and Madagascar who were taken to Mauritius. The music was an expression of their inconceivable sorrow due to their exile and displacement. Frequently played and danced around a bonfire, sega came alive through the traditional instruments.
Mauravann appeared on the concept album Small Island Big Song, released September 10, 2018.