There's nothing unusual in an upcoming festival being announced as the 'best ever'. In recent years, the Rainforest World Music Festival (RWMF) has proved to be bigger and better with each edition. Held in the picturesque Sarawak Cultural Village (SCV) in Malaysian Borneo, the global gathering is as innovative as it is unique. In July 2019, festival goers discovered exciting new features within the established format.
JL Productions, with director Jun-Lin Yeoh at the helm, put together another impressive line-up of artists. Cultures never before represented at RWMF included Bhutan, Canary Islands, Mauritius, Nagaland (Northern India), West Kalimantan Dayaks, Estonia, Jamaica and the Ainu culture of Japan.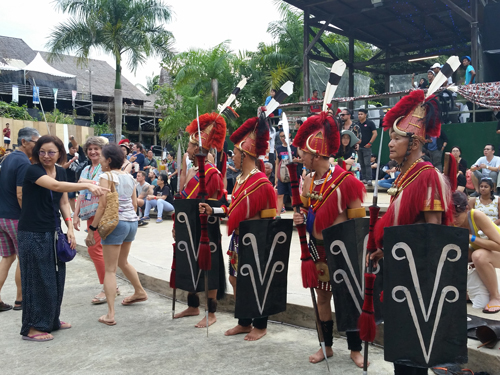 Crowds were also treated to collaborative cross-cultural groups: Sedaa (Iran/Mongolia) and Duplessy & the Violins of the World (France, Mongolia and Sweden, featuring Chinese erhu master Guo Gan).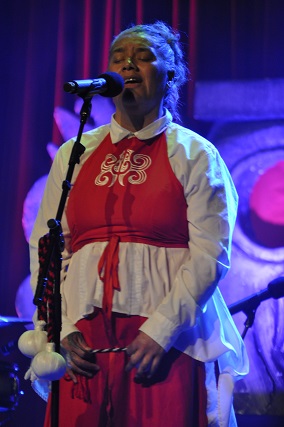 Afternoon mini-sessions over the three day event mixed performers from various acts jamming, jigging and harmonizing together in improvised workshops. Themes ranged from frame drums to zithers, bamboo to Bhangra and Bollywood. At one, the resonant sound of blended voices floating from the Bidayuh longhouse beckoned listeners from across the tropical village site. Vocalists Mina Ripia (WAI) and Linzi Backbotte (Mauravann) also showcased their stunning voices at theatre shows, each telling stories from their New Zealand Maori and Mauritian heritages respectively.
Fronting their groups, both charismatic performers provided laughs with their relaxed banter. They also revealed raw emotion on stage during the intimate concerts, connecting with audiences. Introducing a song dedicated to a recently passed friend, Ripia – blinking away tears – was spontaneously comforted by her 11 year old son (cajon, percussion and rap vocals). The young band member touched the crowd with this quiet and tender act, further indicating an old and wise head on young shoulders.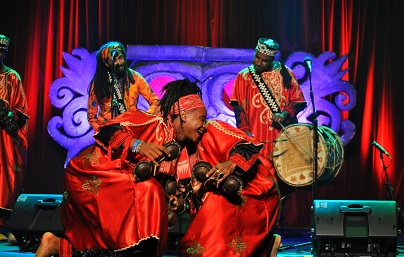 Backbotte encouraged her audience to clap and sing along to Sega rhythms. But all sat transfixed during one piece dedicated to ancestors after hearing shocking truths of their treatment by those who enslaved them. Sometimes the Arts carry the sole voice of generations past. I'm eternally amazed by what I learn of our planet and its history and the resilience of its people.
The main events are the evening concerts on the outdoor Jungle and Tree stages. With shiny new state-of-the-art equipment courtesy of sponsor Yamaha, the peerless work of the returning sound, stage and lighting team ran seamlessly. Despite forecasts, the weather was idyllic. Record crowds meandered comfortably, from the craft village and food stalls to the well-attended wellness program.
Event partners Rainforest Fringe (with exhibitions in Kuching) and What About Kuching (WAK) expanded the festivities on offer. WAK hosted beachfront live music and stalls at Damai Central, a short stroll between Damai Beach Resort and the festival site. The Damai sunsets were also the biggest and best you could wish for.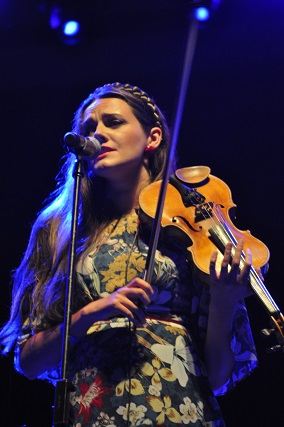 New stages at SCV proved especially popular during the daytime. The Indigenous Stage warrants a bigger space in future. Curious punters overflowed lakeside, as representatives from Sarawak's 27 local tribes demonstrated music, dance, traditional instruments and stunning apparel. The Big Tent showcased acts including upcoming local artists given the chance to hone their craft on the road to bigger things. Local hit group At Adau have opened the door to more young players fusing traditional and contemporary sounds.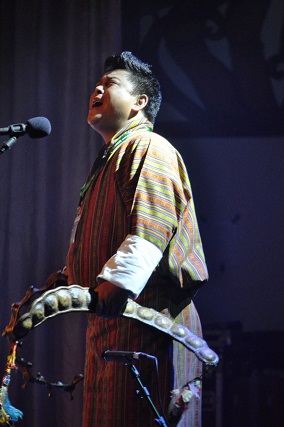 The traditional RWMF finale brought all performers together onstage. Bouncing, dancing, singing and waving to the exultant fans, they stayed on stage to take group selfies with new friends and potential collaborators.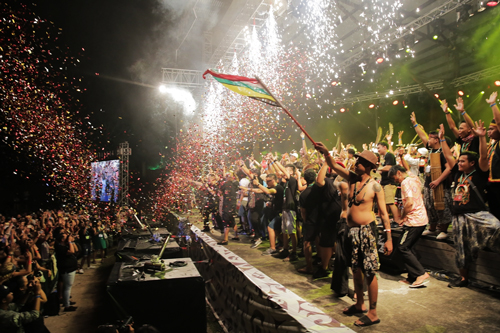 Members of Spirit of the Hornbill (Indonesia) were the last to disperse into the balmy shadows of the night. Like so many on stage and off, they were reluctant to leave the warm embrace of the Rainforest family.
Alongside the requisite Celtic, Latin and Islander music represented at most world music events, I discovered rhythms and melodies I'd never heard before. Since my first 'Rainforest' a decade ago, Sarawak's iconic 'lute' the sapé has moved to the forefront of the event's soundscape. It's heartening to find ancient cultural forms rediscovered and relished by young players and audiences.
headline photo: Tabanka , courtesy of Sarawak Tourism Board
More about the festival: rwmf.net