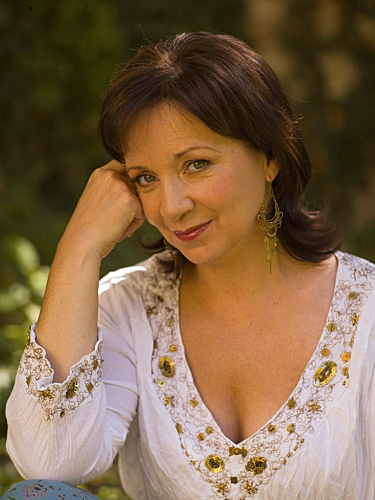 The voice that wraps around the audience during the initial credits of the movie The English Patient have become well known to worldwide audiences. Behind that voice is Martá Sebestyén, who began to perform traditional Hungarian songs in Budapest when she was a little girl.
Born in Budapest, Hungary, in 1961, Marta grew up surrounded by music. Her mother, a music teacher, studied with Zoltan Kodaly, a famous composer and a great scholar specialized in his country's traditional music.
Martá learned how to sing before even she knew how to speak. At a very young age, she took part in festivals, concerts, TV and radio shows and countless recordings. At 12 years of age, she already knew that her life would be bound to music.
At the same time that she attended school, Marta began to sing at the Houses of Dance. Around that time, the movement of the Houses of Dance was at its peak and was used as a form of protest against the cultural uniformity proposed by the Communist government. Students and scholars, musicians and dancers, began the exploration of the musical roots of their country and of Hungarian culture, mainly of the agricultural region of Transylvania, which had become part of Romania after World War II.
The dances and traditional songs became familiar to a whole generation of students and intellectuals of Budapest, and Martá was the center of that movement from its very tender childhood.
In 1975 she joined the group Sabö and Halmos, and from 1980 she leads Muzsikás. In addition, she has collaborated with a good number of Hungarian bands like Vujicsics. In the decade of the 1980s, Muzsikás, with Martá Sebestyén, toured throughout Europe, as well as Australia.
In 1984 she took part in the musical dedicated King Stephan, a popular Hungarian legend. Thanks to this work she was given an award as Best Female Singer of the Year in Hungary. In 1991 she became the first Hungarian singer to receive the noted Liszt Prize.
After the birth of her two children, at the beginning of the 1990s, she gave worldwide tours with the group Muzsikás. She has recorded with Peter Gabriel and Deep Forest. Her collaboration with the latter, "Martá's Song," on the Bohéme CD, became an international hit. In the 90s the group's audience was expanded to Japan and the United States.
Béla Bartók said once that it would be impossible sing in the purest Hungarian style unless one had been raised in a village. Martá is the exception to this rule. She has developed an immense repertoire of traditional Hungarian and Transylvanian songs to which she contributes technical purity and tone color, managing in this way to capture a large audience beyond the borders of the Hungarian villages. With her gifts as a singer, musician and musicologist, she adapts and arranges a repertoire rarely heard outside of Transylvania.
Although the world audiences have opened up to the sounds of other cultures, very few singers have been able to overcome the barrier of curiosity by communicating with urban music fans. Today Martá is recognized as a skilled performer of a beautiful tradition.
Upon hearing Martá use any of the seven languages that she speaks fluently, one is aware that she has finer hearing than most of the polyglots in order to capture words and sounds. She jokes and laughs at this presumption in many languages and she sings in many more.
Gabriel Yared and Anthony Minghella, composer and director of The English Patient, respectively, were followers of Martá, and many of those who worked in the production of the movie in Berkeley went to her concert when she played there with Muzsikás. Her voice and the link that she had with the mysterious Count Almasy seemed perfect for the soundtrack. It is a beautiful and exotic voice that intrigues most of who listen to it.
The English Patient, produced by Saul Zaentz, meant the definitive international recognition of Martá.
In 1996, Martá collaborated as artistic director of the Euromusica Festival that takes place in Székesfehérvár (Hungary).
On June 1st, 2010, Sebestyén was given the UNESCO Artist for Peace title
Discography:
Karácsonyi Magyar Népdalok (Bravo, 1984)
Szerelmeslemez (Favorit, 1985)
Márta Sebestyén Sings (Hungaroton, 1987)
Hungarian And Romanian Folk Music From Transylvania ‎(Hungaroton, 1988)
Kivándorlás / Emigration (Hungaroton, 1989)
Apocrypha (Hannibal Records, 1992)
EastWind, with Andy Irvine and Davy Spillane (Tara, 1992)
Transylvanian Portraits – Hungarian Village Music From Transylvania ‎(Koch World, 1992)
Kismet (Hannibal Records, 1996)
Morning Star, with Muzsikás (Hannibal Records, 1997)
Bartók Album, with Muzsikás and Alexander Balanescu (Muzsikás, 1998)
Szárnyakon Fekszem ‎(Gramy Records, 1999)
Altatódalok (Hungaroton Classic, 2000)
Meeting Point, with Róbert Erdész ‎(Solaris Music Productions, 2000)
Inspirations (Periferic Records, 2001)
A Zeneakadémián, with Muzsikás (Muzsikás, 2003)
Angyalok És Pásztorok – Christmas Songs ‎(Gryllus, 2006)
I Can See The Gates Of Heaven… (World Village, 2008)
Halld Meg Szavaimat Isten! ‎(Gryllus, 2010)