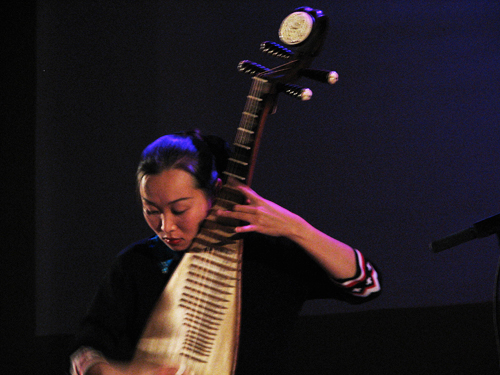 Born in Kunming (China) in 1974, Liu Fang started learning the pipa (Chinese lute) at the age of 6 and soon began to perform in public as a child prodigy, including a performance for the Queen of England. She graduated from Shanghai Conservatory where she also learnt to play the guzheng.
Since she moved to Montreal in 1996, Liu Fang has toured all over the world, building a remarkable artistic profile by captivating audiences and critics with her masterful, rich and deeply-spirited pipa and guzheng playing, as well as for her wide ranging repertoire. She possesses a virtuoso's technique and a unique empathy toward the music she plays – whether it is a traditional folk tune or a modern Western composition. Among the numerous solo recitals, concertos and concerts with quartets and ensembles, Liu Fang has premiered new compositions by the celebrated Canadian composers R. Murray Schafer, Melissa Hui and Hugues Leclair. She often appears on radio and TV nationally and internationally, and has produced three pipa solo CDs and several other albums collaborating with artists of various traditions where she plays both pipa and guzheng. Liu Fang has been awarded several grants by the Canada Council for the Arts and the Conseil des arts et des lettres du Quebec (CALQ).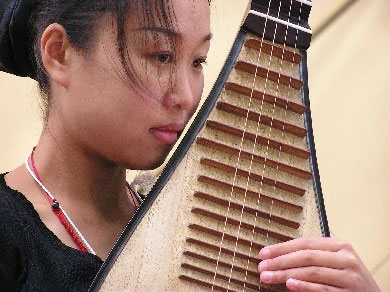 In June 2001 she was awarded the prestigious Millennium Prize for Future Generations by the Canada Council for the Arts. The present CD is her first guzheng solo album. Since guzheng is her second instrument, and due to her modest nature, she was quite reluctant to produce a solo guzheng album although her playing has been loved by her audience. Upon the request of so many music lovers, Liu Fang finally made the decision to produce one.
Her album Silk Sound – Le Son de Soie produced by Accords Croises in Paris has honored her with the prestigious L'Academie Charles Cros Award, the French equivalent of the Grammy Awards. This is another prestigious prize since she received the Millennium Prize for Future Generations awarded by the Canada Council for the Arts in 2001.
Discography:
Chinese Traditional Pipa Music (Oliver Sudden Productions, 1997)
The soul of pipa, vol. 1: Chinese Pipa Music from the classical tradition (Philmultic, 2001)
The soul of pipa, vol. 2: Chinese classical Pipa Music, from the ancient to the recent (Philmultic, 2003)
Emerging Lotus: Chinese traditional guzheng music (Philmultic, 2005)
The soul of pipa, vol. 3: Pipa Music from Chinese folk traditions (Philmultic, 2006)