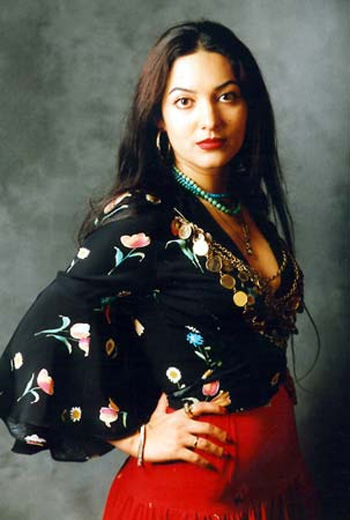 Russian vocalist Leonsia Erdenko was born in 1972. She is the daughter of the famous Roma singer Nikolay Erdenko. Leonsia has been performing since 1987. She started her musical career with the band Djang that was led by her parents – Nikolay and Rozaliya Erdenko. Leonsia devoted herself to intensive study of music, especially playing the piano, dancing and singing.
In collaboration with the composer George Barkin they recorded in 1997 album The new Gypsy music that contained well-known Romani melodies in a modern concept. Less than 3 years later she and Alexey Bezlepkin gave rise to a new band, Trio Erdenko. Furthermore, she traveled the world with the famous band Loyko, with which she recorded three discs.
Leonsia not only performs concerts throughout the world, but also cooperates with various artists in their recordings (e.g. !DelaDap, Garik Sukachev) and is also active in the film industry (historical movie – One night of love).
Discography: