Kiran Ahluwalia is a performer of two distinct styles of vocal music from the Indian subcontinent, now divided into India and Pakistan. Kiran sings ghazals and Punjabi folk songs.
The word ghazal is an Arabic word that means "to talk to women." Given that men have traditionally spoken to women a great deal about lovethe name attached itself to a form of poetic sung verse that originated in Persia about 1000 years ago and reached India around 400 years later. This happened about 600 years before Kiran Ahluwalia was born but was to have a profound effect on her life.
Kiran Ahluwalia was born in the state of Bihar in Northern India to Punjabi parents. The family moved to New Zealand for the first four years of Kiran"s life and back to India for another five before moving to Canada where Kiran grew up, in Toronto.
In the seventies the Indian community in Toronto was relatively small. Cultural events took place in people's homes. Singers would perform in basements and living roomsconcerts were promoted by word of mouth. These concerts were not primarily for children. They featured a repertoire, language and content that was both demanding and beyond the experience of a child. Kiran was, however, entranced by the sound and feel of the music.
Later, like many other children of immigrants, she went to classes in the dance and music of her country of origin, and performed occasionally at her home or those of friends of her parents. And there it might have ended if Kiran had not "got the itch" as she describes it.
Having graduated from the University of Toronto with a degree in Industrial Relations, Kiran was ensconced in the Human Resources department of a credit union. Educated and employed, her parents were beginning to raise the next item on a young woman"s agenda – marriage. Kiran, however, was haunted by a recurring vision of waking up as an old woman and realizing she had never done the one thing she really wanted to do – pursue music as a full time occupation.
Having studied Indian music on a part-time basis throughout high school and university, in 1990 she quit the job and went to India to immerse herself in the rigorous life of a full time music student. Her parents were dismayed. "Doors were slammed and tears were shed," says Kiran. "But they saw that I was adamant about it and this was something I needed to do. And before I boarded the plane for India, I had their support."
Everything was hard: finding the right teacher, the studying, the loneliness, the culture shock, the weather, the life of a single woman in a patriarchal society. But when Kiran Ahluwalia came home she knew she had found what she really wanted to do.
After receiving her training in classical music in Bombay, she traveled to Hyderabad. There she found Vithal Rao, one of the last living court musicians of the Nizam (King) of Hyderabad. A man of legendary vocal ability and kindness, he is a living link to the centuries old ghazal tradition. Rao took on Kiran as his student. She was exposed to a bygone era, a time before Indian independence when princes and kings employed court musicians to put music to poetry. Rao entered the palace of the King of Hyderabad as a young boy and carries rich memories of those days; memories that he passed onto Kiran along with the techniques and intricacies of ghazal performance and composition. She returns regularly to India to continue her studies in greater depth with this living master of the ghazal tradition.
"It was monsoon season in Bombay when I called Vithal Rao," Kiran recalls. "I went into a phone booth"it was noisy with all the rain pouring down as I dialed. I spent three minutes explaining who I was, where I"d come from, and that I wanted to come and learn from him. To this, he simply replied, "Well, then when are you coming"" And within a couple of days I was on a train from Bombay to Hyderabad."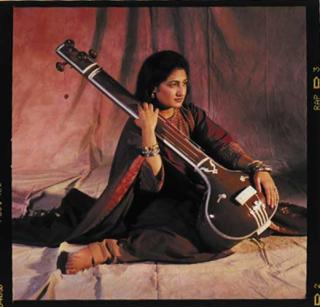 Although her family is originally from Punjab, Kiran herself had never visited the region until the mid 1990s. Taking advantage of an extended period of study in India, Kiran decided it was time to learn first hand the folk songs of her ancestral region. Traveling to small villages Kiran immersed herself in the daily life and celebrations. She spent time with a number of traditional singers absorbing their style and approach and regularly performs some of these songs. "I was familiar with Punjabi music from the club scene, bhangra and all of that. But I was more interested in the acoustic roots Punjabi music. And I always had my eyes out for poetry books and scholars for new material that I could compose."
For the last years Kiran has bounced between studies in India, performances in Canada and the United States, and more mundane pursuits: she picked up an MBA in Halifax and spent six months as a bond trader in Toronto. She discovered her musical skills and business degree could land her jobs closer to her art. She worked for Saturday Night Magazine, helped produce three segments for Women"s Televison Network (WTN), and spent a year at CBC radio, producing for Global Village, Two New Hours, and Stereo Morning. She even managed to get some Indian music on the air.
For the next two years, first in New York and then in San Francisco, she worked as Assistant General Manager of Putumayo World Music, a leading North American world music record label. While helping to sell other people"s recordings Kiran planned how to make her own.
Finally in June of 2000 Kiran decided to return home to Toronto and throw herself fully into a life devoted to the making of her own music. Kiran finished her first full length recording, Kashish – Attraction. She found the musicians in Canada and England to realize her vision on stage, and began to share with audiences one of the grea t vocal traditions of the world"s cultures.
Kiran is not only an interpreter of ghazals but has composed music for several poems. Her own compositions are firmly rooted in the tradition while taking a modem turn. Kiran Ahluwalia has become an organic part of the long line of singers who have preserved and reinvented the ghazal form over the last thousand years, just as she has.
Kiran Ahluwalia performs in several different configurations depending on the nature of the event. On her first recording she was able to work with some extremely talented musicians, one of whom is Canadian, the other two coming from the vibrant South Asian music scene in England. She toured with this ensemble in the summer of 2001.
In 2004 Kiran"s CD Boundaries won the 2004 Juno Award for Best World Music album.
Kiran"s self-titled CD (released May 31, 2005 on Triloka Records) features new ghazals she composed. In this sense, Kiran may be one of the only composers of contemporary ghazals in Canada and even the Western Hemisphere. Because there is such a vast repertoire of this music today, there are very few ghazal composers, even in India. Singers usually stick to the true classics. But Kiran has long been on a path to mastery so that she could one day compose for the sensual and highly literary poetic form.
It started with learning songs from her parents, both ghazals as well as Punjabi folk songs. "When I was growing up in India, very few people had recordings of any kind," Kiran recalls. "There were state sponsored concerts that people from all over would walk to and crowd into. While some children would get bored, I was perfectly content taking it in, even if I had to stand up the whole time. We had lived in New Zealand for a time and on the way back to India my father bought a reel-to-reel tape player in Hong Kong. We would listen to tapes of Indian music. We would also listen to Bollywood on the radio, and when a song came on that I wanted to learn, my mother would quickly write down the lyrics for me."
With all the traveling and searching, quite a surprise was in store for Kiran much closer to home in Toronto. "One day a poet friend of my mother invited us to a recital of various poets belonging to an organization called Punjabi Kalma da Kafla (Caravan of Punjabi Pens)," says Kiran. "This turned into an immensely important night. Imagine how ecstatic I felt; I sing in a genre that emerged in Persia in the 10th century and traveled to India in the 14th century, and here we were in the present day. I was composing music in this genre and I found poets writing beautiful lyrics in this poetic form of ghazals right here in Canada. A huge door opened up for me." Kiran composed for one of the poems she heard that night and she and this circle of poets became a part of the evolution of ghazals, thousands of miles away from the song forms origins.
On her self-titled CD, Kiran Ahluwalia, she further cements her Canadian roots on two previously unreleased collaborations with Cape Breton Celtic fiddler Natalie MacMaster. "What a thrill to be brought into Kiran's world of Indian music," Natalie says. "Her voice is beautiful, natural and so capable and she is a great talent and a wonderful person. It was a pleasure to have the opportunity and I think we created some very special music together."
Kiran's 2011 album Aam Zameen – Common Ground won the 2012 Juno Award, World Music Album of the Year. The album is the result of a close collaboration with Tuareg band Tinariwen. Aam Zameen – Common Ground's influences span four continents and mixes contemporary Indian song with Saharan desert blues. Produced by Justin Adams (Robert Plant, Tinariwen) and Rez Abbasi in France, the U.K. and Canada, Aam Zameen – Common Ground also features guitar work by both. Ahluwalia and Tinariwen are joined on the record by fellow Tuareg artists Terakaft and Gambian ritti player Juldeh Camara, who lends his craft to several tracks.
The album's lead track "Mustt Mustt," a cover of the Nusrat Fateh Ali Khan classic, signifies the border-crossing nature of the album: a song from Pakistani Islamic tradition performed by Ahluwalia, her band and the northern Malian musicians of Tinariwen. According to Ahluwalia it was not long before the musicians settled upon a firm musical common ground. "The hand claps of Tinariwen were different in style but similar to the concept of hand claps in qawwali," she notes, "and the call and response between the main vocalist and the rest of the group was also something familiar to their own music."
Her 2018 album, 7 Billion is a combination of blues, R&B, rock, and jazz with Indian vocals. In Kiran's words, "When you take different styles and merge them together and you don't want a simple cut and paste then you're really developing a new hybrid genre. There are blueprints to help you. For me it's important to blur the musical boundaries between my Indian background, influences from Western sounds and the things I love from West Africa namely Mali. It's incredibly invigorating when I feel a connection in expressions from different cultures and then figure out ways to connect them seamlessly in my music. Those moments of discovery are nothing short of sublime. It's really the essence of everything for me."
Kiran's songs speak of fighting civil wars within ourselves, realizing female desire by throwing away shame, untying knots that bind us to stale embraces, seducing a shy lover, of not having learned how to live, and about rage against the middlemen and institutionalization of religion. The album also includes her composition of a 1990s Pakistani Urdu feminist poem – We Sinful Women.
Saat (seven) – the title song of 7 Billion explores aspects of cultural intolerance – the loss of 'brotherhood' in mankind. Says Kiran, "It is a theme close to my personal experience. My story is that of an immigrant born in India and raised in Canada. As an immigrant child the hardships we faced were touted as temporary – the effects were permanent. On the one hand, I developed a wonderful double culture – two sets of wardrobe and multiple languages to think in. On the other, I developed conflicting etiquettes and ways of doing things that were neither 'fully' Indian nor 'fully' Canadian. The earth now holds seven billion people; for me this means there are seven billion unique ways of interpreting things. Yet wherever we live, the majority's way of doing things becomes the norm; and whatever is different and foreign can be easily mistrusted. The consequence in a large immigrant based population such as ours is cultural intolerance and difficulty in embracing newness."
Kiran currently lives in New York City.
Discography:
Kashish — Attraction (Kiran Music, 2000)
Beyond Boundaries (Kiran Music, 2003)
Kiran Ahluwalia (Triloka Records, 2005) 2005
Wanderlust (Four Quarters Entertainment, 2007)
Aam Zameen – Common Ground (Kiran Music, 2011)
Sanata – Stillness (Magenta, 2014)
7 Billion (2018)