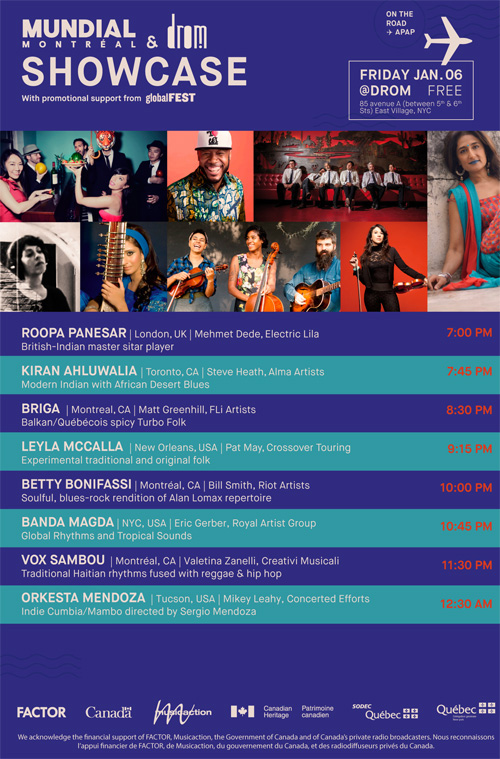 Mundial Montreal & Drom will present several free world music showcases today, Friday, January 6 at the Drom club in New York City.
The selection includes
7:00 p.m.
Roopa Panesar
(London, UK)
British-Indian sitar master
7:45 p.m.
Kiran Ahluwalia
(Toronto, Canada)
Contemporary Indian with Saharan desert blues
8:30 p.m.
Briga
(Montreal, Canada)
A mix of Balkan and Quebecois music
9:15 p.m.
Leyla McCalla
(New Orleans, USA)
A rising star in the American roots music movement, Leyla will deliver American folk, jazz, Cajun and Haitian music.
10:00 p.m.
Betty Bonifasi
(Montreal, Canada)
Tribute to prison songs collected by Alan Lomax.
10:45 p.m.
Banda Magda
(NY, USA)
Jazz, world music, Latibn American and more by this ensemble led by Greek-artist Magda Giannikou.
10:45 p.m.
Vox Sambou
(Montreal, Canada)
Traditional Haitian rhythms fused with reggae & hip hop
11:30 p.m.
Orkesta Mendoza
12:30 a.m.
Mexican-style cumbia, mambo and rancheras plus psychedelia from the American southwest.
DROM
85 Avenue A New York, NY 10009
Phone: (212) 777-1157