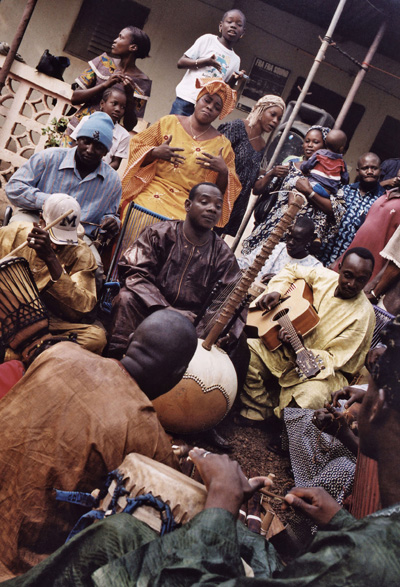 Toumani Diabate is one the most brilliant players of the kora (a 21-string harp-lute from West Africa). He was born in 1965 in Bamako into a great kora playing family – his father, the late Sidiki Diabate, was known throughout West Africa as the king of the kora. Sidiki Diabaté, raised the instrument from being a simple jali accompaniment instrument to the rank of solo performer.
Toumani Diabate began his apprenticeship on the kora at the age of five and made his first public performance eight years later with the Koulikoro Ensemble at the Mali Biennale. After winning the prize at that performance for Best Traditional Orchestra, he was invited to join Mali's National Ensemble. Toumani toured Gabon and France in 1983, accompanying the great female jali singer Kandia Kouyaté.
In 1987 (then just 21 years old), Toumani broke into the international concert scene with his highly acclaimed album Kaira , still one of the best-selling solo kora albums.
Toumani's success as soloist was immediate. He toured Europe, giving fifty concerts in Great Britain alone in 1988. Toumani has taken the kora to new heights, particularly in his two successful collaborations (Songhai and Songhai 2)with Nuevo Flamenco stars Ketama and bassist Danny Thompson. Songhai was a combination of Malian kora and flamenco, supported by a jazz bass line.
Although Toumani is largely self taught, the aggressive improvisatory style pioneered by his father is strikingly evident in Toumani's own unique and inimitable style of playing which is intensely melodic.
In January of 2004, World Circuit's Nick Gold was recording Ali Farka Toure's first album in five years. The guitarist and his longtime producer from World Circuit invited Toumani Diabate to join Toure for one track: the traditional Malian song, "Kaira." Without rehearsal, the duo improvised a version of the piece and quickly began recording another. The collaboration was so successful Nick Gold suggested they create an entire album together.
In July 2004, Nick Gold took his World Circuit team and their longtime engineering collaborator Jerry Boys (Buena Vista Social Club) to Bamako, Mali to record In the Heart of the Moon. They set up a mobile studio in the Hotel Mande in Bamako, overlooking the Niger River and recorded the album there in three two-hour sessions. Drawing on a body of traditional songs familiar to both men, Toure and Diabate again began without rehearsing together beforehand. Only one song required a second take-because it had been interrupted by a rainstorm.
The record also includes subtle contributions from Ry Cooder on piano and guitar; Sekou Kante and Cacha?to L?pez on bass; and Joachim Cooder and Olalekan Babalola on percussion. In the Heart of the Moon is the first of a trilogy of albums Nick Gold's label recorded at the Hotel Mande.
In recent years Toumani's has been enjoying recognition for his contribution to the development of the kora, and as a key figure in African music. In 2003 he received the Tamani d'or, a prize awarded to the best kora player in the world; the following year saw Toumani receive the Zyriab des Virtuoses, a UNESCO prize awarded at the Mawazine Festival organized by King Mohammed 6th of Morocco, he is the first black African ever to be given the prize.
Toumani has been taking steps to help preserve the legacy of traditional kora music in Mali, and to educate future generations of their rich musical heritage, whilst encouraging them to also explore the creative possibilities within music. He is President/Director of Mandinka Kora Productions, who actively promote the kora through workshops, festivals, and various cultural events.
Toumani is also a teacher of the kora and of modern and traditional music at the Balla Fasseke Conservatoire of Arts, Culture and Multimedia, which opened at the end of 2004. Toumani has also entered into a creatively furtive period; he reunited with Ballake Sissoko for a track on Ballake's album Tomora and also appears on the title track of Salif Keita's 2006 recording M'Bemba.
In 2010, Toumani Diabate participated in AfroCubism. This was World Circuit's dream project. The original intention for Buena Vista Social Club was a stellar collaboration of musicians from Mali and Cuba. In 2000 the original plan was finally realized with an incredible line-up including Eliades Ochoa, Bassekou Kouyate, Djelimady Tounkara, Toumani Diabaté, Grupo Patria, Kasse Mady Diabaté and Lassana Diabaté.
The 2014 album, Toumani & Sidiki, features Toumani Debate and his son Sidiki.
Discography:
New Ancient Strings (Hannibal, 1999)
Djelika (Hannibal, 1995)
Kaira (Hannibal, 1988)
Songhai, with Ketama (Hannibal, 1988)
Songhai 2 (Hannibal, 1995)
New Ancient Strings, with Ballake Sissoko (Hannibal, 1999)
Kulanjan (1999), with Sissoko, Kasse Mady Diabate and Taj Mahal
In the Heart of the Moon : Best of Toumani Diabate (Hannibal, 2001)
Mali Music, with Afel Bocoum, Damon Albarn (Honest Jon's Records, 2002)
Malicool, with Roswell Rudd (Soundscape, 2003)
In the Heart of the Moon, with Ali Farka Toure (World Circuit, 2005)
Boulevard de l'Independance (World Circuit, 2006)
Ali & Toumani (World Circuit, 2010)
Afrocubism ((World Circuit, 2010)
A Curva da Cintura, with Arnaldo Antunes and Edgard Scandurra (Mais Um Discos, 2011)
Toumani & Sidiki (Nonesuch, 2014)
Author:
Angel Romero
Angel Romero y Ruiz has been writing about world music music for many years. He founded the websites worldmusiccentral.org and musicasdelmundo.com. Angel is also co-founder of the Transglobal World Music Chart.
Angel has also produced and remastered world music studio albums and compilations for labels such as Alula Records, Ellipsis Arts, and Music of the World.