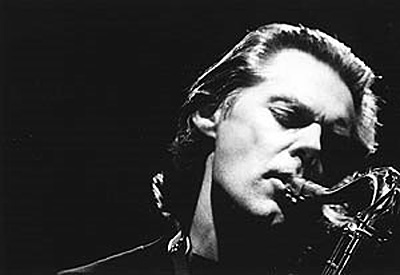 Norwegian saxophonist Jan Garbarek adopted the sounds of jazz, classical and world music at a very early age. He has collaborated with artists from various folk traditions, including India and Brazil, as well as age-old European traditions, including his remarkable partnership with the Hilliard Ensemble.
Jan Garbarek was born March 4, 1947, in Mysen, Norway. At the age of 14, he heard John Coltrane on the radio and experienced a kind of epiphany. He immediately bought himself a saxophone instruction book and learned fingering positions, even before he had bought a horn.
Knowledge of Coltrane's interest in Ravi Shankar, brought Garbarek to an awareness of Indian music as early as 1963. From the Coltrane Quartet, the young Norwegian learned about the dynamics of the band, and the internal relationship of the instruments. Coltrane's endorsement of the freest spirits of the New Thing fired Garbarek's appreciation of Pharoah Sanders, Archie Shepp and especially Albert Ayler.
Scandinavia at that time was a haven for American musicians. Garbarek grasped opportunities to hear, and learn from, Dexter Gordon, Ben Webster and Johnny Griffin. In 1964, he had a chance to play with Don Cherry, whose embracing of world folk traditions in his unique variety of free jazz was another significant influence. Most important in this formative period was the association with American composer and pianist George Russell.
In 1967 he joined the Scandinavian orchestra led by US avant-garde composer George Russell, and in 1970 worked in the USA for a while under such leaders as Keith Jarrett and Don Cherry.
In 1969 Manfred Eicher, in the process of establishing ECM Records, invited Garbarek to record for his new label. The album Afric Pepperbird was taped in Oslo in 1970 and effectively put the young saxophonist on the map, along with his fellow band members. This was the start of a exceptional relationship between Garbarek and ECM which continues to this day.
Afric Pepperbird was the first of many ECM recordings to be produced in Oslo. It was the beginning of the creative alliance between Eicher and sound engineer Jan Erik Kongshaug.
In the 1980s Garbarek created several groups, which included bassist Eberhard Weber, John Abercrombie and at various times guitarists Bill Frisell and David Torn. During that decade he began a series of world music collaborations. In 1984, Garbarek recorded with Ravi Shankar on Song For Everyone.
The landmark album Rosensfole came out in 1991. This now legendary ECM album features Garbarek together with Norwegian folk singer Agnes Buen Garn?s. The international collaborations continued with Ragas & Sagas (1993), where Garbarek collaborated with the Pakistani Qawwali singer, Nusrat Fateh Ali Khan. That same year, Garbarek recorded Twelve Moons, which focused, yet again on Scandinavian folk melodies.
Officium, released in 1993, features Jan Garbarek and the Hilliard Ensemble, with a musical concept that simultaneously reached up into the Jazz, Classical, and Pop charts. In 1998, five years after the recording of "Officium", the Hilliard Ensemble and Jan Garbarek returned to the monastery of St Gerold to renew, in the words of singer John Potter, their "encounter with the unknown."
The result was a very beautiful double album, Mnemosyne. It was wider in scope than its predecessor, and the improvised component of the music was expanded. The repertoire spanned 22 centuries, from the "Delphic Paean" of Athenaeus to the "Estonian Lullaby" of Veljo Tormis, via folk song fragments from North and South America and Spain, freely developed, as well as pieces by Tallis, Dufay, Brumel, Hildegard von Bingen, Jan Garbarek, a Russian psalm, a Scottish ballad of the 16th century, and much more. "We did it for each other in the absence of an audience, and these are complete one-off performances which will never sound the same again."
In 1998 Jan Garbarek released another double album entitled Rites. It suggested initiations, rituals, the archaic, the magical, but also "rites of passage", and the Norwegian saxophonist reflected, in his choice of material, upon pivotal episodes and influences in his own life and those of his associates.
Pieces included a tribute to Don Cherry and reworkings of the Garbarek classics "It's OK to listen to the gray voice" and "So mild the wind, so meek the water". There were abundant references to scattered musics of the world, from Norway to India, as well as a setting – for voices and saxophone – of a Native American poem, and the surprise inclusion of Jansug Kakhidze's "The moon over Mtatsminda", sung by its composer with the Tbilisi Symphony Orchestra. In total, this was the most comprehensive recording Jan Garbarek had made to date.
Garbarek compiled a double album of Selected Recordings for ECM's :rarum anthology series in 2001. "This retrospective compilation represents 30 wonderful years of my life…. I hope as you listen that you will, in some measure, hear the joy I've had making each of these recordings."
Garbarek's double album traces the growth of his own groups, his collaborations with a wide range of musicians – from Keith Jarrett to the Hilliard Ensemble – and his investigations of Nordic and other folk traditions.
In 2003 Garbarek appeared, alongside Chick Corea, Jack DeJohnette and John McLaughlin, on Miroslav Vitous's widely-acclaimed Universal Syncopations.
In 2004, Garbarek played with Kim Kashkashian on Tigran Mansurian's Monodia, a recording that also features Leonidas Kavakos, the Hilliard Ensemble, and the Munich Chamber Orchestra under Christoph Poppen.
On the album In Praise of Dreams (2004) , Garbarek emphasized his capacity as composer, orchestrator and arranger, proposing new colors and textures in its blending of acoustic and electronic elements. "I think more in terms of evolution than revolution," Jan Garbarek says, "the changes in the music taking place slowly over time, but there are some surprises here."
Although the trio heard on the disc is unprecedented, there is also a logic to the unorthodox line-up. In Praise of Dreams features two musicians with whom Jan Garbarek has some history – American-Armenian violist Kim Kashkashian and African-French drummer Manu Katch?.
The use of loops and samples had only occasionally appeared on earlier Garbarek albums ("All Those Born With Wings", "Visible World"), although they are a hallmark of music Garbarek has written for film, theatre and ballet.
The most striking aspect of In Praise of Dreams, however, is the interweaving melodies of saxophone and viola. "I was really overwhelmed by the life and the depth that Kim brought to the lines that I presented to her…The way she plays the viola, the sensibility of the phrasing, all the subtleties and nuances of her sound production, it's very close to the way I'd like to play saxophone. There seems to be a very good connection between our timbres, too, which was even more than I had hoped for. The richness in her sound brings the music to another level and gives me something to reach for, in my improvisations. It was inspiring to work with her."
Describing Kim Kashkashian as "a very powerful new agent in my music-making", Garbarek added that "her strong sound had come to define the viola in a new way for me. I'd had many opportunities to listen to her music on ECM recordings through the years, in chamber music or orchestral contexts."
Jan Garbarek first became aware of African-French drummer Manu Katche after hearing his sparse, unorthodox beat propelling the most striking tracks on Robbie Robertson's 1987 solo album. Producer Manfred Eicher put Garbarek and Katche in touch with each other.
Katche, it transpired, had long been a follower of Garbarek's music ("his records filled my adolescence"). Manu Katche joined ECM's 20th Anniversary concerts in Paris, played in trio with Garbarek and Indian violinist Shankar (saxophone, strings, drums – not so far from the In Praise of Dreams concept ) at La Cigale in October 1989, and joined the Jan Garbarek Group for several tours. He appeared on four subsequent albums with Jan – I Took Up The Runes, Ragas and Sagas, Twelve Moons and Visible World, prior to In Praise of Dreams.
"Manu has many qualities as a player. He can do many things, but much of his playing is pattern oriented. He's looking for just the right drum pattern to fit a piece of music and he'll stay with that, but vary it in minimalistic ways with dynamics and attack. Rather than breaking loose to play soloistically, he maintains the ambience he's created. Now, I love all the old jazz drummers, like Jo Jones, for example, or Gene Krupa, and they were also more pattern oriented rather than freely expressive in the way that most contemporary jazz drummers are. And it's something I've missed. Manu has that quality in his approach, but also a very elegant sophistication, a poetic sensitivity."
Garbarek attributes the overall shape of the album to its producer. "When it comes to organizing the pieces as a whole, that's difficult for me, because I'm bound up in the details of each individual tune. The best ideas for that usually come from Manfred Eicher. Hearing these pieces during the mix he very quickly had an idea about the dramaturgy. He sees the whole more spontaneously, and I trust him 100 % in this. I'd tried all kinds of way to put these pieces together, but once Manfred suggested an order, everything fell into place – not for the first time."
The album's title was borrowed from the poem "In Praise of Dreams" by Wislawa Syzmborska, which begins, in the English translation, "In my dreams/I paint like Vermeer van Delft.
Partial Discography
* Esoteric Circle, with Terje Rypdal (Freedom FLP/CD 41031, 1969)
* Afric Pepperbird (ECM 1007, 1970)
* Sart, with Stenson and Rypdal (ECM 1015, 1971)
* Triptykon, with Arild Andersen and Edward Vesala (ECM 1029, 1972)
* Red Lanta, with Art Lande (ECM 1038, 1973)
* Witchi-Tai-To, with Bobo Stenson Quartet (ECM 1041, 1973)
* Luminessence, with Keith Jarrett (ECM 1049, 1974)
* Dansere, with Bobo Stenson Quartet (ECM 1075, 1975)
* Dis (ECM 1093, 1976)
* Places (ECM 1118, 1977)
* Photo with Blue Sky, White Cloud, Wires, Windows and a Red Roof (ECM 1135, 1978)
* Magico, with Charlie Haden and Egberto Gismonti (ECM 1151, 1979)
* Aftenland, with Kjell Johnsen (ECM 1169, 1979)
* Folk Song, with Charlie Haden and Egberto Gismonti (ECM 1170, 1979)
* Eventyr (ECM 1200, 1980)
* Paths: Prints (ECM 1223, 1981)
* Wayfarer (ECM 1259, 1983)
* It's OK To Listen To The Gray Voice (ECM 1294, 1984)
* All Those Born With Wings (ECM 1324, 1986)
* Legend of The Seven Dreams (ECM 1381, 1988)
* Rosensfole, with Agnes Buen Garnas (ECM 1402, 1988)
* I Took Up The Runes (ECM 1419, 1990)
* Ragas and Sagas, with Ustad Fateh Ali Khan and musicians from Pakistan (ECM 1442, 1990)
* Star, with Miroslav Vitous and Erskine (ECM 1444, 1991)
* Atmos, with Miroslav Vitous (ECM 1475, 1992)
* Madar (ECM 1515, 1992)
* Twelve Moons (ECM 1500, 1992)
* Officium, with The Hilliard Ensemble (ECM 1525, 1993)
* Visible World (ECM 1585, 1995)
* Rites, 2-CD (ECM 1685/86, 1998)
* Mnemosyne, with The Hilliard Ensemble, 2-CD (ECM 1700/01, 1998)
* Rarum 2: Selected Recordings (ECM, 2002)
* In Praise of Dreams (ECM, 2004)
* Dresden (ECM Records, 2009)
* Officium Novum, with the Hilliard Ensemble (2010)
* Résumé, with Eberhard Weber (ECM, 2012)
* Magico: Carta de Amor, with Charlie Haden (ECM. 2012)
* Concert in Athens, with Eleni Karaindrou (ECM, 2013)
Web Site
www.garbarek.com