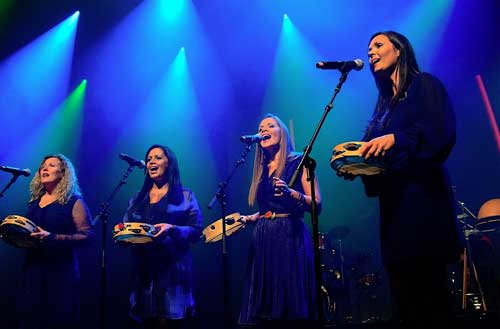 Ialma is responsible for the increasing influence of Galician folk music in Belgium. The group features five cantareiras (singers), who are descendants of Spanish immigrants from Galicia, as well as Belgian instrumentalists. Ialma also has strong Wallonian and Flamenco influences.
The vocalists are: Verónica Codesal, Marisol Palomo, Nuria Aldao, Natalia Codesal and Magali Menéndez
Tradicional Galician instruments such as gaita (bagpipe) and pandereta (tambourine) are combined with accordions, bass, and piano.
Discography:
Palabras darei (Zoku, 2000)
Marmuladas (Zoku, 2002)
Nova Era (Kerua, 2006)
Simbiose (FOL Musica, 2011)
Camiño de Bruxelas a Santiago (Home Records, 2016)