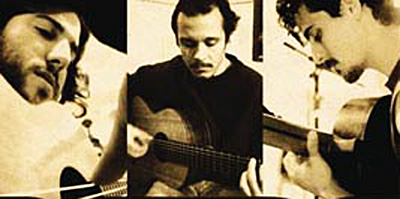 Fierro Chifle included Juan Manuel Sanchez, Gabriel Santamaria and Pablo Vernieri. The trio was formed in Buenos Aires (Argentina) at the beginning of 2004. The tango guitar ensemble's idea was to reconstruct the different periods of tango, including traditional as well as contemporary expressions. Sebastian Piana, Agustin Bardi, Anibal Troilo, Roberto Grela, Homero Exposito, Julian Plaza, Horacio Salgun and Astor Piazzolla, among others, are at the turning point of a musical and aesthetic search developed through a traditional sound.
The repertoire included tango classics adapted to dance rooms as wells as concert rooms. In addition, various genres such as Tango, Waltz and Milonga were incorporated and interlaced in a dynamic show.
Fierro Chifle is an idiomatic expression which means "to drive misfortune away"
Juan Manuel Sanchez graduated from Music School of Avellaneda, Buenos Aires. Pablo Vernieri and Gabriel Santamaria graduated from music conservatory of Morin, Buenos Aires.
They were all professional musicians and teachers in Buenos Aires.
Discography
Fierro Chifle (2006)