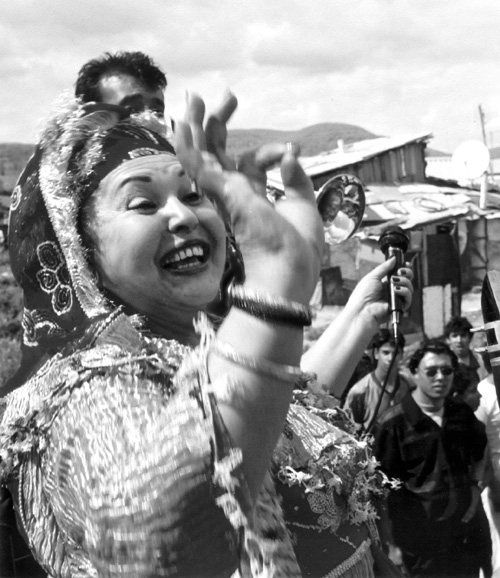 Esma Redzepova was a well-known throughout Eastern Europe and the Balkans as "the queen of the Gypsies." She was an remarkable singer and dancer.
Born in a small town near Skopje, the capital of Macedonia, where the director of cinema Emile Kusturica filmed The Time of the Gypsies. Her music used to be available only on cassette tapes.
She performed since the age of twelve and was discovered by the renowned musician, composer and bandleader Stevo Teodosievski, who became her mentor, musical partner and later her husband. Their ensemble became one of the most popular groups in the Balkan region. They made hundreds of recordings together, several of which became "gold." They toured extensively, filling concert halls and stadiums in Europe, Australia, China, Pakistan, Africa and the Middle East. During their life together, Stevo and Esma adopted 47 orphans and street children into their home, which evolved into a school of folk music. Esma continued her career after Stevo's death in 1997, continuing to perform with the Ensemble Teodosievski.
Composed of members of Stevo and Esma's music school, Esma's group was composed of Simeon Atanasov (accordion), Elvis Huna (bass accordion), Tasko Grujovski (double bass), Zekiroski Sami (clarinet), Zahir Ramadanov (trumpet) and Elama Rasidov (darbuka).
Esma Redzepova's songs were the musical expression of her love to Macedonia and its Gypsy roots. Her music sounds like typical melodies of the Balkan Mountains with a special protagonist of the violin, clarinet and accordion and with influences from India, Persia and Spain, creating an exciting atmosphere, cheerful and sensual.
Esma was an authentic star in the Balkan countries. For many years, she performed in the most important venues of the world. She acted in several movies and was without any doubt the great ambassador of the Gypsy Macedonian culture in the world.
Esma Redzepova died on11 December 11, 2016 in Skopje, Macedonia
Selected Discography:
Songs of a Macedonian Gypsy (World Connection, 1998)
Romske pesme (PGP-RTS, 2000)
Mon histoire, My story (Accords croisés, 2007)
Gypsy Carpet (Network, 2007)