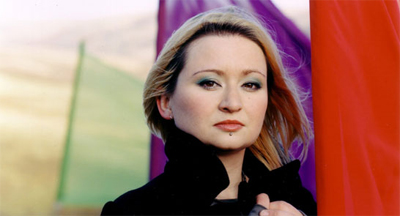 Eliza Carthy is one of the leading artists in the UK's folk music movement. She has absorbed a rich tapestry of traditional sounds and reinvented them in her own unique way – a melting pot of old and new, captivating lyrics, entrancing vocal melodies, sublime fiddle playing and heartfelt arrangements.
Born August 23 of 1975 in Scarborough, North Yorkshire, Eliza has been widely acknowledged as one of the most creative, and original, young talents in English music today. She built on her vast reputation as a singing and fiddle sensation and emerged with Angels & Cigarettes – a modern sounding collection of personal, passionate and intensely affecting songs.
The Rat Catchers project unites her with two more of English music's most celebrated young pioneers, John Spiers (melodeon) and Jon Boden (fiddle, double bass) of Bellowhead, with long-time partner Ben Ivitsky (viola, guitar) completing the line-up.
In 2016, Eliza Carthy put together a dream group of musicians called The Wayward Band with members of Bellowhead, Blowzabella, Mawkin, Emily Portman Trio, Tyde and other. They recorded an album titled Big Machine.
Discography:
Solo
* Heat Light & Sound (Topic Records, 1996)
* Eliza Carthy & The Kings of Calicutt (Topic Records, 1997)
* Red Rice (originally sold as a 2 CD set. Now available as 2 separate CDs: Red and Rice, 1998)
* Angels & Cigarettes (Warner Bros UK, 2000)
* Anglicana (Topic Records, 2002)
* The Definitive Collection (compilation 2003)
* Rough Music (Topic Records, 2004)
* Dreams of Breathing Underwater (Topic Records, 2008)
* Big Machine (Topic, 2017)
with the Waterson family
* Waterson:Carthy: Waterson:Carthy (1994)
* Waterson:Carthy: Common Tongue (1996)
* Waterson:Carthy: Broken Ground (1999)
* Blue Murder: No One Stands Alone (2002)
* Various Artists: Shining Bright – The Songs of Lal & Mike Waterson (2002)
* Waterson:Carthy: A Dark Light (2002)
* The Watersons: The Definitive Collection (compilation 2003)
* The Watersons: Mighty River of Song (4 CD & 1 DVD compilation 2004)
* Waterson:Carthy: Fishes and Fine Yellow Sand (2004)
* Waterson: Carthy: The Definitive Collection (compilation 2005)
* Waterson:Carthy: Holy Heathens and the Old Green Man (2006)
with Norma Waterson
* Gift (Topic Records, 2010)
with Nancy Kerr
* Eliza Carthy & Nancy Kerr (1993)
* Shape of Scrape (1995)
* On Reflection (compilation Gadfly, 2002)