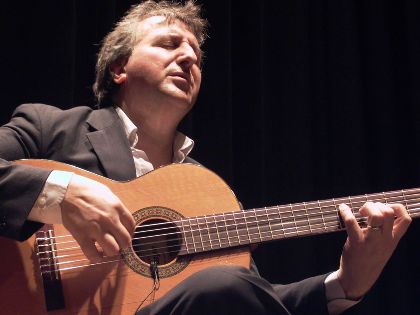 Spanish, born in Tangiers of Spanish parents from Andalusia on the 29th July 1955, Eduardo is the seventh son in a family of eleven, nearly all of whom are talented artists or musicians. Two of them, his brothers Jose (a painter) and Salvador (a drummer) along with Eduardo, are Internationally acclaimed and respected artists.
Niebla's first musical encounter was with his brother's accordion at the age of five. Three years later, his older brother Antonio gave him his first guitar. By this time the family had moved to Gerona in the Northeast of Spain.
At the age of eleven Eduardo formed his first folk/pop band Los Helios. They regularly performed in schools. In addition he made radio appearances with his sister Pilar, featuring poetry reading with flamenco guitar accompaniment. In 1966, Niebla with his brother Felix (double bass) and Salvador (drums and percussion) formed the Guevara Group. They appeared at many concerts and folk festivals throughout Catalonia.
In 1968, as a member of the new band Metafora, Eduardo had his first taste of electronic music, inspired by the works of Jimi Hendrix. They also performed in concerts and festivals throughout Spain. In 1973 he turned professional and founded the progressive symphonic rock band Atila. In addition to touring, they produced three hugely successful albums: The Beginning of the End (New Promotions), Intentions (BASF) and Reviure (EMI Odeon), composed and arranged by himself.
In 1975 Atila toured France, taking part in several exhibitions of conceptual art with the Spanish painter Jaume Xifra. Eduardo also composed, arranged and played music for the Arab Theatre of Paris. In Spain, Atila were appearing regularly at every major music festival in the country. In addition to winning various prizes and having many television appearances, they were voted one of the best groups of 1974-75 by both the Spanish public and music critics. Eduardo was voted among the seventh best guitarists in the Iberian peninsula. Atila albums are now collectors' items.
In 1976 Eduardo became interested for the first time in performing in a duet form working with jazz guitarist Carlos Gonzalez in Seville. The duo composed pieces inspired by the works of Wes Montgomery. In 1978, Eduardo went to London and first appeared on the music scene as a studio session player.
By 1980, he had become a member of the group Mother Gong, with whom he recorded the album Fairy Tale. In the same year he was invited to Ronnie Scott's Club to perform in a duet with free-jazz saxophonist Lol Coxhill; since then they have played together on several occasions.
In 1981 Eduardo broadened his musical horizons and composed orchestral works for films and documentaries like Active Birth, RD Laing, Pablo Neruda (Madd Knipp Productions), El Gato y la Paloma (Alan Productions) etc. He also appeared as a guest artist with the writers and poets Fran Landesman, John Cooper Clarke and Mike Horovitz on various occasions. In the same year he formed a new band under his own name.
He wrote and arranged the music for their album Towards the Sun. The members of the band were both classical and jazz musicians: Salvador Niebla (drums and percussion), Judy Garratt (violin, Boston Pop Orchestra), Dennis Milner (double bass, London Philharmonic), Mark Lorraine (French horn, New York Philharmonic Orchestra), Lol Coxhill (Saxophone), Didier Malerve (Flute -Gong), Lyn Dobson (saxophone and flute ex Soft Machine) John Mackenzie (electric bass), Elise Lorraine (vocals) and Zandy Gordon (Keyboards).
In 1981, he also collaborated with the group Tapstep. In the following year, 1982, he worked with many musicians in the jazz arena with his own Niebla Quartet.
It was in 1983 that he started the very successful Eduardo Niebla Guitar Duo. In this format he found a much more prominent vehicle for his guitar expertise. Some of the releases include Light and Shade, Eurotour, Celebration, Music Without Frontiers, Poema, etc. The act was repeatedly
acclaimed the best guitar duo on the European circuit. Some of his accompanists include Bob Grant, Emilio Maya, Antonio Forcione, Pepe Justicia., Michele Cea, Dominic Grant, Victor Unukovsky, Mark Johns, Giorgio Serci.
The Eduardo Niebla Guitar Duo appeared at every major concert venue in England, Wales and Scotland as well as at every major guitar jazz festival. In London they have performed at the Barbican and the South Bank Centres, the Wigmore Hall, the Bloomsbury Theatre and the Richmond Theatre as well as the Fairfield Halls in Croydon. They also appeared at the Wembley Arena where they were guests on the Barclay James Harvest European Tour in 1983 which took them to all major European cities. The duo tours Europe every year and has made many television appearances both on regional and national television in these countries. In 1990 at the San Isidro Fiesta in Madrid, they played at the Rockodromo Arena at the close of the ceremony to an audience of 35,000 people.
Eduardo toured South Africa, performing solo concerts with great success. He took the opportunity to do some research on the music of local tribes, which inspired him to write many new compositions. The same year the Eduardo Niebla Guitar DuoO had a new recruit: Russian jazz guitarist Victor Unukovsky. This collaboration led to the recording I Can Fly Now CD (1996). In January Eduardo met the Arab ud player from Palestine Adel Salameh. Their collaboration resulted in many international appearances at concert halls and festivals. Their work can be heard on the recording Mediterraneo CD (1996).
In August 1996 the Eduardo Niebla Live! (with Wajahat Khan on sarod and Sukhvinder Singh on tablas) had a very successful tour in Spain, culminating in a new recording Magic Nights (1996). He also toured Britain with Adel Salameh, receiving very positive and warm responses. In 1997, Eduardo teamed up with gypsy singer and percussionist Paban Dasbaul, recording a set of very beautiful and traditional Indian gypsy songs, arranged and produced by himself. In the same year he recorded duets for guitar and Indian bamboo flute, featuring Deepak Ram. He also met Indian sitar virtuoso, Purvayan Chattergee, culminating in a set of new compositions and recordings.
In 1998, Eduardo Niebla Guitar Duo undertook a very intense and successful tour of Europe, presenting an electrifying program of his compositions featured on his new CD. Concert after concert he left audiences spellbound, and repeatedly received standing ovations. In the same year he also started THE EDUARDO NIEBLA EXPERIENCE, comprising tabla player (Sanjay Jhalla) and guitar accompanist, Giorgio Serci. Concerts followed in Spain and in the UK. 1999 has brought further intensive touring in Europe and Ireland as well as the UK – followed by the release of his latest CD "The Gift" this September.
Eduardo has also produced recordings for many other musicians and collaborated in countless productions that have encompassed the whole spectrum of musical styles. Artists include Belinda Carlisle, Tom Newman, Gary Grant, The Sailors and George Michael to name but a few. After all these years of dedication to composing, arranging and performing music distributed world-wide, Eduardo Niebla has now achieved international recognition for his expertise and creativity on the guitar.
Discography:
Towards the Sun (1981)
Light and Shade, with Antonio Forcione (Sol International Records, 1984)
Eurotour, with Antonio Forcione (Sol International Records, 1985)
Celebration, with Antonio Forcione (Venture, 1987)
Music Without Frontiers, with Antonio Forcione (1987)
The Alexander Project, with A. Foulcer (1988)
Sequence for Guitar (1990)
Work for Three Arts (1991)
Spanish Projects (1992)
The Sailors (1992)
Poema, with Antonio Forcione (Jazzpoint Records, 1992)
Breathing (1993)
I Can Fly Now (Sol International Records, 1996)
Magic Nights (1996)
Mediterraneo, with Adel Salameh (1996)
The Gift (LMR Records, 1999)
Natural ( LMR Records, 2003)
Lights from the Inner Side (LMR Records, 2004)
My Gypsy Waltz (LMR Records, 2010)