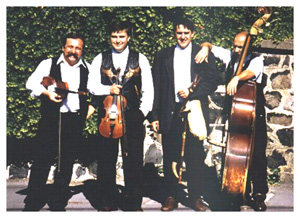 Dűvő Együttes (Dűvő Ensemble) was formed in 1976 by a few folk music and dance enthusiasts in Salgotarjan, a northern Hungarian city known for its rich Palic folk tradition, which is carried on even today. The Palic people are a group of Hungarians with a peculiar dialect and a strong attachment to traditional values. The original members of Duvo initially wanted to preserve their own local folk music traditions. However, as they established themselves as excellent musicians, they began to learn and collect folk music from all areas where Hungarian folk music could be found. They befriended and learned music from the best Hungarian folk musicians from Hungary, Slovakia and Transylvania. They treasure these friendships, which have brought them their most important and pleasurable musical experiences.
A Duvo performance is versatile and colorful. The band's members each play on several folk instruments including violin, 3 stringed viola (bracsa), bass, cimbalom, duda (the Hungarian bagpipe), koboz (a type of lute), and furulya, a Hungarian folk flute.
Duvo has toured many European and Scandinavian countries and is the regular band of one of the longest running and excellent folklore camps in Seattle. In 1983 they received the Hungarian national Excellent Ensemble rating. In 1993, the Young Master of Folk Art award was bestowed upon them.
The band: Dénes Hrúz on violin, bagpipe; Szabolcs Hrúz on bracsa, koboz; István Nagy on bass, furulya; Gergely Toth on violin, bracsa; and Ferenc Andrássy on cimbalom.
Discography:
Dűvő 1 – Hungarian Folk Music (Periferic Records)
Dűvő 2 – Hungarian Folk Music (Periferic Records)
Dűvő 3 – Hungarian Folk Music (Periferic Records)
Duvo 4 – Hungarian Folk Music (Periferic Records)
Dűvő 5 – Hungarian Folk Music (2003)
Dűvő 6 – 25 Év Legnépszerubb Dallamai / The Best Of Dűvő – The First 25 Years (2004)
Dűvő 7 (2005)
Rimóci Énekek És Táncok – Songs and Dances from Rimos, with Istvánné Holecz, Margit Kanyó (2006)
Somogyi Táncok (2007)
Magyarszováti Tánczene (2007)
Hungarian Village Music (2008)
Elore, Csak Elore (2009)
Live in Holland (2010)
Határtalan Muzsika (2010)
Van Még Benne! (2012)
Duvölet – Pillanatképek / Snapshots (2014)
Magam Járom, with Kubinyi Júlia (2015)
Hátra Van Még A Java – Hungarian Village Music (2017)