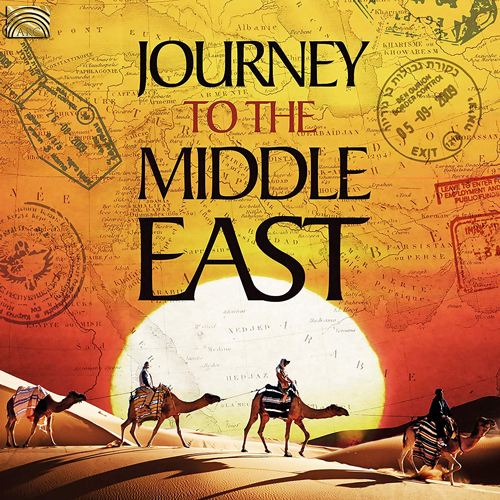 Various Artists – Journey to the Middle East (ARC Music, 2019)
Everyone knows that the tin with an assortment of cookies is just so much better than the tins with just a single kind of cookie. It's just so much better to sample one's way through dark chocolate covered cookies, white chocolate wafers, shortbread squares, bites of buttery Madeleine cookies or milk chocolate covered cookies with tiny pictures pressed into the chocolate than a beaten up bag of plain old snicker-doodles. That's just fact.
Interestingly enough it can be the same way with music and our friends at ARC Music know this and have put a wonderful collection for listeners to nibble their way through on Journey to the Middle East. This compilation works its way through the music of Syria, Egypt, Persia, Israel, Cyprus, Lebanon and Turkey. This glorious collection would delight the most seasoned listener or the newbie listener dipping an ear into the musical mysteries of the Middle East.
Listener get a dose of the dramatic right up front with the traditional song and dance from Cyprus titled "Cifdetelli" by the folk ensemble Yeksad. Journey to the Middle East turns hip with Hossam Ramzy and Phil Thornton's "Planet Egypt" replete with hypnotic percussion and call-and-response interplay between mizmar, argul and kawala from the ARC release Planet Egypt.
Up next is "Aziz Jun" by Zohreh Jooya, originally from the ARC release Persian Nights. Fans will simply not want to miss "Midnight Sun" by Dastan Trio. This track is just simply impressive as Dastan musicians Pejman Hadadi, Hossein Behroozi-Nia, and Hamid Motebassem weave a web of improvisational mastery on barbat, setar and tombak that includes some spectacular percussion.
If that weren't enough to lure listeners to Journey to the Middle East, there's the sly and sassy "Iraqi Jazz" by Ahmed Mukhtar, the sweetly soulful "Mi Yitneni Of" by The Burning Bush, originally from the ARC release Folksongs from Israel. There's also "Amaken" by Andre Hajj & Ensemble, the sultry vocals on the Syrian song "Hayyamatni" by Zein Al-Jundi and Armenian dance song "Karoun, Karoun/Nooneh" by Alan Shavarsh Bardezbanian.
The Iranian percussionists of Zarbang have on offer "Cycling Feast" and it is a powerful Sufi trance, ancient Iranian call to the wild and percussion extravaganza all rolled into one. Journey to the Middle East keeps up the wild ride all the way to the end with a final track from Ensemble Huseyin Turkmenler called "Rumeli Karsilamisi."
Journey to the Middle East is a whole assortment treats and everyone knows that's the best.
Purchase Journey to the Middle East