Che Apalache – Rearrange My Heart (Free Dirt Records, 2019)
Che Apalache is a fascinating band from Buenos Aires (Argentina) that brings together Argentine, Mexican, East Asian, Spanish, Gypsy swing, and American bluegrass influences.
The group is led by American vocalist, fiddler, musical instructor and global traveler Joe Troop, born and raised in North Carolina.
In Argentina, Troop came into contact with three outstanding musicians from Hispanic America, guitarist Franco Martino (Argentina), mandolinist Martin Bobrik (Argentina) and banjoist Pau Barjan (Mexico).
Rearrange My Heart was produced by the great banjo innovator Béla Fleck. "I love to work with music that intrigues, excites and inspires me," Fleck says, "and that describes Che Apalache to a T! We first met at my Blue Ridge Banjo Camp last year. They had come from Buenos Aires and asked to play for me. I was blown away and they blew away the crowd a few days later. It's been a blast to get to know them in the creative environment; together we've come up with what I believe is a truly striking album. I hope you'll enjoy listening as much as I enjoyed producing."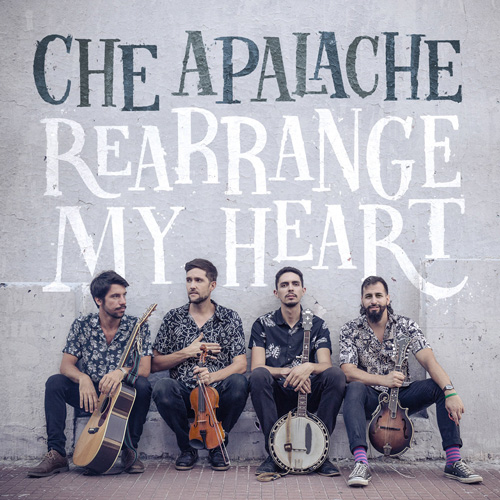 The vocals are in English and Spanish, with Troop on lead vocals and his colleagues on Appalachian-style vocal harmonies. Troop's lyrics reflect his social justice concerns: anti-immigrant rhetoric in the USA coming from the White House, the building of the border wall in the United States' southern border with Mexico and the drama of the Dreamers (undocumented immigrants taken to the USA when they were young children).
Che Apalache is an exciting rising talent in the world music scene, an example of skillful hybridization and impeccable acoustic music craftsmanship.