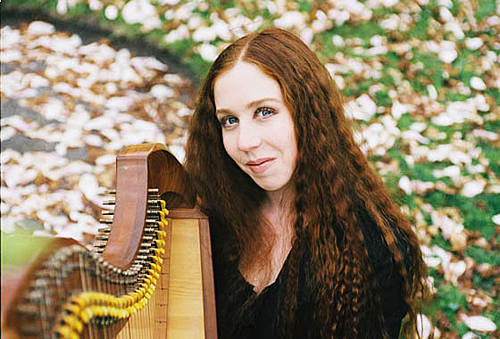 Cecile Corbel was born in Brittany, the Celtic region in the northwest of France. As a child, she traveled all over Brittany with her parents, who were puppeteers. She plays the guitar but it was in her teens that she discovered the Celtic harp.
At 18, she went to Paris to study archeology, still dreaming of music. Concert after concert in Parisian pubs and cafes, she self-produced her album Songbook 1, soon noticed by the label Keltia Musique (Sinead O'Connor, Loreena Mc Kennit).
Her unique harp technique and her appealing voice sometimes compared to Kate Bush's, revealed a world encompassing ancient poems, original compositions, Celtic tunes and Mediterranean melodies. She takes the listener for a trip out of time. Following the path of prestigious musicians such as Alan Stivell, the Breton composer and singer now performs her Celtic and world music with her musicians in France and throughout the world.
In 2005 she was awarded the Prix Paris jeunes talents musique.. (Talented young musician award of Paris)
Discography:
SongBook 1 (Keltia Musique, 2006)
SongBook vol. 2 (Keltia Musique, 2008)
SongBook vol. 3 – Renaissance (Keltia Musique, 2011)
SongBook vol. 4 – Roses (Keltia Musique, 2013)
La Fiancée (Polydor, 2014)
Vagabonde (Polydor, 2016)