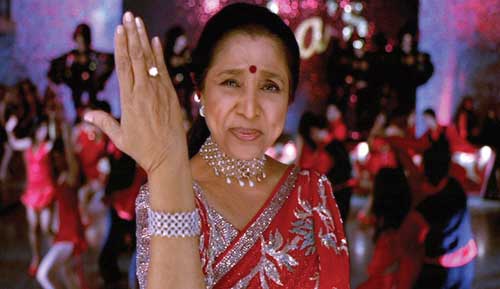 Asha Bhosle's name is synonymous with two things: Bollywood (also known as filmi, the Indian movie industry) and success. The appetite for Bollywood reaches way beyond the subcontinent and its far- flung diaspora communities. In terms of scale of popularity, the size of its audience and the possibilities for creating stars, no other popular music culture compares with that of the Indian subcontinent.
Asha's effect in terms of global cultural impact and influence can not be underestimated, and her Olympian place as the most recorded artist in history, with more than 20,000 documented songs in over a dozen languages, is undisputed.
Asha was born in September 1933 in Sangali, Maharashtra, into what proved to be one of the century's most influential and successful musical dynasties. After her father's unexpected death in 1942, the family moved from Pune to Kolhapur, before settling in Bombay in 1944, the booming center of the wartime Hindi-language film industry.
Through family string-pulling, Asha procured a cameo role in a Marathi-language picture as a child actress. At the age of 10, she discovered that she disliked acting but loved singing, and by the late 1940s she was singing in Bombay productions. Post-Partition, everyone was jockeying for position in the Bombay film industry and consequently her career climb took time.
The most interesting songs went to the same clique of playback singers, and so she began by sharing a microphone with established vocalists. A mother-tongued Marathi speaker, she took on jobs singing in Punjabi, Bengali and Hindi, earning respect for her reliability, her ear and her innate gift for mimicry.
Always one to enjoy a challenge she went from classical to romantic songs, to pure pop. By the second half of the 1950s, her perseverance had paid off, and her name was on the nation's lips.
Ken Hunt compiled an album of her music for the Rough Guide series, with input from Asha and her son Anand. Asha herself reviewed the selection of songs, and chose some of her best moments. The earliest recording on the album, 'Ina Mina Dika' from the film Asha, was a rock 'n' roll scandal in 1956, of which she says 'I was Elvis Presley!'. In 1957 she sang in Mother India, a film that is seen as one of the most important statements of Indian identity, and the source of the upbeat chorus song 'Dukhbhare Din'.
Asha ranks the experimental song 'Mera Naam Hai Shabnam' as one of her more difficult challenges. From the 1970 film Kati Patang, she had to balance tempo and dovetail her voice into the orchestrations. Headstrong and ambitious, taking on risky (sometimes risque) songs really stamped her career – songs such as 'Sapna Mera Toot Gaya', from the 1975 film Khel Khel Mein, where she had to find a key that allowed her to reach beyond the male's distinctive high-register voice.
Umrao Jaan, Muzaffa Ali's 1981 film, is a famous story about the life and struggles of a historic taiwaf, a courtesan. 'Dil Cheez Kya Hai' is taken from this film, which became a milestone in Indian cinema, and for which Asha won a National Award.
She picked up a second National Award in the 1987 film Ijaazat. 'Mera Kuchh Saaman' allowed her voice to shine, showing off her impressive command of vocal dynamics, with a tune that her husband R.D. Burman had composed in ten minutes. A vocal actress equally capable of capturing the character of the heroine, the courtesan, the ingenue, the brazen hussy, the world-weary woman and the vamp, Asha Bhosle's talent and vocal versatility have made her top of the Bollywood pantheon of playback legends since the late 1950s.
Asha Bhosle introduced American audiences to the range of her well-known and well-loved repertoire with The Rough Guide to Asha Bhosle (2003), her 2005 collaboration with the Kronos Quartet You've Stolen My Heart, and Love Supreme (Times Square Records, 2006), a double CD of love songs. Love Supreme 'a two-sided coin of newly- recorded ghazals (a classical song form based in Persian and Urdu poetry that Bhosle describes as 'a conversation between two lovers?) and her classic-romantic duets from some of Bollywood's best-loved movies ? is as diverse as the artist herself.
Much of Bhosle's inspiration comes from her home life and family. Her children and grandchildren are her chief advisors in developing new directions for her music. It is that intergenerational attunement that gives her an appeal that has lasted for five decades.
In 2008, Bhosle celebrated her 75th birthday, which has inspired the release of 75 Years of Asha: A Musical Journey. Also in 2008, the president of India bestowed upon her the Padma Vibhushan, which is the second highest civilian award in India. 75 Years of Asha: A Musical Journey is a journey through her career, featuring new recordings of her all time favorites, including songs made famous by these legendary female vocalists, who had a deep impact on Bhosle's life.
Partial Discography:
The Rough Guide to Asha Bhosle (World Music Network RGNET 1131CD, 2003)
You've Stolen My Heart (2005)
Love Supreme (Times Square Records, 2006)
75 Years of Asha: A Musical Journey (2008)
The Best Of Asha Bhosle Ever, 5-CD Set (Saregama)