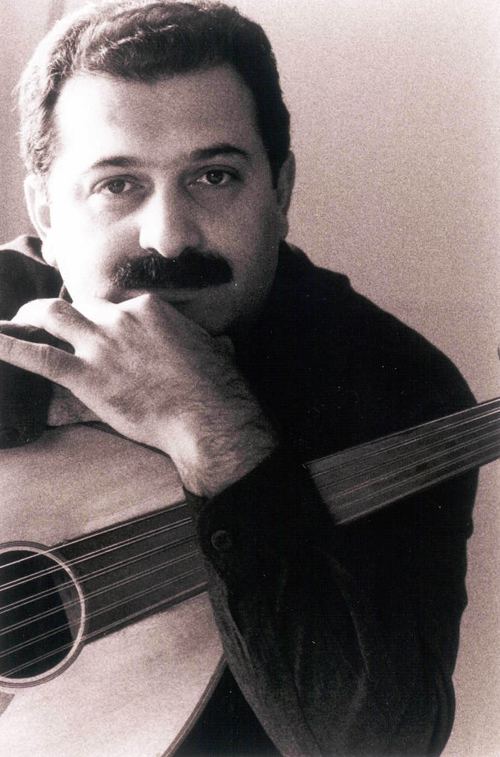 Haig Yazdjian was born of Armenian parents in Syria and has been living in Greece for the last 20 years. In Syria he discovered the enchanting elements of Eastern music, and took up the ud as the means to express an inner undiscovered domain. Soon, he became extremely popular as an oud soloist, and one of the most characteristic vocalists. The release of his first album, Talar (that means ethereal, lively and tender, in Armenian), in 1996, accelerated his popularity, but more important chartered him amongst the most promising composes of his generation. Yazdjian was hailed for the unique ways he was blending diverse elements of the eastern Mediterranean music traditions vested in the practice of considering tradition as a live creative force. All that in a rather, ethereal or even interminable fashion as the title of Talar alludes to.
Two years later, the release of his second solo album Garin, and the CD single 'Gift' were received with unanimous acclamation from audiences and critics alike. In addition to a critical and commercial success, Yazdjian has met the recognition and respect of some of the most important figures of Greek music that he has collaborated with. In the summer of 2000 Yazdjian released Beast on the Moon, an album that signified a new expressive turn in his music quest. In 2001 at a point of expressive and performance maturity, he released Yeraz, a dreamworld for fellow listeners.
Over the years Yazdjian has collaborated with the most prominent Greek composer and singers as well as soloists of international stature. Among them, Nikos Xydakis, Eleftheria Arvanitaki, Savina Yiannatou, Maria Farantouri, Dimitra Galani, Elli Paspala, David Lynch, Michalis Nikoloudis, Dave Spilain, Omar Faruk Tekbilek, Jivan Gasparyan, Theodossi Spasov, Glen Velez and Kudsi Erguner.
His first album was Beast on the Moon. Yazdjian played on Loreena McKennitt's 2006 album An Ancient Muse.
Selected Discography:
Beast on the Moon
Talar (Libra Music, 1996)
Nazeli, with Jivan Gasparyan Quartet (Libra Music, 1998)
Garin ‎(Libra Music, 1998)
Το Κτήνος Στο Φεγγάρι ‎(2000)
Yeraz ‎(Lyra, 2001)
Amalur, with Eleftheria Arvanitaki and Ara Dinkjian ‎(Libra Music, 2007)
The Greek Folk Instruments: Outi (FM Records, 2011)