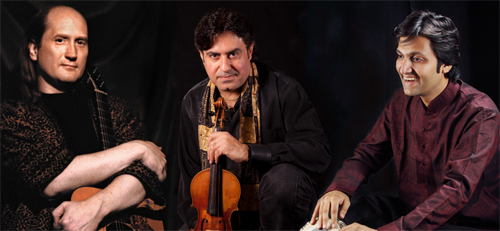 The ground-breaking world fusion group Ancient Future will perform as a trio on Saturday, September 8, 2018 at the Winchester Cultural Center in Las Vegas, Nevada. The lineup for this concert includes innovative guitarist Matthew Montfort on scalloped fretboard guitar, Arabic violin maestro Georges Lammam, and Indian tabla master Vishal Nagar.
This program will combine the rhythms and melodies of the Arabian Peninsula, Spain, and India with contemporary jazz and rock. Musical concepts such as taqsim (an Arabic method of melodic improvisation), tala (the recurring rhythmic cycles of Indian classical music), and compás (the rhythmic structure of flamenco) will be showcased.
The will include music from Ancient Future's wide-ranging repertoire including music from the band's major label releases such as World Without Walls and current releases such as Planet Passion, Yearning for the Wind, and the Archive of Future Ancient Recordings.
September 8, at 2:00 p.m.
Winchester Cultural Center, located at 3130 S. McLeod Dr. in Las Vegas, Nevada.
For more information, call 702-455-7340 or visit parksreg.clarkcountynv.gov for tickets. Admission is $12 in advance and $15 the day of the show.