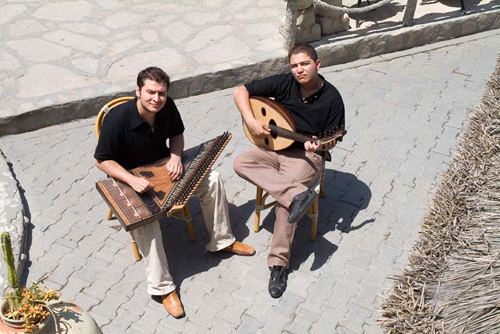 Amine and Hamza M'Raihi are Tunisian brothers, born respectively, in 1986 and 1987. They graduated in Middle Eastern music in 1999 and obtained the first national prize for ud and qanun.
Despite their young ages, Amine and Hamza have already performed at some of most famous stages in the Arab world, such as the Medina Theatre in Beirut, The Opera House in Cairo, and the Medina Festival of Tunis. They have also been invited to various festivals throughout Europe.
Amine and Hamza play classical pieces of Middle Eastern music as well as their own compositions. Amine and Hamza are developing a new style of playing ud and kanun, mixing the different influences of Middle Eastern music, respecting its meditation and improvisational aspects, but at the same time introducing a dynamic expression and an outstanding way of playing.
Discography:
Ala Mar Azaman (2003)
Ila Hounak (Laika Records, 2003)
Asfar ‎(Samaa, 2004)
Ilayha wa Ilayh (2006)
Mani Nassi (2007)
Tunifunk (2009)
Perpetual Motion ‎(Network Medien, 2011)
Fertile Paradoxes ‎(ARC Music, 2017)