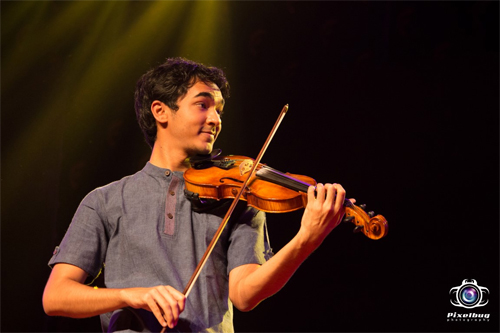 Ambi Subramaniam was born August 5, 1991 in Los Angeles, California, the son of violin maestro L. Subramaniam.
Ambi gave his first performance at the age of seven and has already performed in India and abroad. He was part of a special performance at the Gateway of India in 2003, featuring the violin greats L. Subramaniam and Jean Luc Ponty.
Ambi plays Western and Karnatic violin with equal ease. Ambi accompanies his father for Karnatic concerts including a concert at the prestigious Dussehra Festival at the Mysore Palace and during the Centenary Celebration of the Banglaore Gayana Samaj.
Discography:
Violin Virtuoso (Navras, 2008)
Live at Neues Gewandhaus Germany (2009)
Violin Maestros (2009)
Visions of India (2010)
Violins for Peace (2010)
Global Symphony (2011)
Aadi Ganesh (2012)
Indian Violin (Viji Records, 2012)
Global Traditions (2013)
SaPa Baby Vol. I, II, III (2014)
Just Playing (Viji Records, 2016)
Live at Krishna Gana Sabha (Viji Records, 2017)
You Were There, with SubraMania (2017)
Bhajans for Kids (Viji Records, , 2017)
– featured soloist