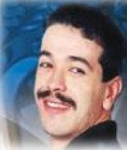 Born on November 30, 1960 in the small town of Ain-Temouchent (Algeria), home of Bellamou, the famous trumpet player and forefather of Rai music, Cheb Nasro was the first son after five girls. At the age of two his uncle bought him a darbuka, a traditional drum, and was entertained nightly by Nasro's playing and singing.
In the western Algerian town of Oran where he was raised, a famous neighbor named Cheb Zahounie would frequently invite Nasro to accompany him in his performance at neighborhood weddings. The neighbors would encourage Nasro to take the stage and sing. He soon grew passionate about performing live. He managed to find another neighbor who brought him to a local venue to entertain a paying audience for the first time. He was 17 years old and was paid five dollars for his first show. He brought the whole cabaret to their feet and the owner quickly offered him a permanent slot at the cabaret.
Within a year, Nasro was offered his first opportunity to record professionally and began to travel and perform with other noted Rai singers at festivals and concert halls throughout Europe.
Cheb Nasro developed a sentimental style of Rai music, similar to another famous Rai singer, Cheb Hasni. Without ever having met, he and Hasni were quickly established by music producers as competitors and developed a rivalry that would last until one fated night in Paris in 1991. Having been booked in the same hotel, they coincidentally left their rooms at the same time, saw each other and decided to go for a coffee. From that night until Cheb Hasni's death in 1996, they remained close friends and confidantes.
After Hasni's death, many Rai artists came out publicly to declare they would no longer sing for fear of being targeted by terrorists who disapproved of their music. Nasro contrarily came out publicly to declare his defiance, stating he would continue to sing and honor the life of his fallen friend. Over the next few years he slept with one eye open, even go so far as switching cars on a regular basis and varying his schedule as to not become and easy target. "I became very skinny from worry and moved around a lot in those days," Nasro said.
Nasro was the only Rai artist signed with an American label, Ark21/Mondo Melodia. He is one of Rai's most prolific artist with more than 100 albums to his credit.
Selected Discography
Reviens a Moi (Blue Silver, 1995)
Le Meilleur de Cheb Nasro (Blue Silver, 1998)
Departures (Ark21, 2002)
Lover's Rai (Rounder, 2009)