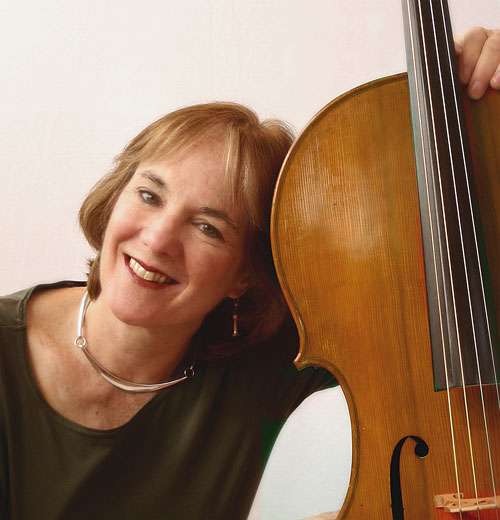 American musician Abby Newton first brought her cello into the folk music scene in the mid 1970's as a member of The Putnam County String Band, with Jay Ungar, John Cohen of the New Lost City Ramblers and Lyn Hardy. Her partnership with Scottish singer Jean Redpath introduced her to the music of the British Isles, and they toured the US and Scotland, and made 16 albums together.
Abby's first solo recording of new and traditional Scottish and Irish music, Crossing to Scotland, brought the cello front and center and included a stellar group of supporting musicians. Her second recording, Castles, Kirks, and Caves, featured 18th Century Scottish traditional and Baroque music, recorded on location in the ancient spaces in Scotland where the music has its roots.
A new trio, Ferintosh, evolved out of those recording sessions, and features Abby, fiddler David Greenberg, and Celtic harper Kim Robertson. Their first CD, Ferintosh, presented a unique sound, described by some as chamber-folk. Abby was the featured artist in an hour-long interview by Fiona Richie on National Public Radio's The Thistle and Shamrock, and she has also made several appearances on A Prairie Home Companion.
In addition to many workshops conducted in Scotland promoting the use of the cello as both a melodic and rhythmic instrument in traditional music, Abby has also taught at Gaelic Roots, Rocky Mountain Fiddle Camp, National Strings Workshop and Valley of the Moon Scottish Fiddle School. Abby has been featured on over a hundred recordings by a variety of folk artists including Jean Redpath, Priscilla Herdman, Bonnie Rideout, Al Petteway, David Greenberg and Puirt a Baroque, and the Jay Ungar/Molly Mason duo.
[Biographical information courtesy of the Swannanoa Gathering].
Discography:
Crossing to Scotland (Culburnie Records, 1997)
Ferintosh
Castles, Kirks, and Caves (Redwing Records, 2001)
website: http://www.abbynewton.com