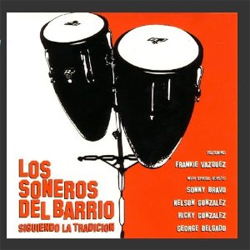 New York, USA – Los Soneros del Barrio are back with their third and new album Siguiendo La Tradición (Following Tradition)." Under the Rumba Jams label, this reputable salsa group returns with renewed classic rhythms and impressive danceable musical arrangements.
This new album has one of the best selections in musical arrangers, musicians and producers who work in the New York salsa scene. Among them there are: Ricky González and Dave "Dr. D" Feliciano (producers), Sonny Bravo (piano), Nelson González (Tres), Louie Cruz (arranger), Ángel Fernández (arranger), George Delgado (percussionist), and José Febles (arranger).
José Febles arranged "Timboro" especially for Frankie Vazquez, who decided to record it for the first time with Los Soneros Del Barrio. This song serves as a special tribute to the now deceased José Febles.