As part of our interview focusing on the world music scene in East Asia, we interviewed Yang Guanglei, President and Artistic Director of World Music Shanghai. The Chinese music festival has a partnership with World Culture Open that led to a collaborating with Jeju World Music Oreum Festival in South Korea.
What is the World Music Shanghai festival?
World Music Shanghai's beginnings stem from the 2008 "Songs for World Expo— Shanghai World Music Week", which was sponsored by the Shanghai World Expo Bureau. After producing numerous world music performances for World Expos and for the 2010 Asian Games in Guangzhou, "Shanghai World Music Week" was officially brought into the National China Music Industry Park's platform collaboration project in 2012 and we became "World Music Shanghai", with our main purpose focused on promoting multiculturalism, on demonstrating to cities that life is better and more enriched with the preservation of diversity in our cultural and natural ecosystems, and on listening to different and harmonious voices of our world.
To date, World Music Shanghai has welcomed its 9th edition and has invited nearly 130 artists from more than 100 countries over all these years. We have become China's largest, longest-running and most renowned world music themed music festival.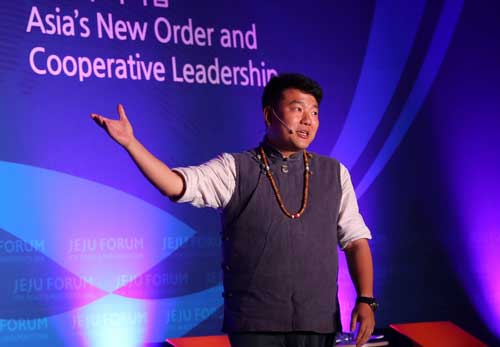 It looks like the World Music Shanghai festival takes place in various cities, in addition to Shanghai. Which are the other locations?
This year, due to our partnership with China Xintiandi, we brought the festival to Xintiandi's urban venues not only in Shanghai, but also in other cities in China for the first time, which were Wuhan, Chongqing and Foshan. For the first time, from 24 September to 9 October this year, an unprecedented scale of a world music carnival was created across multiple cities simultaneously: 64 world music performances of different styles featuring artists and bands from 21 countries and regions were brought to audiences.
Our partnership with World Culture Open also led to World Music Shanghai pairing with Jeju World Music Oreum Festival in Jeju, South Korea, thus giving birth to an international initiative of bringing world music across Asia.
You must be approached by numerous booking agents and artists. How do you choose the artists? What elements do you take into account aside from music quality?
World Music Shanghai has always adhered to selecting musicians of excellent quality, for this is our core competency. In addition, we give consideration to the cultural values and stories behind the music, and we take into account whether Chinese audiences are familiar with the cultures represented by the musicians or find them fresh and new. We hope that through the dimension of music, music lovers in China can come to understand the multiculturalism of every nation, and understand and empathize with the love and pain of others through our common language of music. We believe that this is extremely valuable in a globalizing China. At the same time, we also wish to create an international exchange platform for native musicians in China, ultimately placing our own native musical culture in a global context.
Is the festival programming different in the various cities?
As Shanghai is our home ground, the programming for Shanghai venues is busier and artists will give Shanghai primary consideration when faced with scheduling issues. Regardless, we still did our best to arrange for international and heavyweight bands to perform in other cities beyond Shanghai, and also purposefully arranged for local bands that resonated greatly with the native cultures in those cities.
Are there are artists you tried to book for this year's festival that you were not able to bring to China?
We really wanted to invite DakhaBrakha from Ukraine this year, but were not able to have them with us due to various reasons.
What concerts were the most popular this year?
The most popular concerts seemed to be by Tuvan ensemble Alash who brought us an astounding throat-singing performance, as well as by China's very own Prince of Kun Qu Opera Zhang Jun who brought us "kun plug" – a perfect blend of traditional KunQu and modern music.
What would you like music fans to come away with from World Music Shanghai festival?
We hope to let more and more people understand and experience the world through music. Living with an increasingly restless city rhythm, we need pure music to nourish our hearts. World music is a record of thousands of years of musical notes that mark the unique beauty in the depths of every human soul; that mark the beautiful landscapes of the countries and cultures featured at our festival.
What motivates you and your team to do this festival?
We are passionate about world music, and hope that more and more people will come to understand world music and feel the strength and happiness it brings, ultimately leaving their familiar spaces to explore our large world through the door of world music, understand the cultures of others, and know that we are never alone.
Do the artists who perform at Shanghai also participate in workshops and other events for the community?
Yes they do. World Music Shanghai is also unique in the sense that in addition to on-stage world music performances, we also bring interactive experiential activities that are open to the public.
During the festival, artists also participate in a series of free world music workshops that are held in a variety of urban spaces including an office building, a museum, public cultural spaces, and cafes. Through activities such as intimate music-listening gatherings and educational, family-oriented world music workshops, audience members were able to immerse themselves in world music experiences from all over the globe in between performances. The distance between performers and audience was closed, and all participants were able to experience the joy of world music together as one.
Did you notice a change in the audiences' interest in world music?
Over the years, the audience's attitude towards world music has been gradually evolving from one of cultural curiosity, to one of appreciation with expertise and selectivity. This is both a challenge and an inspiration for us.
Are there any artists that you enjoyed working with the most?
We have deep respect for all the artists we have worked with, and remember them all fondly. The artists leaving at the end of every festival season is the most painful time of the festival for us. They are so lovable, modest, pure and noble in character, and are the driving force behind our perseverance for so many years.
How has the festival evolved throughout the years?
We are working hard to grow the festival continuously, not just in terms of scale, but also in terms of quality. By quality, we don't just mean artist selection, but also in injecting more vigor than before into pre-festival promotion, into the aesthetics of the live festival settings, and into our festival acoustics. In addition, we have also evolved from broadcasting large-scale music festivals live once or twice a year, to also broadcasting small-scale workshops that are free and open to public throughout the year, thus allowing us to make world music more popular and accessible by frequently bringing small-scale live experiences to a wider audience.
Where do you see your festival in 5 years?
We can only say that our team will continue to work hard at bringing our world music festival to more cities and more countries, and with rich and varied high quality content, build Asia's best and most human-centered world music themed music festival.
In addition to the festival, your organization also runs a word music label. Tell us a little about the releases and artists featured.
Our world music label has just started, and I feel that we have two releases worth mentioning.
The first is the album "Kalavinka" which has beautiful origins stemming from the prayers of Tibetan lama Gong-qiao Tsering Rinpoche from the Golog prefecture, Qinghai province, spreading thousands of years of Tibetan culture to the world through the form of contemporary world music. With the large support of Bruce Jiao, Chairman of the Board of Directors of Banma Creative Media, we collected Tibetan folk songs, documented large volumes of original material, and worked closely with renowned Chinese musicians Wu Jie and Peng Cheng (music arrangement), Li Dai Guo and Wu Huan Qing and Shen Er Ning (performance recording) etc. After two years, we finally completed our production of "Kalavinka". This album incorporates a variety of Tibetan musical elements, including Tibetan folk songs, monks' chants, Tibetan musical instruments, and other natural sounds – even Tibetan yak bells. All these elements formed the source of creative inspiration, which were integrated with electronic music, resulting in ten works of world music. Much of the music on this album was also chosen as the background music for China Central Television's 2015 documentary "Roof of The World" which featured the Qinghai Tibetan Plateau.
The second album "Tides" is the first album in the "Sounds of Shanghai" album series, a series that we wish to create. We selected 9 most representative songs from Shanghai's local Chongming Island folksongs – both traditional and contemporary – and collected and documented these folk songs live, before working with renowned music producers Peng Cheng, Wan Li and Wu Jie on music arrangement and production, ultimately reviving Chongming folksongs through a musical style that the modern audience can embrace.
How is the music scene in your city?
The Shanghai music scene is quite diverse. Western classical music concerts are held every week in major theaters, which do not lack in featuring world famous troupes and performers; almost every night in every "live house", rock and jazz bands from all over the world take turns to perform; traditional theatres and Pingtan (a musical/oral performance art form) houses are also still active in maintaining traditional and innovative performances.
In addition, various types of music festivals are becoming more and more concentrated.
If anyone visited Shanghai for the first time, what stores, music venues and sightseeing places would you recommend?
The Bund is a must for all first-time visitors to Shanghai, where one can see how the architecture reflects the historical changes between the old Shanghai and the new Shanghai. In terms of music venues, I recommend catching a music concert at the Shanghai Concert Hall, and then an authentic Pingtan performance by the Shanghai Pingtan troupe.
Can you give us an advance of what to expect for the 2017 Festival?
For our 2017 season, we will continue to have the Silk Road as our main theme, and will have subthemed stages and special performances. Beyond the stage, we will also be increasing the frequency of our workshops. Please stay tuned!
How do you see the future of world music in East Asia?
I think the developmental momentum of world music in East Asia will keep getting better. East Asia has a lot of ancient civilizations and rich folk music resources, and as globalization continues, East Asia will also look forward to their own folk music with the world music scene. In addition, music lovers here are having a growing appetite for musical styles beyond Western classical music and pop music, and they wish to understand more diverse musical cultures. I think this is the reason why we spare no effort in spreading the culture of world music.
—
Related websites:
Headline photo: 2016 World Music Shanghai festival crowd at Shanghai Xintiandi