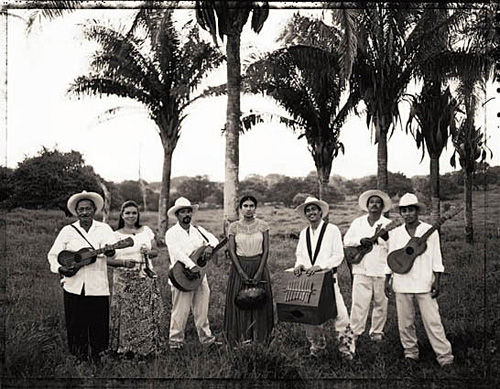 Los Utrera is a group from Veracruz, Mexico that was founded in 1992 around the Son Jarocho traditions of this musical family and patriarch Esteban Utrera, who plays guitarra de son.
The group uses various forms of guitars including guitarra de son, jarana, and jarana barroca, along with quijada (donkey jaw), zapateado (foot percussion) and violin.
Throughout the years, Los Utrera have pushed the boundaries of traditional Son Jarocho introducing non-traditional instrumentation and then expanding their repertoire to include Son Huasteco, also of Veracruz.
They have performed in festivals in the United States and Europe.
Discography:
Son Jarocho, En el Hueco de un Laurel… Ay Soledad! (1996)
¡Ay Cosita! (2000)
Con Utrera Yo Aprendí (2004)
En Vivo at Chicago Old Town School of Folk Music (2006)
Esteban Utrera, Guitarra de Son (2008)
Para Curar un Dolor (2010)