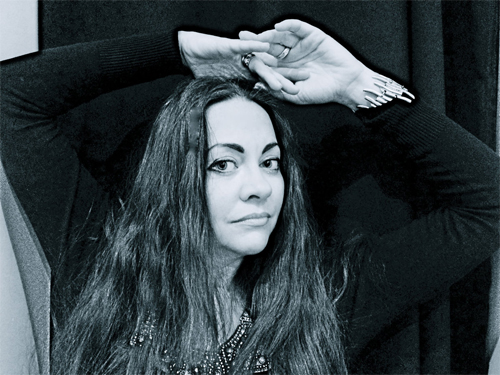 Although a native Ukrainian, Roksana Vikaluk lives since years in Poland where she found a creative atmosphere to realize herself in music. With her crystal voice and musical performance she is well respected in the Polish music scene. Roksana has performed at many musical contests and festivals works with many musicians. Remarkable is her cooperation with famous Polish artist Jozef Skrzek from the legendary SBB progressive rock group.
The music of Roksana Vikaluk is very inspired by the Ukrainian culture and its ancient tradition even from pagan times. The old Ukrainian tunes became modern. They are arranged and performed with the help of modern electronic equipment.
In her live shows Roksana sings and plays Ukrainian, Tatar, Jewish and Polish folk themes as well her own compositions in similar style. The combination of early Slavonic folk songs (some of them came even from XIII century) with contemporary, sometimes dark electronic sound, brings the unordinary atmosphere. The music is also attractive to progressive rock fans who are looking for mostly complicated and sophisticated tunes.
In 2002, Jazz Forum Records released the first album by Roksana Vikaluk Quintet called Mizrah with jazz oriented music in eastern style. Barwy / Colours and was recorded during her solo concert in Morąg in July 2005. She sings and plays keyboards. She is the only musician on this album. She also wrote some of the compositions, the other are Ukrainian traditional tunes.
Discography:
Mizrah – (Jazz Forum Records, 2002)
Barwy (2005)
Jaskółka (2010)
Drzewo Światów (2010)