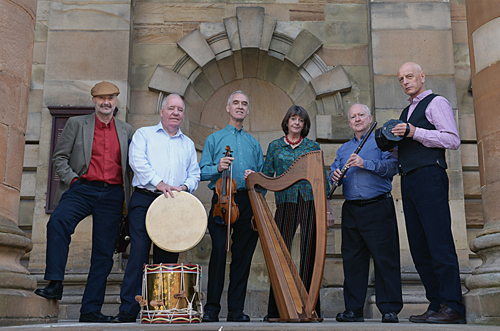 Formed during the great surge of interest in traditional and Celtic music and song in the late 1960's The Whistlebinkies quickly evolved into a major force in this field.
The band led the revival in the use of bellows-blown bagpipes in Scotland and were the first to combine the three national instruments: fiddle, bagpipes and clarsach (small Scottish harp) in regular performance. Only authentic traditional instruments are used and where possible the group prefers to play in an acoustic setting. The repertoire is drawn from all periods of Scottish music and from all regions of the country.
Members contribute new compositions within the tradition and the group is always ready to explore connections with other cultures. The Whistlebinkies have toured extensively taking Scottish music to France, Germany, Italy, Finland, Iceland, Taiwan, Estonia and all the Celtic countries and regions.
In 1991 they were the first Scottish music group to tour The Peoples Republic of China.
The Whistlebinkies have also contributed much music to feature and documentary film television radio and stage drama productions.
Albannach (Greentrax CDTRAX 288, 2006) was recorded in 2005 and early 2006 and a lot of love and care went into its preparation both by the band and engineer Robin Rankin resulting in an album which the band consider to be their best effort to date.
The members of The Whistlebinkies in 2006 were Annaliese Dagg (fiddle and viola), Rhona MacKay (clarsach and vocals), Peter Anderson (bodhran Scottish side drum & percussion), Stuart Eydmann (concertina & fiddle), Mark Hayward (fiddle) & lain Crawford (double bass). Rab Wallace (pipes) Eddie McGuire (flute).
Discography
The Whistlebinkies (Deacon DEA 1053, 1971)
Various: The Streets of Glasgow (Topic 12TS226, 1973)
The Whistlebinkies and Ted McKenna (Amiga 8 45 127, n.d. – c.1975/6)
The Whistlebinkies (Claddagh Records CC22, 1977)
The Whistlebinkies 2 (Claddagh Records CC31, 1980)
The Whistlebinkies 3 (Claddagh Records CC34, 1981)
The Whistlebinkies 4 (Claddagh Records CC43, 1985)
The Whistlebinkies 5 (Claddagh Records CC50, 1988)
The King Has Landed
Albannach (Greentrax CDTRAX 288 2006)