Garifuna is a unique culture based on the Caribbean coast of Central America (Belize, Guatemala, and Honduras) that blends elements of West African and Native Caribbean heritage.
The Garifuna people originated when two large Dutch ships, filled with a delivery of West African slaves, sunk off the coast of the Caribbean island of St. Vincent in 1635. Half of the Africans survived and intermingled with the indigenous Caribs of the region, creating a new hybrid culture.
Fiercely independent, the Garifuna community resisted French and British colonization, and were forcibly exiled to the Caribbean coast of Central America. Some were segregated and held onto their traditions and language, while others blended with the local predominant culture.
The Garifuna developed a unique culture that incorporates African traditions of music, dance, religious rites and ceremonies, Native American farming, hunting, and fishing techniques; and an African and Arawak influenced language.
Now living mainly along the Caribbean coast of the Central American countries of Belize, Guatemala, Honduras and Nicaragua, the Garifuna culture, recognized by UNESCO since March 2001 as a Masterpiece of the Oral and Intangible Heritage of Humanity, displays many influences of its African heritage. This is evident when comparing their music with the indigenous music of the West African societies from which their ancestors originated.
The Garifuna style of music relies heavily on call and response patterns. These patterns are less overlapping than many traditional ones found in Africa, but nonetheless the Garifunas' leader/chorus organization is very consistent with those of African styles. Garifuna music relies heavily on the drum, and in many instances their music is dictated by it.
The drums of the Garifuna are usually made of hardwoods that are uniformly shaped and carved out in the centers. The ends of the drums are covered with skins from the peccary, deer, or sheep. These drums are always played with the hands, and some drummers have been known to wrap metal wires around the drum heads to give them a snare-like sound. Some musicians accompany the drums with gourd shakers called sisira, and even instruments like the guitar, flute, and violin have been adopted from early French, English, and Spanish folk music, as well as Jamaican and Haitian Afro-Caribbean styles.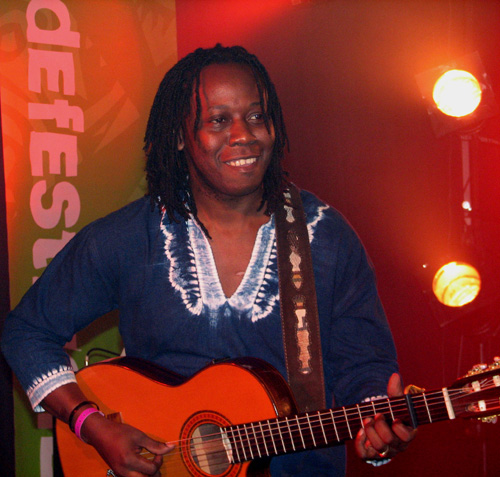 To the Garifuna, song and dances are an integral part of their culture. These song and dance styles display a wide range of subjects like work songs, social dances and ancestral traditions. A very popular dance style is called punta, which is usually performed at wakes, holidays and parties. This involves plenty of hip movements.
Garifuna Musicians:
Andy Palacio, Aurelio Martinez, Paul Nabor, The Garifuna Collective, Umalali
Garifuna Musical Genres:
Parranda, punta rock.
Garifuna Recordings:
Various Artists – Traditional Music of the Garifuna of Belize (Folkways Records, 1982)
Andy Palacio – Greatest Hits (1979)
Andy Palacio – Keimoun (Beat on) ( Stonetree Records, 1995)
Andy Palacio – Til Da Mawnin ( Stonetree Records, 1997)
Aurelio Martinez – Garifuna Soul ‎(Stonetree Records, 2004)
Andy Palacio and the Garifuna Collective – Watina (2007)
Umalali: The Garifuna Women's Project (Cumbancha, 2008)
Aurelio Martinez – Garifuna Afro-Combo ‎(Society of Sound Music, 2010)
Garifuna Music – Music From Honduras, Vol. 2 (Caprice Records, 2010)
Aurelio Martinez – Laru Beya (Stonetree Records/Real World Records, 2011)
The Garifuna Collective – Ayó (Stonetree/Cumbancha, 2014)
Aurelio Martinez – Landini (Real World Records, 2014)
Ibimeni – Garifuna traditional music from Guatemala (Sub Rosa, 2016)
Aurelio Martinez – Darandi (Stonetree Records/Real World Records, 2016)
The Garifuna Collective – Aban (Stonetree/Cumbancha, 2019)